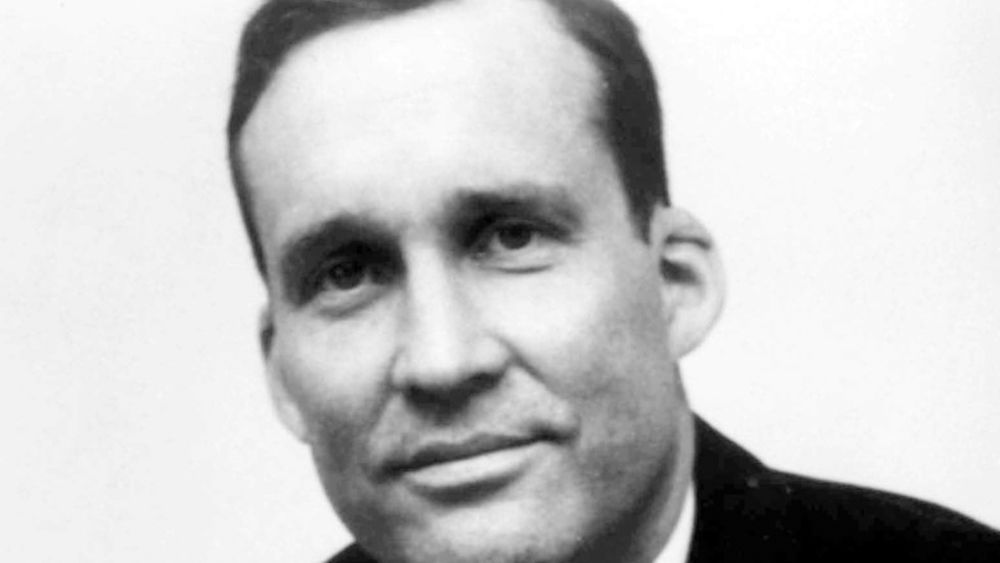 James Laughlin. New Directions
A frequent traveler since the thirties, James Laughlin has always returned to the family home in rural Connecticut where he runs New Directions' affairs from Meadow House, a simple frame structure beside a pasture, where often a small flock of sheep graze. Just inside the door of the house, in the front hall, is a long table used to accumulate mail. Precariously balanced stacks are everywhere, with piles divided into manuscripts, letters, newspapers, and journals. There are six to eight stacks, each at least twelve inches high. Straight ahead is a large, signed photograph of Ezra Pound; the mammoth, fan-shaped wicker chair in which he is seated seems to dwarf him.
Beyond the hall is the living room/study. The room is open and spacious, with three separate sitting areas, one of which functions as Laughlin's workplace. The high ceiling, the wide picture window overlooking the meadow, and the French doors contribute to the sense of openness. The built-in bookcases are stuffed with books and records. There are Oriental rugs, but the furniture is modest, selected primarily for comfort and durability. His desk is covered with books, file folders, manuscripts, office supplies, memos, letters, an old typewriter, tobacco, and numerous pipes.
Laughlin is tall—over 6' 5"—and his size could easily intimidate others. It does not, though, because he is a soft-spoken, unassuming man who seems intent on avoiding the spotlight as much as possible. He takes pleasure in acknowledging that readers appreciate New Directions books, and his poetry. At the same time, he is clearly uncomfortable with the celebrity status that has been thrust upon him by well-intentioned colleagues, grateful writers, and respectful academics.
The interview took place July 19–20, 1982, during a record-breaking heat wave. On the ground floor, the Laughlin home is air-conditioned only in the kitchen, so the discussions were intermittently placed in abeyance to permit Laughlin and the interviewer to drink iced tea, drive over to Tobey Pond for a swim, or escape to the comfort of the air-conditioned kitchen.
INTERVIEWER
You've mentioned numerous times that your family was not especially literary. What was life like at home that made you so passionately concerned with literature?
JAMES LAUGHLIN
I don't think there was really anything in the life at home in Pittsburgh which started me on a literary course. My family didn't read a great deal, except the Bible. Occasionally my mother did read very bad novels by Lloyd Douglas, but that was about the extent of her literary aspiration. She did paint—very pretty watercolors, mostly landscapes. Most of the pictures we had in the house were framed watercolors that she had done in various parts of the country or down in Mexico, where she went sometimes in the winter for vacation. I painted a little bit myself along with her. We'd go out together in the country and I'd dabble away, not very successfully. So there was a concept of painting as something which people did. And, of course, we traveled almost every summer in Europe, where we dutifully went to the museums to look at great paintings. But there was no compulsion toward art that I remember.
INTERVIEWER
In Europe did you ever encounter writers or literary people?
LAUGHLIN
The family knew no writers at all. I did pick up, when I was quite young, an interest in writing plays. I wrote a play every Christmas. I had seven first cousins living next door. Every Christmas I wrote a little blank verse melodrama which we would perform on the night before Christmas. These were very romantic, highly dramatic plays with a great deal of sword-fighting in them and fair ladies locked in towers and stuff of that kind. The problem was to get the cousins to learn their parts. They weren't very keen.
INTERVIEWER
Did your interest in writing poetry develop integrally from writing plays?
LAUGHLIN
I don't think I began writing poetry until I was exposed to poetry in boarding school at Le Rosey in Switzerland. All of the classes were in French, of course, but one of the masters loved poetry. He would have us learn fairly long passages of classical French poetry, things like Lamartine and Du Bellay and Sully Prudhomme and Victor Hugo. We had to learn the poems by heart and then recite them. When I got back from Switzerland and went for a year to Eaglebrook School in Deerfield, Massachusetts, there was a remarkable old English teacher, a Mr. Gammons, who was steeped in English poetry of the past. He started me reading Wordsworth, Keats, and others. So that brought it along. We were very attached to one another.
Then, of course, at Choate, where they had a marvelous English faculty, I was thoroughly exposed to poetry, especially through Dudley Fitts and Carey Briggs. Briggs held all his classes in the library. His theory was to expose boys to books and let them dig out what interested them. He said on the first day of his class, "Gentlemen, here are the books. It's up to you what you get out of them." Each boy had to choose a project for the term. My project was poetic prose. I dug out everything on it in the library, beginning with writers such as John Lyly and Sir Thomas Browne, and going up through Rimbaud. Fitts was a very inspiring composition teacher; he got me writing prose. It was largely through him that I became editor of the Choate literary magazine. He was my introduction to modern poetry. He gave me Pound and Eliot to read.
INTERVIEWER
You have noted that even though you spent a good deal of time in the offices of the Advocate, you were something of a loner at Harvard. Yet you seem a very personable individual.
LAUGHLIN
I was socially retarded and not good at getting on with people. Harvard was very cliquish and socially conscious. Coming from Pittsburgh, I didn't rate with the boys who had been to Groton or Milton. Harvard was an aloof place then. In the dormitory where I lived (and I roomed with a very nice boy from Choate), we shared a shower with two boys from aristocratic families, Anthony Bliss and Peter Jay. But throughout the entire year we never exchanged a word with them, or they with us. It was the way things were at Harvard in those days. You sat in lecture halls always in the same seat next to the boy whose name was alphabetically next to yours. I remember that in History 1, I sat next to a boy from Boston. We never spoke. I'm sure it's not that way anymore.
INTERVIEWER
You have also indicated your debt to Harvard.
LAUGHLIN
You could get to the professors. I was close friends with Ted Spencer. I played tennis with him. I was friends with F. O. Matthiessen. And earlier on, I'd received much hospitality from E. K. Rand, the Latin scholar. He liked his students. He'd invite them out to his house on a Sunday; there might be four or five people sitting around and sipping tea and having a good time with the old boy. I think I was more aggressive than many students about making contacts. I wanted contact with my professors; I wanted to be close to them.
Of course, one of the greatest influences on my publishing work (after Ezra Pound and Kenneth Rexroth) has been Harry Levin—a man of enormous learning and taste, and in many literatures. You could always go around to Harry's and he'd give you a drink and you could talk to him and learn so much. Such wit. He's wonderful. He very kindly came to the poetry reading I gave up at Harvard in 1982 and we got to the little poem about the former director of the Metropolitan Museum, Mr. Rorimer. It's called "Ars Gratia Artis." After I read the poem I called over to Harry: "Harry, is that a tag from Horace?" He said, "No. It's from MGM." He told me afterwards how MGM had gotten their motto from some bird in France. I'd always thought it was Horace, and it isn't Horace. Harry knows everything.
One astonishing thing about Harry was that when, at New Directions, we were reissuing W. C. Williams's novel, A Voyage to Pagany (that's the one about Williams's trip abroad), we wanted an introduction. I thought it was a very long shot, but I asked Harry if he would be interested in writing it. To my happy surprise—he writes so gracefully—he said he would.
The first thing New Directions did with Harry was his James Joyce, which to my mind is still the best book about Joyce. Recently we did his beautiful book, Memories of the Moderns, which is one fine essay after another. But I had never seen anything he had written on Williams. Yet very quickly he turned out one of the best, most comprehensive, most perceptive essays that has ever been written on Williams. Harry had the scholarly capacity to "get up" Williams in a couple of months—although I was only going to pay him maybe $200 for the piece. But he cared enough and he wanted to know about Williams, so he found out.
INTERVIEWER
You have also reported Harvard as rather dull.
LAUGHLIN
Well, that was just after I got there, which was in 1933. I took a leave of absence and went to Europe halfway through my sophomore year. It happened to be a period of transition just then. The great men, the old fellows like Kittredge, Lowes, and the rest of them had retired, and the new young lions, F. O. Matthiessen and Ted Spencer, hadn't come on yet. The resident poet was Robert Hillyer, who'd send you out of the classroom if you mentioned Pound or Eliot. So it was dull, and it seemed a good time to get away. I went to Europe to try to write, both stories and poems, and to travel.
INTERVIEWER
That was the summer you met Gertrude Stein.
LAUGHLIN
I met her through a distinguished French professor with a limp, Bernard Faÿ, whom I met that summer at the Salzburg music festival. I used to go swimming every day in the public swimming pool and that's where I met him. It turned out that one of his best friends was Gertrude Stein. I told him that I had been reading Stein back in the U.S. and that she sounded fascinating. He wrote her that he'd met this young American in Salzburg who might be useful to her. He asked if he could bring me to Bilignin, in Savoie, which was her country place. I went and stayed about a month. It was a lovely place, what they call a château ferme—not quite a chateau but more impressive than a farm—with a view down over the rolling hills. She put me to work. She was quite a utilitarian!
INTERVIEWER
What did she have you do?
LAUGHLIN
Well, the next year she was going on her famous lecture tour through America, and somebody had suggested that in each city where she was scheduled she should hand out a press release explaining what she was going to be talking about. That was my job—to take these lectures and produce a one-page presentation for each. It was not easy at all. The Lectures in America are philosophical and dense. To try to identify their central themes and translate them from Steinese into American newspaperese was quite a task. I would try, carrying my attempts to her, and she would say, "No, no, you've missed the entire point. Go back and try again." That's why I stayed there a month. It took me that long to get these releases done to her satisfaction. The two of us sat out on the terrace in the mornings, working. Then in the afternoon we'd tour the countryside in her little Ford with Gertrude, who drove, sitting in the front seat with Alice B. Toklas, while I sat in the back with those two awful dogs—Basket, who was a white poodle, and Pepe, who was a nasty little black Mexican nipper. Trying to control the pair of them back there, I saw very little of the Savoie countryside. That part of the Savoie is a favorite place for hikers. They'd lose nails out of their hiking boots, and almost invariably the little Ford's tires would get a puncture. Gertrude would pull off to the side of the road and she and Alice B. Toklas would take out their picnic things from the car and find a nice cozy spot to overlook it all. They'd sit and chat and eat while I would change the tire, harassed, as you can imagine, by Basket and Pepe.
INTERVIEWER
What were your impressions of Stein?
LAUGHLIN
She had great natural charm, tremendous charisma. Marvelous head. Those wonderful flashing eyes. A deep, firm voice. So I couldn't help but be very much impressed by her at times, except that often she'd erupt with crazy ideas. She thought Hitler was a great man . . . this before the war, of course, but how a Jewess could be attracted to such a notion at any time is difficult to understand. She was certainly a woman of strong opinions—indeed to the point of megalomania. She felt she had influenced everyone. We had a big fight one day when I mentioned I was reading Proust. She said, "How can you read junk like that? Don't you know, J., that Proust and Joyce both copied their work from The Making of Americans?" She finally cooled on me. I simply didn't accept everything she said. That was disrespectful.
INTERVIEWER
And then you met Pound that same year?
LAUGHLIN
Dudley Fitts, my old teacher at Choate, who had been corresponding with Pound for a number of years, gave me a letter of introduction to him. Fitts was a great linguist; he'd read everyone. He was a wonderful letter writer—his letters entranced Pound because here was someone who'd read in all the languages. Pound must have remembered. Because that fall, after my experience with Gertrude Stein, I went up to Paris, lived in a tiny room in an insurance office which I rented for seven dollars a month, and after a while, I wrote to Ezra, not expecting a reply, really, just asking if I could come down to Rapallo to see him . . . and to my astonishment he sent me a telegram: "Visibility high." So I went down then to Rapallo. Ezra and I hit it off immediately. He found me an eager student, and certainly he was the thwarted professor. He found a room for me in the flat of an old German lady and I was enrolled in what he called the "Ezuversity." No tuition.
INTERVIEWER
How did the courses go?
LAUGHLIN
The Ezuversity instruction was mostly a monologue about the mail he'd received that morning. His mornings were devoted to his correspondence. He used to say that postage was his highest living expense. Then we'd have lunch in the dining room of the Albergo Rapallo, and then after the snooze he'd take, we would go swimming or play tennis. One of the wonderful things about those monologues was his mimetic ability. He could imitate Joyce, how he talked, or how Yeats talked. His stories were endless, and very funny, and what I remember about them—over all those years—was that I never heard him tell an off-color story.
INTERVIEWER
But he could be prickly.
LAUGHLIN
Oh, you could never predict what he was going to do—even from the very first. I remember that one summer we drove up to Salzburg—Ezra, Olga Rudge, and my Harvard classmate John Slocum—to the Festspielhaus, where Toscanini was conducting Beethoven's Fidelio. Ezra didn't think much of Beethoven. After about twenty minutes into the opera, Ezra rose up and said in a very clear voice, "No wonder! The man had syphilis!" He started out, and all of us, of course, felt we had to file out with him. Toscanini was absolutely unfazed. He continued to conduct.
INTERVIEWER
How did Pound help you get started with New Directions when you got back to Harvard?
LAUGHLIN
He wrote letters to all his writer friends—to William Carlos Williams, to Kay Boyle, Cocteau, dozens of them, saying, "If you have a manuscript send it to this worthy young man." I started all this with complete innocence. The first book we published was a very funny one called Pianos of Sympathy by Wayne Andrews, who in those days called himself, for some reason, Montagu O'Reilly. It was printed by the people in Vermont who printed the Harvard Advocate—delicious stories about old gentlemen with long hair and a fetish about piano strings—two hundred copies in blue covers, and then two hundred more in red covers. That was the start.
INTERVIEWER
What was the reception when you started publishing books while still at Harvard? Were other students aware that you were doing it?
LAUGHLIN
The people around the Advocate were aware; and they were interested. They thought it was different and enterprising. But the general student body took no interest whatever.
INTERVIEWER
Was there any sense among the folks over at the Advocate that this was a precocious, ambitious project?
LAUGHLIN
I think the Advocate crowd were, by the time I started doing books, rather used to me because the first step in my publishing was when I began, with a couple of friends, such as John Slocum, to infiltrate texts by non-Harvard people into the magazine. These were writers whom I had met through Pound and others. I remember we printed a Pound Canto and a Henry Miller story which was banned by the police. It was a piece called "Glittering Pie," which by present standards would be considered very innocuous, but it was Miller enough for the young lawyer who was running for district attorney in Cambridge to have the issue seized and get himself a lot of publicity in the newspapers about decadence at Harvard. It was such a harmless piece. In it was a joke about leis, you know Hawaiian leis, as a double entendre. It was charming and very funny. Henry could be extremely funny. The way we got out of that scrape was this: through some friends in the athletic department, we got the district attorney candidate two seats on the 50-yard line for the Harvard-Yale game. So he forgot about it.
INTERVIEWER
The name that has probably come up more than any other in interviews about your life has been your Aunt Leila. What made her so special for you?
LAUGHLIN
She was a very loving, and at the same time, powerful-minded woman. I came to live with her here in Connecticut, shortly after I started going to boarding school, because I didn't care for Pittsburgh at all. She more or less adopted me and spoiled me. At the same time she was constantly telling me what I should do and what I shouldn't do. Although our personalities and interests were greatly different, we became very attached to one another. She was a symbol of the family tradition. She had all the old virtues.
INTERVIEWER
So, in a sense, she became your family.
LAUGHLIN
Yes. I adored my father, who was a marvelous man, very unlike a businessman. In fact, he wasn't a businessman. He stopped working in the steel mills when he was forty, the day that his father died, and devoted the rest of his life to gentlemanly pursuits, such as fly-fishing and duck shooting. We were very close. If I asked him for money, he'd say, "Are you going to publish some more of those books that I can't understand?" And I'd say, "Yes." And he'd give it to me. I was fond of my mother, too. But I simply could not get on in Pittsburgh.
INTERVIEWER
What was it about Pittsburgh that made things difficult?
LAUGHLIN
There was no one for me to talk to. I didn't have any friends interested in literature, and most of the kids were tearing around raising hell. It was a country-club existence, which didn't appeal to me at all. It was a stifling town. So I moved here to Connecticut.
INTERVIEWER
Was your Aunt Leila modern in her attitude about literature?
LAUGHLIN
She was very down on certain books I published; she couldn't stand Henry Miller. I was very careful not to undertake the Tropics, because I knew it would set the whole family on its ear. She thought he was obscene and an anarchist.
INTERVIEWER
There are obvious disadvantages to being this far away from New York City; what are the advantages that made you decide to stay in the country all through the years?
LAUGHLIN
I liked the country. My aunt converted a stable into an office for me. She was very good about being nice to the various writers who came to work for me here—the Patchens, Jimmy Higgins, Hubert Creekmore, and others. It was a pleasant place to function. New Directions didn't move away from here until the business became so big I could no longer run it from the country; it was hard to keep help and there was no close access to printers and binders. At a certain point it became obvious that I couldn't handle the work from here with floating literary helper staffs.
INTERVIEWER
Were you deliberately using writers as floating helpers?
LAUGHLIN
It was a definite part of the program to try to provide employment for writers I knew who didn't have a job. Of course, it wasn't much of a job for them, because in those days we were selling very few books and the wages that I was able to pay were at subsistence level. It did give them some writing time.
INTERVIEWER
How much?
LAUGHLIN
It was up to them. I was usually somewhere else. In those days I was often out on the road trying to sell books, or I was out at the ski resort in Alta, Utah, where I had business interests. Most winters I was in Utah for months. So I corresponded with the office by daily letters and they would send letters out to me. As long as they got the books and the bills out and kept things rolling, they were pretty much on their own.
INTERVIEWER
How did you manage to get Ezra Pound to come to New Directions?
LAUGHLIN
At the time we started he was being published by Farrar and Rinehart, a distinguished old firm, but they made the odd mistake—though how could they have known?—of sending him at Christmastime a copy of his latest book, bound in leather. His judgment of this, quite unjustified, was, "They must be crooks." I have no idea what his rationalization was. So he took his work away from them and gave it to me. I doubt if it bothered Farrar and Rinehart very much, because in those early days his work wasn't selling. We published Polite Essays, which weren't at all, and ABC of Economics—a text I'd still recommend to anyone who's puzzled about inflation. We've done, I'd think, a total of twenty books of Ezra's, and I am proud to say that, with one or two exceptions, all of them are in print.
INTERVIEWER
Do they continue to sell?
LAUGHLIN
The Selected Poems, ABC of Reading. And the Cantos, of course. As for the rest of them: three or four hundred copies a year.
INTERVIEWER
How much of an influence did Pound have on you—that is to say in those first days with him in Rapallo when you were nineteen years old?
LAUGHLIN
I think that perhaps in earlier interviews or talks I may not have sufficiently stressed the way that Ezra completely changed, to use one of his phrases, my forma mentis, my way of looking at the world. I went to him with fairly conventional views about almost everything, and I left him with either very eccentric or radical views about everything— views which have persisted with me to the present day.
INTERVIEWER
Social Credit?
LAUGHLIN
Social Credit, political things, literary concepts. Poets whom I still like to read for my own pleasure are the ones he told me I should, the Pound canon as you find it in the ABC of Reading. Pound pushed me away from the kind of literature which was embalmed in the "beaneries" to a much more interlingual, international literature. That has persisted to this day. A great deal of what we do now at New Directions is still translations of foreign books. Last winter we did a Swedish novel, a Hungarian novel, and a Brazilian novel. And if you look at our annual anthology you'll find that often a third of it is made up of translations of foreign poets from all over the world. That concept came largely from Ezra, who in his critical writings was always saying that you could not understand poetry if you only worked with one language. He was a comparatist in the good sense of actually looking at texts in different languages and seeing what the writers were doing with them and comparing them one with another. He loved to compare Flaubert with Henry James, for example. He made judgments of that kind. To him it was all one world literature, even including the Chinese.
INTERVIEWER
Did he get you learning foreign languages— Italian, for example?
LAUGHLIN
I learned a certain amount of Italian from going with him to the Italian cinema in Rapallo. The movies were simply awful, but Ezra loved them. He'd sit up in the first gallery with a cowboy hat on and his feet up on the rail, eating peanuts, roaring with laughter. I only went because through the roar of his laughing I was able to add . . . well, a little to my understanding of the language. Pound also arranged for me to have Italian lessons with an aged spinster named Signorina Canessa, who hated Mussolini because he had put a tax on canaries. She must have been at least ninety years old. We'd converse and I read the Italian newspapers and talked to people around town. I was gradually building up my Italian, but it was still strange to me, and it still is strange to me now. In the filming job last summer when we were working on the Pound documentary, I had to interview a lot of people in Italian who had known Pound. I could do it, but it was still a foreign language to me; whereas French, which I got earlier in my Swiss school, is still a foreign language, but much less so.
INTERVIEWER
Have we gotten to most of the things you wanted to add about the Rapallo experience?
LAUGHLIN
There was the wonderful friendship with Dorothy Pound, who was such a lovely lady, so kind to me. She used to read Henry James to me after tea—short stories. She meant a great deal to me. She was at meals, the lecture meals, when Ezra would hold forth, and she'd chime in. And she'd make tea for us after we'd finished playing tennis or swimming. Then Ezra would take a little snooze, and she'd take me into her studio—she was a very good painter in the Vorticist tradition—to read to me.
INTERVIEWER
Did you have any other interests outside your life at New Directions?
LAUGHLIN
I think you have to bear in mind the skiing mania. It's been a big part of my life. I was crazy about skiing and did a lot of it. I got involved in a ski resort out in Utah. I spent a lot of time out there in the early days. I married a Salt Lake girl, who liked skiing. I lived there in a suburb of Salt Lake and went up to the ski place every day to work. It was a very strong drive.
INTERVIEWER
Was there any relation at all to the literary?
LAUGHLIN
It was pretty much apart. It was a much more physical activity than writing. Some of my poems come out of that period. "The Mountain Afterglow" was written at Alta. There are often references in the poems to snow or to tracks in the snow. And I wrote magazine articles about skiing.
INTERVIEWER
What was it about skiing that was so attractive?
LAUGHLIN
The incessant movement, the rhythm, and the beauty of the mountains. Skiing is a very good sport because you never get to the end of it. There's always more you can do to ski better, more you can perfect in your technique. This is a challenge, especially when you're ungainly like me.
INTERVIEWER
What kind of skiing did you do when you were skiing competitively?
LAUGHLIN
I did them all. I did downhill and slalom, I jumped a little, and I did cross-country.
INTERVIEWER
That must have been interesting when you jumped, given your height.
LAUGHLIN
I never got anywhere; I flapped around in the air. Jumpers are compact, like good golfers.
INTERVIEWER
You suggested that you didn't see too much connection between the publishing or the writing on the one hand and the skiing on the other. Did they conflict with one another?
LAUGHLIN
No, because the mail would come out to me from the office every day. I'd ski for a few hours, then I'd go in to the typewriter and answer the mail. It worked very nicely. I wasn't in an office all day; I was in a pleasant place.
INTERVIEWER
When W. C. Williams got upset with you in the 1940s and the early 1950s, he implied several times that your passion for skiing was interfering with your work at New Directions. Do you think there was anything to his reaction?
LAUGHLIN
I could have been more attentive had I been East, so I think his criticism was justified. But skiing meant a lot to me and I wasn't going to give it up. In that connection, there's a nice postcard that Ezra sent me about my skiing mania. He wrote, "ARE YOU DOING ANYTHING? Of course, if you spend 3/4s of your time sliding down ice cream cones on a tin tea-tray. If you can't be bothered with detail, why t'hell don't you get Stan Not sub who could run it. Then you could scratch yr arse on Pike's Peak to your 'eart's content." And then in another card he said:
Here lies our noble lord the Jas
Whose word no man relies on.
He never breathed an unkind word,
His promises are pizin.

And that of course comes from Rochester's epitaph on Charles II, which reads:
Here lies our sovereign lord the king
Whose word none relies on.
He never said a foolish thing
Nor ever did a wise one.
INTERVIEWER
When it got to the point where skiing was such an important element of your life, were you losing interest in New Directions?
LAUGHLIN
Not at all. But I saw the ski resort, apart from the pleasure of skiing, as an opportunity to make a little money to support the publishing, so that I wouldn't have to keep going begging to my father and my aunt. It didn't make much money at first, but now it's in the black.
INTERVIEWER
You still have it?
LAUGHLIN
Yes, my family group is the majority stockholder, but I don't run it anymore. I have excellent managers: I go out occasionally. But now on a Sunday at Alta there are four thousand people skiing. They're like ants on the slopes. Whereas when I was out there, some days there would be only five or six people on the mountain. It was lonely and beautiful.
INTERVIEWER
Do you see finance and economic issues having a direct influence on art?
LAUGHLIN
Oh yes. That, of course, was what Ezra was always talking about, that business and wealth did not support the artists and writers. That, in fact, was one reason Ezra became interested in Mussolini. He knew that Mussolini was an intelligent, rather cultivated man. He'd been a Socialist journalist. Ezra hoped that Mussolini would throttle the banks and could be converted into a patron of arts and letters. You remember the Renaissance princes, such as Sigismondo Malatesta. Ezra admired Sigismondo not because he went out and beat up other princes' hired armies, but because he brought the best Greek scholars, such as Gemistus Plethon, and Italian artists such as Alberti and Duccio di Buoninsegna and Piero della Francesca, to his court and he built the Tempio Malatestiano in Rimini for his girlfriend Isotta.
INTERVIEWER
Did Pound succeed in any measure in getting his views to Mussolini?
LAUGHLIN
As far as I know, he never succeeded at all with Mussolini. He had one audience in Rome with him, which he arranged through the secretary, who put out a copy of the Cantos on Mussolini's desk. Ezra marched in and Mussolini picked it up and said, "Ma questo é divertente." That pleased Ezra very much. Then they talked for ten minutes about economics. Ezra told Il Duce what he should do about the Italian banks, and that was the end of the audience and the end of a beautiful friendship. That was the only time he saw him.
INTERVIEWER
They didn't become disenchanted with one another?
LAUGHLIN
I think Mussolini's aides had told him that Ezra was a crackpot, but he felt he should see him because he was a famous poet.
INTERVIEWER
Where did you have your most serious difficulties in getting New Directions off the ground?
LAUGHLIN
The learning process was difficult. I had to learn so much so quickly, how to make a book, and how to market a book. That was the greatest difficulty. But there was never any shortage of manuscripts. First beginning with Ezra's friends and then going to Williams's friends and then moving through Yvor Winters's group, there were always plenty of manuscripts to do. That was no problem. In those days—it was fairly soon after the Depression—the big publishers just weren't doing much literary publishing.
INTERVIEWER
What was it like to be developing the press on your own?
LAUGHLIN
It was very exciting. It was something new and different and gave me a sense of action or accomplishment even though the books didn't sell. It kept me busy. I enjoyed it.
INTERVIEWER
Was the excitement in the variety?
LAUGHLIN
There were so many different things I had to do. I had to keep in touch with the authors and read the manuscripts, and I had to copyedit manuscripts, and I had to find printers and binders. Then I had to get up ads and do the catalogs. I had to try to sell the books. Publishing, when it's a one-man operation, is an extremely varied occupation. It isn't like a big firm where each person does a different job. I don't know that I looked at it very objectively; I just did it. It seemed to come, although I knew nothing about it when I started—I was a quick learner in some ways, though I never learned promotion and never will. The printers and the binders taught me a lot, what to do and how to do it. There were good printers around Cambridge. The man from whom I learned the most about the beauty of a book was Giovanni Mardersteig of the Officina Bodoni in Verona. He was the greatest hand printer in Europe until he died a few years ago. I would visit him when I was in Italy. He did three or four superb books for me. Gide's Theseus, two Pound texts, and a Dylan Thomas. They were limited editions, very expensive. He showed me a little bit about how he designed books, which was very valuable in establishing a criterion. Peter Beilenson taught me an enormous amount. He was a printer in Mount Vernon, New York, who died much too young. He printed many of my books in the old days, including those early fat annuals. He was a fine craftsman and designer.
INTERVIEWER
Rexroth has talked about the fine, limited editions you did in the early days and was upset that you had worked into other formats. Does what he said make sense to you?
LAUGHLIN
His rendition wasn't exactly correct. The early books were done in Harvard Square and they were not limited editions. They were just, I think, quite nicely printed books. Rexroth always had this romantic concept that he was going to become editor of New Directions and we would only do beautiful limited editions. But it was more in his mind than in mine. I have always liked to do hand-printed editions; there have been ten or fifteen of them over the years.
INTERVIEWER
One of your objectives with New Directions has been to make quality literature available to people who might otherwise not be able to afford it. That philosophy conflicts with limited editions, doesn't it?
LAUGHLIN
It does, but the two can go together. In the early days we were able to do that. The Poets of the Year series sold for, I think, fifty cents each in pamphlet form and one dollar each in paper over boards. I could do that then because I could get those thirty-two-page pamphlets printed for $300. But we gave up that series—after we did forty-two numbers. We wanted it to be on a subscription basis, but we could never build up a subscription list. People preferred to pick and choose. I think the subscription list only got up to about six hundred copies. The early New Classics series sold for a dollar and a half. You could do that in those days before inflation. Then I started the paperbacks. Those we were selling, some of the thin ones, for a dollar and the thick ones for a dollar and a half. Now the same books are $5.95 because of the damn inflation. So the concept of trying to produce cheap classics has just gone out the window.
INTERVIEWER
Were you given much advice in the early days at New Directions . . . working with writers such as Pound and Williams?
LAUGHLIN
Both were such tremendous people, and their letters were so interesting. In the same letter Ezra could be both very sweet and very cranky. He'd want me to reissue the autobiography of Martin Van Buren and the collected works of Alexander Del Mar. Del Mar was a minor official in the U. S. Treasury in the reign of Grant. He was an early credit crank and monetary theorist who wrote about eight books, the most famous of which is called A History of Monetary Crimes. Ezra loved him. He was always after me to publish it.
INTERVIEWER
You never did, did you?
LAUGHLIN
No, but Ezra did finally get some Del Mar published. One of those disciples of his at St. Elizabeth's Hospital put it out in the Square Dollar Series.
INTERVIEWER
How did he react when you "declined" to publish people he was pushing?
LAUGHLIN
Among his postcards there are any number of funny comments. Do you want me to try to find a typical one? "Possibly a politic move on Jas's part. Great deal of sewage to float a few boats. Possibly useful. Nasty way to educate the public. Four percent food. Ninety-six percent poison."
INTERVIEWER
He called you "Jas"?
LAUGHLIN
Yes. E. P. called me "Jas," as his family and "Poundians" still do.
INTERVIEWER
Do you recall any moments when you wondered whether you really wanted to stay with New Directions?
LAUGHLIN
I've never had any doubts about that. New Directions is my life.
INTERVIEWER
Did any low moments arise because an author was threatening to leave New Directions?
LAUGHLIN
I was terribly upset when Paul Bowles's agent stole him away from us. Can't remember her name. Paul's first book, The Sheltering Sky, had been turned down by every publisher in New York. Paul was a friend of Tennessee's. Tennessee brought the manuscript around and asked, "Would you like to publish this?" I read it and said, "You bet." We did very well with it; it went through seven printings. Then this agent got a big offer from Random House for Bowles's next book. Random House was one of the ones that turned down the first book. I couldn't meet the advance, and so they stole him away. That really hurt me and made me mad.
INTERVIEWER
That doesn't fit with the basic publishing ethic.
LAUGHLIN
There are no ethics in publishing. This goes on every day. Of course, Tennessee Williams was wonderfully loyal. We had an understanding that we would do the plays and stories and poetry. If he wanted to write something special, he'd go out and get some big money for it.
INTERVIEWER
Do you know why Tennessee Williams stayed with you?
LAUGHLIN
Maybe it was because we were the first to publish him. He knew that I liked his poetry and his stories very much, which were important to him, as well as the plays. And it's just the way he was. I think he trusted me. I'm a trustee for one of his sister's trusts. She's not well, and I guess he knew that I'd take care of things. I was really shook up when Tennessee died. I wrote the following lines for him a few hours after I heard about it. I know they are sentimental, but that's the way I felt:
TENNESSEE

called death the sudden subway and now he has taken that train
but there are so many good things to remember
first the young man in sloppy pants and a torn grey sweater
whom I met at Lincoln Kirstein's cocktail party
he was very shy and had hidden himself in a side room
I too was shy but we got talking
he told me he wrote plays and that he loved Hart Crane
he carried the poems of Crane in his knapsack wherever he  
hitch-hiked then his first night of glory in Chicago
when he and Laurette Taylor made a new American theater
I remember happy days with him in London and Italy and Key  
West and how often friends and writers who were down on their luck
told me how generously he had helped them
(but you would never hear about that from him)
so many fine things to remember
that I can live again in my mind
until it is my turn to join him on the sudden subway.
INTERVIEWER
Back at the beginning, it must have been a satisfying feeling when Williams's career really took off.
LAUGHLIN
It was very exciting. Here was a man who had an almost impoverished youth, who was struggling to publish with great difficulty. He had tough times, only occasionally placing a story in some small magazine. Then he arrived at the pinnacle with his first play. Suddenly, with The Glass Menagerie, everything changed. I went out to Chicago for the opening there with Laurette Taylor. It was fun and wonderful. I was very happy for him. Then, of course, he had a personal problem in handling success. It frightened him a little because he wasn't used to it.
INTERVIEWER
What are some of the other landmark moments that made you say, "Well, that's really satisfying"?
LAUGHLIN
It was pleasing when Jack Hawkes first had a full-page review in the Sunday Times' book section. He should have gotten it for his first book, Cannibal, twenty years before. It was just as brilliant a book, but there is always the time lag with original work. It took Jack years to get proper attention. And some reviewers still say he's "too difficult." What do they think Joyce is?
INTERVIEWER
Do you think that response arises because he writes difficult material in the European tradition?
LAUGHLIN
That's only a part of it. There are some pretty difficult writers who get as much attention as Jack. Barth, Pynchon, Barthelme. Perhaps it's something about his special sensibility.
INTERVIEWER
Do you mean the macabre element?
LAUGHLIN
Yes. That's very hard for some readers. They say: "I can't swallow this."
INTERVIEWER
In your own poetry you've always striven for clarity, yet you've published so many writers in recent years who are relatively difficult and obscure.
LAUGHLIN
Ezra always used to say that some poetry had to be difficult because of its content. He cited Cavalcanti, who is difficult. And Dante, who is in parts not easy. I agree that with poetry some subject matter requires, I hope not obscurity, but complexity of approach and language. For example, a great poet, Robert Duncan, has created his own imaginative and spiritual world to the point where he has to use new language and new syntax and new form to express it.
INTERVIEWER
How does the work of Hawkes and Abish fit in with your own tastes?
LAUGHLIN
I like their work. I understand what they're doing. I don't insist that everyone write light verse the way I do.
INTERVIEWER
That doesn't seem like a fair description of your work.
LAUGHLIN
I like to be understood by ordinary people. But many poets aim higher, and they should. George Oppen wants to speak to philosophical poets. So does Gustaf Sobin. They need this kind of metaphysical complexity to express themselves.
INTERVIEWER
Do you publish people like that because you like what they're doing?
LAUGHLIN
Yes, if we publish someone, I feel there's something good there. Occasionally we do something I'm not mad about because one of the staff wants to do it very much. I accept their taste and their judgment. But with me a book has got, as Gertrude Stein said, "to ring the bell."
INTERVIEWER
Have there been writers you've really wanted and just didn't get?
LAUGHLIN
We were speaking of the fact that I don't "lift" authors. I had been a friend of "Cal" Lowell from college days at Harvard, and I would have loved to publish him, but he was published first by Ronald Lane Latimer. Since he was being published by a small press I made no move, and then the first thing I knew, Harcourt Brace had made a move, and there he went. But we remained good friends all our lives. I admired him very much. Then there is Guy Davenport, who I think is tremendous. I've known Guy for a long time. But he didn't publish much in magazines and I hadn't really followed his writing. I didn't write to him, and North Point Press took him on. Then there's this young lady I met out at Centrum in Port Townsend, Carolyn Forché, an absolutely beautiful poet. Rexroth had told me about her, oh, six or seven years ago. I wrote to her—no answer. When I met her at Centrum, the first thing she said was, "The reason I didn't answer your letter was that I didn't have any new poems then. But the next one I write I'm going to send to you." She's being published by Harper, so she's tied up. I think she's going to be the next Denise Levertov.
INTERVIEWER
What have been the most surprising publishing ventures—the ones that made you say: "I just didn't expect that to happen"?
LAUGHLIN
I think, on the positive side, it would be Hesse's Siddhartha. Henry Miller pushed me into doing that, and it became a great best-seller. Another book which became a great best-seller was Ferlinghetti's Coney Island of the Mind. It's a wonderful book, but I didn't expect it to sell over a million copies when I took it on. On the other side there have been cases where a very good book just did nothing. The stories of Tommaso Landolfi, for example; his collection called Gogol's Wife and Other Stories. Also the English poet Edwin Brock's autobiography, Here. Now. Always. A strong book and beautifully written. Nothing happened. You're so much at the mercy of the reviewers. If you don't get reviews, if people don't hear about the books . . . Another disappointing case was the Selected Writings of Blaise Cendrars, who was another great enthusiasm of Henry Miller's.
INTERVIEWER
Is there any pattern to these particular disappointments, a similar feature in the work?
LAUGHLIN
It's harder to get a foreign writer known.
INTERVIEWER
Helen Wolff has said that the critical problems in this country are poor quality reviews, but even worse, prejudice among the reviewing community against foreign writers.
LAUGHLIN
I think that's true. We did four foreign novels in 1981 and 1982, by Johan Borgen, Lars Gustafsson, Istvan Orkeny, and Lêdo Ivo. Now we were lucky on the Gustafsson because John Updike liked it and reviewed it in The New Yorker. It's into a second paperback edition. The Ivo and the Orkeny haven't done as well. They're all very good.
INTERVIEWER
So in a sense, a lot of your disappointments have come out of lack of reaction—
LAUGHLIN
Neglect of books that I thought were important.
INTERVIEWER
W. C. Williams once took you to task for what he referred to as an "insufficiently refined palate" in choosing writers for the New Directions anthology.
LAUGHLIN
He was probably right.
INTERVIEWER
Do you believe that you've gotten some "breakthrough" people precisely because you didn't strive for the highly refined palate?
LAUGHLIN
The annuals varied in quality a great deal from year to year. Probably the best was the one in the blue cover that you can't find now, ND 1939. An extraordinary number. That had the Lorca play, Blood Wedding, probably the first Lorca play translated here; it had my piece on the Samuel Greenberg manuscripts, which showed how Hart Crane stole from Greenberg; it had Harry Levin on Joyce; it had three chapters of Henry Miller's Tropic of Capricorn. It was a knockout issue. But I couldn't do that every time. The material wasn't offered, and I didn't have the money to commission things.
INTERVIEWER
Williams went on to say you've got to decide not to publish people who aren't ready yet or people who've been ready but have slipped.
LAUGHLIN
I disagree with him. I have always wanted to encourage the young. That has been one of the primary purposes of the annual. So I have printed a lot who perhaps weren't yet ready but who became good later. As for the good writers who were slipping, they needed encouragement, too.
INTERVIEWER
Have your feelings over the years about New Directions changed at all?
LAUGHLIN
I don't think they've changed much, although in the early years I was much more belligerent. I felt that we were the only ones who were doing anything good in literature and all the other publishers were a bunch of bums. I remember writing a letter to Bennett Cerf: "Dear Bennett, You have just committed one of the great crimes against American culture of our day. You have let Stendhal's Chartreuse de Parme go out of print. Sincerely yours."
INTERVIEWER
Have you mellowed because things have changed?
LAUGHLIN
I've come to accept that we live in a very imperfect publishing world and that we cannot expect people who have to make a living out of it, as I don't, to do the impossible. I've just relaxed and said, "We'll hoe our little row and not fuss about the others." But in the early days I was spikey as hell.
INTERVIEWER
Is more being done by other publishers now?
LAUGHLIN
Yes. Take Gordon Lish at Knopf. He's now publishing Ray Carver, which is a pretty courageous thing to do. There are people like Gordon in most of the big houses. Jonathan Galassi at Random House is another "discoverer" and great on foreign translations. Call them hidden spies of literature who are working under cover and slipping things through. The other thing that I think is very encouraging is the good stuff that is being done by the small presses. Ferlinghetti's books, Jonathan Williams's books, Capra Press, John Martin's Black Sparrow books, Scott Walker's Graywolf Press, and David Godine are all very good. And the North Point Press— obviously modeled on New Directions, as William Turnbull, who backs it, told me when he was here. And that's very flattering. He came here to receive the laying-on of hands, which I was delighted to give him. He has very good people working for him. He's using good paper, he's Smyth-sewing instead of gluing, he is using headbands, and he is doing books of high literary merit.
INTERVIEWER
So the libraries are not going to have the problems with North Point books falling apart the way so many other books are now.
LAUGHLIN
I can't touch my set of The Little Review now because the paper flakes. There is a related story about Djuna Barnes. We were planning a special hardbound edition of Nightwood. She insisted she had to have paper that would last a thousand years. We asked the paper dealers, and they said, "No, it's impossible. You can't unless you go to an Italian or French handmade paper, which would be exorbitant. We cannot produce a paper that we will guarantee for more than five hundred years." So we finally printed the book on Curtis Rag, which the manufacturer guaranteed for five hundred years, but Djuna was never happy about it.
INTERVIEWER
Did you ever ask her how she was going to check the guarantee?
LAUGHLIN
No.
INTERVIEWER
You've arranged for a New Directions trust. What does that involve?
LAUGHLIN
The way this trust is written it will provide money for New Directions to go on for many years. But it is up to the trustees to be certain that quality is being maintained. If it isn't, they can terminate it.
INTERVIEWER
You mentioned you don't go out after authors. Do you solicit manuscripts?
LAUGHLIN
Oh yes. If one of us, myself or someone on the staff, reads something in a magazine that seems promising, he or she will write: "Can we see a manuscript?" The annuals also feed into books.
INTERVIEWER
How tough has it been to keep things fresh at New Directions?
LAUGHLIN
Very difficult, because my taste, in poetry especially, goes back to the days of Pound and Williams. While I can recognize the genius of a Carolyn Forché or an Allen Grossman or a Gustaf Sobin, I don't have much flair for picking from the latest crop. New Directions is moving strongly into publishing the remaining works of the great moderns. We've got ten books of both-sided Pound correspondence under contract. We have books of W. C. Williams correspondence under contract. And we have a program for publishing the unpublished manuscripts of William Carlos Williams that are in the Yale and Buffalo libraries. Very interesting things. And the unpublished work of H. D. [Hilda Doolittle] that is at Yale.
INTERVIEWER
Could you describe the process by which you make a publication decision?
LAUGHLIN
First one of the editors reads a manuscript; then the others read it. If the first reader likes it and if they all like it, they send it up to me.
INTERVIEWER
Do you have the final say?
LAUGHLIN
It has to be a majority decision. A few times I have thrown my weight around when I cared passionately about a book.

Author photograph by Dorothy Alexander.