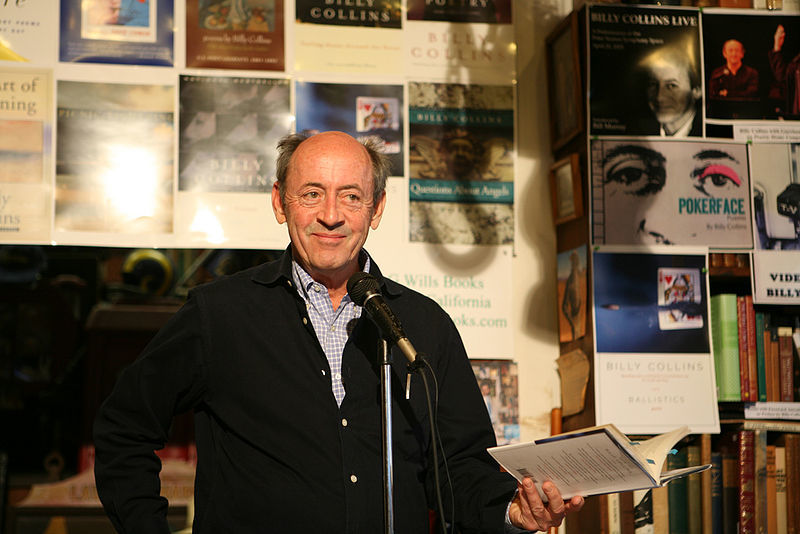 Photo by Marcelo Noah, CC BY 2.0 via Wikimedia Commons
The big news, of course, is that Billy Collins has been appointed the new poet laureate by the Library of Congress, now the newest of a distinguished list that among others includes Robert Penn Warren, Joseph Brodsky, Robert Pinsky, and most recently, Stanley Kunitz.
Collins's credentials, despite starting a career as a poet at the late age of forty, are impressive indeed. His various wonderfully named collections of poetry include Video Poems, Pokerface, Questions About Angels, The Art of Drowning, The Apple That Astonished Paris, Taking Off Emily Dickinson's Clothes and Picnic, Lightning. Sailing Alone Around the Room: New and Selected Poems will be published this fall. His last three collections of poems have broken sales records for poetry. A well-known voice on National Public Radio, his public readings, perhaps better described as performances, are invariably put on before packed audiences.
His work is identified largely by its humor, which he speaks of as being "a door into the serious"—a comment echoed by John Updike's sentiment: "Billy Collins writes lovely poems . . . limpid, gently startling, more serious than they seem, they describe all the worlds that are and were and some others besides."
Collins lives in Somers, New York, a few miles from Katonah, which is about an hour's ride on the commuter train from Grand Central Station. The Katonah station is unique in that it is set in the middle of town, so that one steps out of the train just a yard or so from the main street and the arts and crafts shops that line the far side. Collins's home, a few miles away, is a renovated farmhouse that dates back to the 1860s. His wife, Diane, was away at work (she is an architect), but on hand was the family dog, Jeannine, a mixed breed collie named after a song popularized by Cannonball Adderly. Collins often breaks away from work to play Adderly-mode jazz on a piano in the living room.
Jeannine made it clear she wanted to be taken outside for exercise—which entailed running down a steep slope of lawn to retrieve a frazzled-looking frisbee, so indented with teeth marks as to resemble (as Collins put it) "the end of a worried writer's pencil." Jeannine finally seemed wearied enough to allow Collins to invite his guest back in the house for the interview.
In manner, Billy Collins is very much like what one would expect from reading his poems—quick to add a touch of humor to whatever he has to say, however serious the topic, but leaving no doubt that he is a very dedicated practitioner of his art. He teaches at Lehman College of the City University of New York; one envies his students for their chance to study comparative literature from such a source. And yet there is nothing of the formal Ivory Tower mien about Collins: he is, for example, a passionate golfer, and what time he can take off from the lecture circuit (he is in considerable demand, giving over forty readings a year) and his teaching duties at Lehman, he spends touring the historic golf courses of the country with his golfing friend and literary agent, Chris Calhoun. Perhaps his informal side is best reflected by his given name: he was christened William after his father, thus Willy for a while, and then Billy, which he has kept as his nom de plume as much in reaction to the pretentiousness of those writers who use their initials, or one initial and a given name, as in W. James Collins, or whatever.
The interview took place in the small comfortable study of his home—shelves of books, a pair of paintings, one an abstract by Dan Christensen, the other a 1930s subway scene by George Tooker.
BILLY COLLINS
I'd like to get something straightened out at the beginning: I write with a Uni-Ball Onyx Micropoint on nine-by-seven bound notebooks made by a Canadian company called Blueline. After I do a few drafts, I type up the poem on a Macintosh G3 and then send it out the door.
INTERVIEWER
Well, that's certainly the kind of information we're after, but can you tell us about the actual making of what you send out? Could you go through the genesis of a poem?
COLLINS
There's a lot of waiting around until something happens. Some poets like David Lehman and William Stafford set out on these very willful programs to write a poem a day. They're extending what Catullus said about "never a day without a line." But most poets don't write a poem a day. For me it's a very sporadic activity. Until recently, I thought "occasional poetry" meant that you wrote only occasionally. So there's a lot of waiting, and there's a kind of vigilance involved. I think what gets a poem going is an initiating line. Sometimes a first line will occur, and it goes nowhere; but other times—and this, I think, is a sense you develop—I can tell that the line wants to continue. If it does, I can feel a sense of momentum—the poem finds a reason for continuing. The first line is the DNA of the poem; the rest of the poem is constructed out of that first line. A lot of it has to do with tone because tone is the key signature for the poem. The basis of trust for a reader used to be meter and end-rhyme. Now it's tone that establishes the poet's authority. The first few lines keep giving birth to more and more lines. Like most poets, I don't know where I'm going. The pen is an instrument of discovery rather than just a recording implement. If you write a letter of resignation or something with an agenda, you're simply using a pen to record what you have thought out. In a poem, the pen is more like a flashlight, a Geiger counter, or one of those metal detectors that people walk around beaches with. You're trying to discover something that you don't know exists, maybe something of value.
INTERVIEWER
What inspires that first line? Is it something you see? Is it a passing thought, a line of someone else's work?
COLLINS
There can be remote influences, but I think the line itself comes out of talking to yourself. It's a matter of paying attention to the detritus that floats through your head all the time—little phrases that through your own self-talking, your talk monitor, sometimes pop up. Also, I try to start the poem conversationally. Poems, for me, begin as a social engagement. I want to establish a kind of sociability or even hospitality at the beginning of a poem. The title and the first few lines are a kind of welcome mat where I am inviting the reader inside. What I do with the reader later can be more complicated, but the beginning of the poem is a seductive technique for me, a way of making a basic engagement. Then I hope the poem gets a little bit ahead of me and the reader.
INTERVIEWER
What about revision?
COLLINS
I try to write very fast. I don't revise very much. I write the poem in one sitting. Just let it rip. It's usually over in twenty to forty minutes. I'll go back and tinker with a word or two, change a line for some metrical reason weeks later, but I try to get the whole thing just done. Most of these poems have a kind of rhetorical momentum. If the whole thing doesn't come out at once, it doesn't come out at all. I just pitch it.
INTERVIEWER
You throw it out?
COLLINS
People say, Don't throw anything away. This is standard workshop advice: Always save everything. You could use it in another poem. I don't believe that. I say, Get rid of it. Because if it got into a later poem it would be Scotch-taped on. It would not be part of the organic, you know, chi, the spine that the poem has, the way it all should be one continuous movement.
INTERVIEWER
What was that word you used?
COLLINS
Chi. I think they use that in feng shui. It's the Chinese sense of energy that runs through things. Poems that lack that seem very mechanically put together, like a piece here and a part there. Because of the workshop and the M.F.A. phenomenon there's much too much revision going on. Revision can grind a good impulse to dust. Of course, the distinction between revision and writing is kind of arbitrary because when I am writing I am obviously revising. And when I revise, I'm writing, aren't I? I love William Matthews's idea—he says that revision is not cleaning up after the party; revision is the party! That's the fun of it, making it right, getting the best words in the best order.
INTERVIEWER
Could you tell us about growing up, your family?
COLLINS
Both of my parents were born in 1901 and both lived into their nineties, the two of them just about straddling the century. My father was from a large Irish family from Lowell, Massachusetts, a mill town, incidentally Kerouac's birthplace and the site of his first novel. I've never been to Lowell, but I was just invited by an editor of a magazine to go up there and write about my father and look at the Jack Kerouac place. I have a poem called "Lowell," which is about the coincidence of my father being born in the same town as Jack Kerouac. You couldn't find two more disparate characters. The end of the poem says something like, He would have told Neal Cassady to let him out at the next light.
My mother was born on a farm in Canada. She was the one who taught me to read by reading to me. I have a feeling that was one of the most important experiences of my life. At some point I could read by myself, but I didn't want to be weaned away from that—I wanted to be read to. I have a secret theory that people who are addicted to reading are almost trying to recreate the joy, the comfortable joy of being read to as a child by a parent or a friendly uncle or an older sibling. Being read to as a child is one of the great experiences in life. Of course, I was always fascinated by the ability to read, and I'll make this confession: before I could read, I pretended I could. My parents would have company over at our house, and I would get out a volume of Compton's Encyclopedia, at the age of four or five, and sit there in an armchair and pretend to be reading—I would look very studious. I was the youngest phony in America. My parents would wink at their friends and, thinking that I had taken everybody in, I'd head off to bed.
INTERVIEWER
What did your mother read to you?
COLLINS
Black Beauty and The Yearling, sentimental animal fiction. I was down giving a reading in Gainesville, Florida, last year, and I was taken out to the home of Marjorie Rawlings. It's kind of funky and frozen in time. Even her car is there. Once I had one of those bad measles where you have to stay in bed for a long time. They had to pull the shades down in those days. Well, you know the Lassie stories, Albert Payson Terhune's books—my father brought home the entire collection of seventeen collie novels, and I tore through them. They're all the same book. Then The Hardy Boys. Those were my earliest addictions to literature after Mother Goose. My mother also recited poetry. She had hundreds of lines of poetry in her head, mostly learned as a schoolgirl in Canada. She lived to be ninety-five, and up to her death she could rattle off stanza after stanza. I force all my students to memorize. Some take to it and others don't. I'll often say, You need to memorize a minimum of fourteen lines, and they'll take a poem of seventeen lines and memorize fourteen lines and then stop. There are just three more lines, for God's sake, couldn't you just push a little bit! Other students will memorize thirty or forty lines with ease and pleasure. I feel, no matter what, they'll at least have a poem in their head. They can leave the class not remembering my name or anything I said during the year, but damnit they'll have fourteen lines of somebody.
INTERVIEWER
When did you start writing?
COLLINS
I started writing very early. I have a memory of the first time I was inspired to write. I was in the back of my parents' car on the FDR Drive in New York City. I was about ten. I was in the backseat and I saw a sailboat on the East River. I remember asking my mother for a pencil or a pen, and I wrote something down. I don't know what I wrote down. But I do remember it was the first time I saw something and felt some kind of responsibility to record some reaction to it. It was my first act of literature! But my first real book wasn't published until I was in my forties. A late bloomer. I stayed kind of underground, never took a workshop, never associated much with other poets.
INTERVIEWER
You published some poems in Rolling Stone.
COLLINS
I published a lot of poems in the back pages of Rolling Stone. Little four to six line poems, tucked in among the record reviews. They were mostly kind of pothead poems. Rolling Stone is no literary magazine, but it had a huge readership, and they paid about thirty-five dollars a poem. This was back in the early seventies. I wrote very short poems in those days. I thought writing poetry was like blowing out birthday candles—you had to do it in one breath. It took me a while to figure out how to write a longer poem. I learned how to expand the poem outward. I think it was a matter of letting more of my life into the poems. I had been keeping myself at a distance, writing poems that were quite divorced from my real life. I don't know how or why exactly, but I got to the point where my life got into my poetry.
The magazine that really influenced me was Poetry. It used to come to my father's office on Wall Street. I'm not sure how it came there. No one in the office read it. The company chairman was a kind of philanthropist. Maybe one day he wrote a check and the magazine kept coming.
My father knew I was interested in poetry, and he brought this magazine home every month. That was the first time I heard contemporary voices in poetry. Until that point, in high school, I had only been exposed to "school poetry" like Longfellow and Whittier. Here in Poetry I heard these people talking. They sounded relaxed, and that connected me to the tone of modern poetry. At the age of eighteen I sent some poems to Poetry. I got a note back from Henry Rago encouraging me—not to send again, mind you, but to continue writing. I was so in the dark, I thought maybe everyone got a letter like this. Maybe they did. But the next time I sent anything to Poetry was almost twenty-five years later. In 1987 I sent poems to Joseph Parisi. He took some, and he's been taking poems ever since. I'd waited twenty-five years to strike again! Probably the editors of magazines would appreciate it if more of their young writers waited a respectful amount of time before they started resubmitting!
INTERVIEWER
What were you doing during the twenty-five years?
COLLINS
I was still writing, but writing badly under various influences. Actually, I don't think you can be really badly influenced by anyone, as long as it makes you write. Borges says, "I was a young man, so, of course, I had to disguise myself." I was disguising myself as Lawrence Ferlinghetti for a while, then for a long time as Wallace Stevens and Hart Crane. I went to graduate school, got a Ph.D. and began a career as a professor. The poet emerged gradually. I was under the mistaken modernist belief that there was an unbreakable connection between value and difficulty, so I wrote a lot of impenetrable poetry.
INTERVIEWER
Was there a time when your true self suddenly emerged, an epiphany: I mustn't be a Stevens; I mustn't be a Ferlinghetti?
COLLINS
I think "finding your voice" is a false concept. It leads you to believe that it's out there somewhere, like it's behind the sofa cushions. I think your voice is always inside of you, and you find it by releasing things into your work that you have inside. I grew by allowing aspects of myself that I had previously excluded into the poetry. I think all poets—younger poets particularly—have a private sense of decorum, meaning they feel there are certain things they should write about and other things they shouldn't. I don't even think this is conscious in most cases, but like other young poets I would put on my poetry goggles when I wrote and I would see only these so-called poetic things I should write about, and the rest of my life was very disconnected from that. There was, for instance, no humor. I thought poetry should be humorless. The romantic poets drove sex and humor out of poetry. If you look before 1798 you find plenty of sex and humor. Just look at "The Rape of the Lock," or Chaucer, for that matter. They don't call Shakespeare's comedies comedies for nothing. But Wordsworth and Coleridge drove those two things out of poetry—humor was consigned to the subcategory of light verse. I don't know what happened to the sex. It's back now. Philip Larkin said it started in 1964.
There's still a sense of decorum dominant in American poetry. Philip Levine is famous for being the poet of the blue-collar worker. He's a fine poet, but his reputation really shows how few people write about work. Most poets are teachers now, attached to universities the way they used to attach themselves to cafés, but very few poets write about teaching. Something else that is excluded is wives and husbands. Particularly wives. Married poets don't write about their wives. It's like the W word.
INTERVIEWER
Has teaching affected your work?
COLLINS
Many writers say the university life is in conflict with their own work, but for me it's really just the opposite. I've been teaching in the City University of New York system for about thirty years. I keep teaching The Norton Anthology, and many of my poems show an awareness of that. I have a poem called "Lines Composed Over Three Thousand Miles from Tintern Abbey." I have a poem about splitting wood that begins with the word frost: "Frost covered this decades ago," referring to frost covering the ground. I figured you can't write a poem about splitting wood without using the word frost—then at least you've nodded to him. I have a poem called "Musée des Beaux Arts Revisited," a rewriting of the Auden poem. Also "Monday Morning," which is a rewriting of the first stanza of Stevens's "Sunday Morning." I make open allusions instead of veiled allusions, and teaching—taking that ride again and again on those poems—has kept them alive for me.
INTERVIEWER
Did you have any early feedback?
COLLINS
Miller Williams, who was my first editor as well as the poet who read at Clinton's second inauguration, was a very influential person in my career. He was editor of the University of Arkansas Press and published my first real book, The Apple That Astonished Paris. The title comes from a comment by Cézanne, who said at one point, "With an apple I want to astonish Paris." I thought, What an amazing contrast between a little thing and a big thing, a natural thing and a man-made thing. Such strange braggadocio: "With an apple I want to astonish Paris!" I had gotten a manuscript together. A friend of mine suggested, Send it down to Miller Williams. So I sent Miller Williams about forty-five poems. I got a quick response; he'd taken a paper clip and put it around seventeen of these poems. He said in the letter, You have seventeen really good poems here, and the others don't live up to that standard. If you can write twenty-five or thirty more poems as good as those seventeen, I'll publish your book. I started in almost right away and went through a very productive period, basically just trying to please this guy Miller Williams whom I'd never met and did not meet until quite recently. It was instruction by paper clip. He didn't have to explain. As soon as I saw the seventeen poems I knew what I had. I threw the other ones out.
INTERVIEWER
You had that much faith in that paper clip?
COLLINS
That paper clip was worth an M.F.A. A year and a half or so later I sent him down the poems, and he said, "We've got a book here."
INTERVIEWER
If you had to construct a poet out of whole cloth, so to speak, what attributes would you give him or her?
COLLINS
A Frankenstein monster! First, a sense of attentiveness. Then wanting to hang around the language. If you look a word up in the dictionary and twenty minutes later you're still wandering around in the dictionary, you probably have the most basic equipment you need to be a poet. It's just liking the texture of language. I think there's another thing, a kind of attitude—an attitude of not ever getting used to being alive, of not ever taking your life for granted.
There's a very deep strain of existential gratitude that runs through a lot of poetry. It's certainly in haiku. Almost every haiku says the same thing: it's amazing to be alive here. There's a little haiku: "A cherry tree in blossom / In the distance / I hear a dog barking." Those two things have nothing to do with each other, except the fact that the poet was there to see and hear them. So the haiku is saying, I was here. "Kilroy was here." To appreciate the wonder of that, you have to imagine the absence of that, of not being there, of nonexistence, right? I consider poets to be a part of a larger group of people who don't have to survive major surgery or go through a windshield in order to feel grateful for being alive. It shouldn't require such traumatic experiences to feel grateful. So I think a love of language and a sense of gratitude would be two ingredients in the recipe for making a poet.
INTERVIEWER
Anything else?
COLLINS
And laziness! Not being able to write more than half an hour a day. You know Max Beerbohm's line that the hardest thing about being a poet is knowing what to do with the other twenty-three and a half hours of the day.
INTERVIEWER
Do you have any trouble with the other twenty-three and a half hours?
COLLINS
No, no, I have plenty to do. I mean, there's always the piano and walking the dog, and I'm very good at just playing with my own tail. While the novelist is banging on his typewriter, the poet is watching a fly in a windowpane.
INTERVIEWER
You mentioned this ability to move from writing shorter poems to longer poems.
COLLINS
I learned how to do that by reading Coleridge's conversation poems, going back and reading his longer lyrics to figure out how he could get a second wind. My poems used to shut down very quickly. I would write a few lines, then the poem would close in on itself with some kind of witty remark, and get offstage.
INTERVIEWER
Have you ever considered writing a novel?
COLLINS
No. One of the differences between being a novelist and a poet is that the novelist kind of moves into your house. I mean, it takes three days or three weeks to read a novel. I think of the novelist as a houseguest. The poet is more someone who just appears. You know, a door opens, and there's the poet! He says something about life or death, closes the door and is gone. Who was that masked man? I like that kind of sudden appearance. Not overstaying your welcome, you might say.
INTERVIEWER
Very rarely do you have poets who write novels.
COLLINS
Nicholas Christopher and Stephen Dobyns are contemporaries that come to mind. And Ronald Koertge. But success at both is rare. Look at Joyce. He completely redefined the novel, but his poems are useless. One exception is Nabokov's Pale Fire—an amazing poem with or without the notes.
Writing poetry and writing fiction are as different as playing two very different musical instruments, like a clarinet and a piano. They're both producing music, they might both be playing in the key of E-flat, but the pianist might not have a clue what to do with a clarinet or a bassoon or a trombone. They're very different skills. I wouldn't know how to write a short story. I read fiction, I've taught fiction, but I can't write fiction. I was thinking the other day that in fiction, unless it's a nineteenth-century novel where you start with the person's birth and end with his death, there's always a sense that the character existed before you started reading about him. With a short story you jump into a person's life, and at the end of the story, the person's life (unless you've killed him off) will continue into an imaginary future dimension. But nothing precedes a poem but silence, and nothing follows a poem but silence. A poem is an interruption of silence, whereas prose is a continuation of noise. Plus, fiction is basically about other people whereas poetry is about the poet. Two very different spheres of interest.
INTERVIEWER
What do you tell the people in your writing classes? Is there sort of a principle that you start out with? What are your opening remarks to a classroom of would-be writers?
COLLINS
I don't know if I'd say this at the beginning, but the most difficult question you can put to people who want to write poetry is this: Ask yourself if what you are trying to say can be said in any other form—story, memoir, letter, phone call, e -mail, magazine article, novel. If the answer is yes, stop writing poetry. Put it in an e-mail, write a memoir, write a letter to your granny, use whatever form will accommodate what you're going to say. Stop writing poetry unless you're doing things that you can only do in poetry. And that means exercising your imaginative freedom, because in a poem you have the greatest imaginative freedom possible in language. You have no allegiance to plot, consistency, plausibility, character development, chronology. You can fly. Clear the trees at the end of the runway, and off you go. So if you're not taking advantage of the giddy imaginative liberty that poetry offers, you should try a form that's a little more restrictive. Of course, if I say that in the first class, it's kind of deadening. Maybe it's better left for the last class.
INTERVIEWER
Do you keep in touch with other poets, your contemporaries?
COLLINS
No, only the dead.
See, because my first real book wasn't published until I was in my forties, I wasn't really part of a poetry society. I didn't have friends who were poets. My friends were just my friends, names you would fail to recognize in an instant, as someone put it. I went to Holy Cross College, and Robert Frost came there once. Since I was on the literary magazine, we had dinner with him. Nobody said a word. Two Jesuits sat next to him and talked. We looked into our soup. We were afraid of making idiots out of ourselves.
For me poetry was always a solo act. A romantic idea maybe, but I thought that poetry was something you did in solitude, and the idea of sharing your work with anybody was completely antithetical to what I thought poetry was all about. So I was invisible until ten years ago. Well, I remember going to a little reception soon after The Apple That Astonished Paris came out—it had nothing to do with my book—and I ran into Henry Taylor, who has since become a good friend. In this crowded reception, he looked over to his wife who was on the other side of the room, pointed at me and yelled, Sarah! The Apple That Astonished Paris. It was the first time I had been referred to by the title of my book, and I felt I had been elevated to authorship at that very moment. I had always written with the expectation of having readers and now that seemed to be coming true.
INTERVIEWER
Who's the first reader? Do you read poems to your wife?
COLLINS
I hand them to her or just leave them out on the kitchen table. I don't read them out loud. I don't put her in a folding chair and get up there behind a lectern. She's a very sharp editor. She finds opportunities for clarification and can sense if the poem is going on too long. I don't show my poems to any other poets. I sometimes read a book of poems where the poet says, I want to thank the following eight poets who read this manuscript. That would seem to make it into a collaborative activity, like making a quilt.
INTERVIEWER
How many do you produce in a month?
COLLINS
It varies. Maybe between three and zero.
INTERVIEWER
Three would be a good month?
COLLINS
Three keepers. For most poets that would be a book every two years.
INTERVIEWER
You've mentioned elsewhere that you don't see yourself as a writer of books of poems but a writer of poems.
COLLINS
Each poem is a single, separate act. Every poet has his or her obsessions, and after the fact, you can go back and see these connections between poems in a certain volume, but I never think of writing a book. When I have enough, I just rake them into a pile and see if they add up to a book. When I go to make a book, which isn't that often, I take all the poems and put them out on the floor in no particular order. Then I just walk around on top of them in my stocking feet. I take my time, and eventually this poem over here will want to be with this poem over there, and I'll take it and I'll put them together. I don't know why. It's not because they're both about death or both about dogs, but that they just want to be with each other. It's almost like a party—people kind of get together in little circles. Eventually, three or four or five different piles will form. For the life of me, I wouldn't be able to label them and say these are the x poems or these are the y poems, but they seem to exhibit affinities that I am not really privy to. But no one reads a book of poems from beginning to end anyway. I mean, editors do and relatives maybe, but I never do. When I get a book of poems, I look for a fancy title or a short one. Most readers approach a book of poems like a flipbook, which for me underscores the notion that we turn to poetry because we're looking for something. It's really a matter of an author's vanity to spend a lot of time orchestrating a book, unless it's very thematic. When his Collected Poems was published, Auden just arranged them by date, showing his preference for the chronological over the thematic, and acknowledging the fact that books of poems are not really read from beginning to end.
INTERVIEWER
When you look back at old poems in making these selections, do you see any similarities or find things in poems that you hadn't noticed before?
COLLINS
Only one thing: I have a lot of mice in my poems.
INTERVIEWER
Mice?
COLLINS
That's the only revelation. There are mice all over the place. I think it wasn't until we bought a house and had our own mice that they started coming into the poems. But they're all over the place now.
INTERVIEWER
Why do you think that is?
COLLINS
It's probably two sources. I think the mice come from cartoons, first of all. And it might be a literary love I learned from John Clare, the peasant poet who would walk around the countryside and look into birds' nests and count the eggs and notice the speckles on the eggs, always with a sensitivity to these little creatures rustling through the grass.
INTERVIEWER
Do you have a concept of the reader?
COLLINS
She's this girl in high school who broke my heart, and I'm hoping that she'll read my poems one day and feel bad about what she did. No, the reader for me is someone who doesn't care about me or has no vested interest. I start the poem assuming that I have to engage his or her interest. There is no pre-existing reason for you to be interested in me and certainly not in my family, so there must be a lure at the beginning of a poem. I want the reader to be in the sidecar, ready. Then off we go. Then we can take a ride from what seemed to be a hospitable and friendly environment into an environment that's perhaps disorienting, manipulative, or a little off-balancing. I want to start in a very familiar place and end up in a strange place. The familiar place is often a comic place, and the strange place is indescribable except by reading the poem again. I love Patrick Kavanaugh's sense that tragedy is merely undeveloped comedy. I feel there's a time to be clear and a time to be mysterious in a poem. Poems that fail for me are often poems in which the poet is being mysterious about something that should be clear, or simplifying something that should be left mysterious. It's a matter of knowing what cards should be turned over and what cards should be kept face down. Poems that turn too many cards over don't respect the mysteriousness of life, and poems that turn over no cards are a game not really worth playing. My advice to poets is: Turn more cards over, or, Don't turn so many cards over. I don't want to know about that. I don't want to see that card. If you've written a poem about your brother who is in the hospital undergoing surgery, well, tell us that. Why should that be a secret? Tell us the circumstances of the poem. But how you feel about this brother you've always felt competitive with, angry with, how you feel about him being close to death now—should remain mysterious. You can't do that justice in twenty lines.
INTERVIEWER
I'm not sure I quite understood that.
COLLINS
Let me describe a typical scenario in a workshop where a poem gets passed around the table. Everyone has a copy of the poem; the poet reads it, and there's a polite silence. Then someone says, Well, it's an interesting title. More silence. Someone says, That ending's weird. Anyway, ten minutes later we conclude that no one knows what's going on. No one has a clue, right? So you turn to the poet for help, and she says, Well, I wrote this poem when my brother was in the hospital undergoing surgery. All of a sudden the poem becomes seventy-three percent clearer. She kept that a secret. She wanted to make that mysterious. That shouldn't be a mystery! Call the poem "Poem Written in the Hours When My Brother Was Undergoing Surgery," and then tell us what's going on. How you feel about your brother can be couched in imagery, fraught with uncertainty. You must remain ambivalent about such matters.
It's like in shopping malls you have that arrow that says, You are here. The beginning of the poem should at least give you that kind of information. The romantic lyrics are so good about that because the poet always starts off by telling you where he is. You know, I'm sitting in my backyard in a lime-tree bower, or, I'm sitting up on a hill, or, I'm lying in a field, or, I'm three miles above Tintern Abbey. Location. The poem always starts with a geographical grounding wire, then moves off into areas of amazing speculation and fanciful imaginative realms.
INTERVIEWER
What about influences? You mentioned Crane and Ferlinghetti.
COLLINS
Danilo Kiš, the critic, says that asking about influences is treating an author like a baby found in a basket outside a hospital and trying to figure out who the parents are. A foundling!
There are nonpoetic influences, influences that shape your imagination. For me Warner Brothers cartoons were very influential in the way my mind works. I was a Merrie Melodies and Looney Tunes devotée through most of my childhood and adulthood. Another influence was learning the Latin responses of the mass as an altar boy. I can remember being out in Southampton at a modest house my parents rented in the summer. The altar boy test was in the fall. I would study the Latin responses every evening. Of course, I didn't know Latin. I was eleven or twelve years old and I was no John Stuart Mill. Underneath the Latin in red would be the phonetic spellings, so I was just memorizing syllables. I'd memorize Soo-shi-pee-ah-om-me-no-sa-cre-fi-chi-om. I didn't know what I was saying! I was memorizing hundreds of syllables that brought me into the pure sound of the language, almost like nonsense, like jabberwocky, a delight in the sound of things.
Another example of that is my interest in bridge columns. I don't play bridge. I have no idea how to play bridge, but I always read Alan Truscott's bridge column in the Times. I advise students to do the same unless, of course, they play bridge. You find language like, South won with dummy's ace, cashed the club ace and ruffed a diamond. There's always drama to it: Her thirteen imps failed by a trick. There's obviously lots at stake, but I have no idea what he's talking about. It's pure language. It's a jargon I'm exterior to, and I love reading it because I don't know what the context is, and I'm just enjoying the language and the drama, almost like when you hear two people arguing through a wall, and the wall is thick enough so you can't make out what they're saying, though you can follow the tone.
INTERVIEWER
Presumably the cartoon background as an influence would have to do with humor?
COLLINS
Yes, a sense of animating the inanimate, a kind of speediness, an odd sense of possibility, an elastic world where things can change shape and you can pull a refrigerator out of your back pocket! Or get flattened by a steam roller and spring back into shape.
INTERVIEWER
And there's no death, yes?
COLLINS
No death, no. There's just bouncing and shape-changing. It's odd, you know, for me to step outside of myself and talk about matters like influence. I'm reminded of a moment when Paul Desmond was being interviewed, which sums up a question from the outside and an answer from the inside. The interviewer said, How do you account for all the melancholy in your playing, Mr. Desmond? And he said, Well, probably because I'm not playing any better.
INTERVIEWER
That's a strange answer.
COLLINS
The answer meant you just try to do a good job. The artist is not thinking about life or death or sadness. He's trying to do a good job. He's not thinking theme or content. A poem I wrote was published in a college textbook. And after the poem there were these "study questions." I didn't have a clue! There's a huge gulf between doing and then being accountable for what you do. It's like going up to a guy who's trout fishing in a stream, wading out there and asking, What do you think of the overfishing of the tuna? Any thoughts on the history of fish?
INTERVIEWER
Do you write occasional verse in the proper use of the word?
COLLINS
You could say every poem is an occasional poem because walking in the woods or cutting an apple is for me an occasion.
INTERVIEWER
Is that when you spend your time talking aloud?
COLLINS
Well, I walk every morning for a couple of miles with the dog. That's as much for me as it is for her; it's head clearing. Wordsworth apparently composed while he was walking. The meter of the walk gave the poem its meter. For me it's more gazing around with an open mind or an empty head. What's important to me is having a time of the day when I'm in a receptive mode, when I'm ready for any incoming mail.
INTERVIEWER
Is there ever a sense of urgency: My God, why haven't I . . . ?
COLLINS
Oh, sure. I mean, the ultimate urgency is that you think you're a goner; you think it's over. Coleridge's "Dejection: An Ode," for example, is about the wellsprings being depleted. It addresses the precariousness of writing, particularly of writing lyric poems. Writing the short poem might take a day, but then that's over, and you go back to zero with great regularity; whereas you can work on a novel for five years, and when you wake up every morning, the novel is waiting for you. As a poet writing fairly short lyric poems, you wake up in the morning and there's often nothing waiting for you; you have to restart your engine every time.
INTERVIEWER
Why didn't Coleridge dip into laudanum more than he did, so that he could have continued after being interrupted by the postman from Porlock?
COLLINS
I think he faked that whole Kubla Khan story. I don't believe that such a well-formed poem came out of an opium delirium. I think what's interesting is why Coleridge would make up such a story. It's not a story that Chaucer would have made up. The romantics were the first poets to believe in spontaneity as a virtue, as a criterion for poetic composition. To compose spontaneously was a good thing, a movement against an artifice. Wordsworth said he composed "Tintern Abbey" in a carriage ride and jotted it down afterwards in a secretarial act. Jack Kerouac said that he just typed out On the Road on a scroll of architectural-drafting paper. I've seen what purports to be the original scroll and he has the name Nietzsche there spelled correctly. I don't think anyone spells Nietzsche correctly the first time. There are seven different ways to misspell that name and I don't believe that you can take a bunch of benzedrine, type away, and Nietzsche just comes out correctly. What's interesting about "Kubla Khan" is its claim to spontaneity; it shows you what a virtue spontaneity was—Coleridge pretending to be spontaneous when he was in fact an assiduous reviser. Yeats summarizes this whole thing in "Adam's Curse" when he writes: "A line will take us hours maybe, / Yet if it does not seem a moment's thought / Our stitching and unstitching has been naught."
INTERVIEWER
Do you ever write formal poetry?
COLLINS
Well, in one sense—a loose sense—I consider all my poems to be formal. I try to write poems that are a series of clear, solid lines, to give each poem a stanzaic shape, and usually to organize poems around a beginning, middle and end, or at least a distinct turn. I hope all that adds up to a certain degree of formality, an appearance of formality, anyway. The poem may not be wearing the official uniform of the sonnet, but still, its clothes are ironed and its buttons done up—except sometimes maybe the top one. You don't want the poem to arrive overdressed for the party. Like the tuxedo poems of some of the Edwardians and Georgians.
INTERVIEWER
What about traditional genres?
COLLINS
I try my hand—sonnets now and then, even some Horatian-type odes written in college under the gaze of Jesuit Latin teachers. More recently, I actually invented a new genre without really meaning to. What happened was I wanted to write an intentionally bad formal poem, which would look like the result of an inept poet working over his head. The effect would be comic. Rather than write a terrible sonnet or villanelle (there are enough of those), I decided to make up a new form complete with its own rules. To add some silliness, I presented it as an obscure form begun by the troubadours, the boys who gave us many of the forms so popular as assignments in poetry workshops. You know, this week we'll write a villanelle, next week a sestina. Such an artificial way to proceed! I agree with Richard Wilbur who said that you shouldn't write a sonnet unless you have a sonnetlike thing to say.
INTERVIEWER
So what was this new form?
COLLINS
The paradelle, which is like a fusion of parody and villanelle. The rules were an absurd mix of the dead easy and the nearly impossible. I titled the poem "Paradelle for Susan" because I wanted a very American-sounding girl's name, and the footnote read: "The paradelle is one of the more demanding French fixed forms, first appearing in the langue d'oc love poetry of the eleventh century. It is a poem of four six-line stanzas in which the first and second lines, as well as the third and fourth lines of the first three stanzas, must be identical. The fifth and sixth lines, which traditionally resolve these stanzas, must use all the words from the preceding lines and only those words. Similarly, the final stanza must use every word from all the preceding stanzas and only those words." In the poem itself, the incompetent poet whose role I was playing—we should italicize playing—was able to repeat lines—bravo!—but could not manage to recycle all the words, so every stanza ended with a pile-up of remainder words, leftovers. Like, "And find the time, cross my shore, to with it is to." I sent the poem to The American Scholar. I knew the editor, Joseph Epstein, had a sense of literary humor. They published the poem and that, I assumed, was that, until Epstein wrote to tell me about the mail they were getting. Subscribers were sending angry letters questioning the magazine's judgment for having published such a slovenly poem. How could the journal of the Phi Beta Kappa Society endorse such literary incompetence? One person said it was the worst paradelle he'd ever read. No kidding. Epstein invited me to respond to a typical letter. I didn't want to fess up and spoil all the fun, so I wrote a letter that asked for sympathy. The paradelle is an extremely difficult form, my defense ran. I did the best that I could. Then I began hearing rumors that the paradelle was being assigned as a workshop exercise. And now a young professor in Georgia is working on an anthology of paradelles! I agreed to write an introduction titled "A Brief History of the Paradelle" accounting for the disappearance of all the paradelles written between 1200 and 1998. My ultimate dream is to see the term paradelle in The Princeton Encyclopedia of Poetry and Poetics, but I've probably just blown my chances by taking you backstage.
INTERVIEWER
Do you know Harry Mathews's work? We did a whole series. He's part of a society—the Ouilipo—in Paris which does things of this nature; their great god is Georges Perec who wrote a whole novel without using the letter e.
COLLINS
Forgeries and put-ons used to provide a fine subversive element, a counterweight to literary authority insofar as they questioned the whole idea of authorship. One bit of trickery I remember came from Rolfe Humphries. In the 1930s, Poetry magazine published a very serious-looking poem of his that turned out to be an acrostic. The initial letters of every line spelled out "Nicholas Murray Butler is a horse's ass." At play in the fields of literature.
INTERVIEWER
How important is subject matter?
COLLINS
A little subject matter goes a long way. In fact I usually want to move the poem beyond its initial subject. Richard Hugo said, "Never write a poem about something that wants to have a poem written about it." This would eliminate the elegy, of course, and the ode for that matter, and the love sonnet, but I think once you step outside those forms, the poem can arise out of something very tiny, some little occasion. A poem about a mouse, for example. Or even three mice.
INTERVIEWER
But as the newly appointed poet laureate aren't you required to celebrate great events?
COLLINS
You must be confusing me with John Dryden. I think those days have passed, but commemorative poetry did have real significance when poets actually wielded power through their ability to flatter and satirize . . . and insult! They would have possessed something comparable to the power of a drama critic or gossip columnist. The power of Walter Winchell! In the bardic era of Irish poetry, poetic extortion was so rampant that St. Columba was called back from his monastic outpost in Iona to declare a limit on the number of bards that could practice in Ireland. I'm wondering how such a quota would go over in America today. My understanding of the American poet laureateship is that the post-holder is expected to raise poetry consciousness rather than knock off commemorative poems, though I recall that Brodsky wrote an odd preinaugural poem for Clinton in 1992. The idea of commemorating a wedding or a victory on the battlefield is surely a holdover from the British laureate tradition.
But poetry for me begins in secrecy, as far from the public eye as possible. Lines written in a diary with a little heart-shaped golden lock are the origins of poetry. Taking workshops, getting published and giving readings are after-the-fact activities, a movement from that privacy into a public sphere. But the laureateship! A poet can hardly get more public than that. That's probably why Philip Larkin turned it down. Maybe Thomas Gray had a similar reason. I might add that commemorative or occasional poetry goes completely against the modern poetic grain because such poems must never lose sight of their subject, whether it's a coronation or the launching of a ship. I'm always trying to escape from the literal burdens of subject matter. Subject matter for me is just a gate of departure. A poem works best when it manages to transcend its subject or at least finds a safe place to hide from it.
INTERVIEWER
Are your poems directly autobiographical?
COLLINS
I don't write about my life as a series of major autobiographical events. I write about events that are fairly trivial, like going for a walk and looking at a swan. I don't write about deaths in the family or divorce, which I haven't had. The romantics were the ones who started talking about themselves in poetry, a fairly new thing for the times. The first line of Rousseau's Confessions, published in the 1770s, is something like, I'm about to do something that has never been done before, will never be done again, and that is to tell the story of my life candidly. You have to go all the way back to St. Augustine to find another example of the self at the center. But autobiography has taken over poetry. It's become its consuming topic, and I think the autobiographical poem, driven sheerly by memory, accounts largely for the exploding popularity of poetry, because it gives people a way of addressing their past, dealing with relatives or loved ones.
INTERVIEWER
The New York School is full of that, isn't it? Kenneth Koch, Frank O'Hara.
COLLINS
But they value comedy and they embrace trivia. The everyday is central: I had lunch with somebody, I did this, I did that. The autobiographical poetry I'm thinking about focuses on trauma or on anxiety produced by the family. The family was traditionally the domain of the novel, but it's become the domain of poetry now, and a lot of it, I think, is based on the presumption that people are interested in the families of others, though everyday experience tells us that they're not. Some people have to struggle to be interested in their own families, let alone the families of others. When you read many contemporary poets these days, you get a lot of information you might not want. A less presumptuous sense of an audience would correct some of this. I mean, writing a poem is an attention-getting act, so it might be worth asking whose attention are you getting and why?
INTERVIEWER
Who's writing these poems?
COLLINS
Too many names to name. But a lot of contemporary poetry sounds like memoirs in lines. You know, Milton never wrote about his grandmother, Shelley never wrote about his dad. Who cares? would be the cry of the audience then, and I think "Who cares?" is my cry now. Maybe it's because I'm an only child and have no children, so I have a very thin sense of the family. But I do think that what used to be the subject of the novel, that is, the family, has invaded poetry. The confessional poets are another matter, because they really had something to confess—Anne Sexton and Robert Lowell had very interesting psychic lives. You can feel this strong sense of disclosure running through the poems like a wire; there's a high-wire of psychic tension. But not everybody is Anne Sexton or Sylvia Plath or Robert Lowell, and what passes off as a personal poem these days has become extremely impersonal. It has its own conventions and its own clichés, and I don't know if it will ever run into a dead end because people will never stop talking about themselves and their families.
INTERVIEWER
Perhaps it's the easiest thing to write about.
COLLINS
It's very convenient subject matter. It's what occupies much of people's emotional and mental life, figuring out their place in the family and figuring out their relationships with other people. After all, the family has been called the original insane asylum. You just have to find your room.
INTERVIEWER
In your workshop, do you talk about subjects the students should concern themselves with?
COLLINS
I try to convey a sense that the poem is an opportunity for travel, that poetry can make some progress into exciting imaginative territory. Many poems based on the idea of family or a loved one, which have a literal relationship to the poet's biography, never quite get off the ground; in other words they're mired in these family issues, which limits the possibilities of some kind of transcendence. I think that the poem can sweep you up and take you at least beyond the limits of psychology.
INTERVIEWER
Do you begin by teaching them a lot about structure? Do you make them learn what the various structures of poems are, rhyme schemes, etcetera?
COLLINS
Quite a bit. I might take a stanza from a poem of, maybe, Thomas Traherne, and we would scan it and find out its meter, and then I'd have the students write a stanza that would copy Traherne's meter exactly. As long as they're copying meter, their exercise doesn't even have to mean anything. In fact I encourage them to write nonsense: The cat was putting on its hat; it doesn't even have to rhyme. But I don't think that teaches people how to be metrical, frankly; the lesson such exercises teach—and I give quite a few of them—concerns the degrees of difficulty in a poem. Maybe an analogy would be painting. I took painting lessons for a while, still-life painting. I can't really paint well at all, and I've since stopped doing it. But it taught me about the degrees of difficulty in still-life painting. My teacher used to put out the most unromantic objects. He didn't want to intimidate his students with a violin and a wine glass and a pear and some fresh strawberries, so he'd put out a tennis ball, some junk lying around the house. Simple to paint, simple objects, geometrical shapes like the cylinder of a toilet paper roll. But if I wasn't doing my work well, he would say, You think this is hard—next time I'm going to have you paint a crystal bowl full of lightbulbs. I started to appreciate the bravura aspect of still-life painting, where you have a chandelier reflected in a mirror. You start to see that Vermeer is essentially bragging. So I try to encourage students to look at the challenge of formal poetry, to see, for example, that the fewer the end rhyme sounds the more difficult the poem is. Frost has a poem called "The Rose Family," I think it's twelve or fourteen lines, it has just one rhyme: rose, goes, suppose, knows. He's bragging: I can write a fourteen-line poem with A-A-A-A-A-A. Can you?
INTERVIEWER
What are the burdens of success?
COLLINS
Time. There are a lot of demands on your time. I used to have a lot of wool-gathering time, but now the phone rings and there's lots of mail every day. I give almost forty readings a year. The image one has to present as a performer, as an interviewee and whatnot, is a very different self from the sensibility that actually creates the poems. You need to keep your center, the part that writes the poems, and not spin off into popularity. "Popular poet" is an oxymoron, although I think it's a vindication, in a way, for the models of clarity that I've tried to follow in these poems. I keep wondering why poetry seemed to go away and hide under various labels of modernism—it did, obviously, lose touch with the readership by turning in on itself.
INTERVIEWER
Do you see a step up into something else?
COLLINS
For me?
INTERVIEWER
Yes. I don't want to say another level, because you're up there now, but something vast that doesn't fit in any category.
COLLINS
It's one of the great curiosities. It's a double-edged sword when you consider the question of the growth of a poet, a writer, any artist, versus a distinctive way of expressing the self. There's an expectation that the artist must grow, must expand and change, and if you look at someone like Picasso you see the evolution, these beautiful stages of outgrowing and developing. Yet there's also a strength in doing one thing well, subgenius, but sufficient. I would say Emily Dickinson writes the same poem over and over again. It's always in common meter, four beats, then three beats; she sings the same little tune over and over again, the tune of the nursery rhyme, the tune of the Protestant hymn, and she just sings this little song again and again, seventeen hundred times. But every poem is remarkably unique.
INTERVIEWER
So that's why she stopped.
COLLINS
Well, I think she stopped for death.
INTERVIEWER
For twenty years she didn't do anything.
COLLINS
She has a beautifully distinctive voice, because she learned to do this one thing well and to find variation in it. I think if you're stuck in a form, or if you're stuck in a voice, the challenge is to stay within the voice and keep finding variation within the voice and to have a voice or a form that is flexible enough that will accommodate new subjects, new thinking, new glimpses, new experiences. I don't envision any great creative breakthrough. My hope is to continue to do good work, which is to write good lines and good stanzas. Gasoline comes in gallons, cigarettes come in packs, and poetry comes in lines and stanzas. No matter what I'm thinking about when I'm writing a poem, no matter what is captivating my attention, all I'm really trying to do is write good lines and good stanzas.