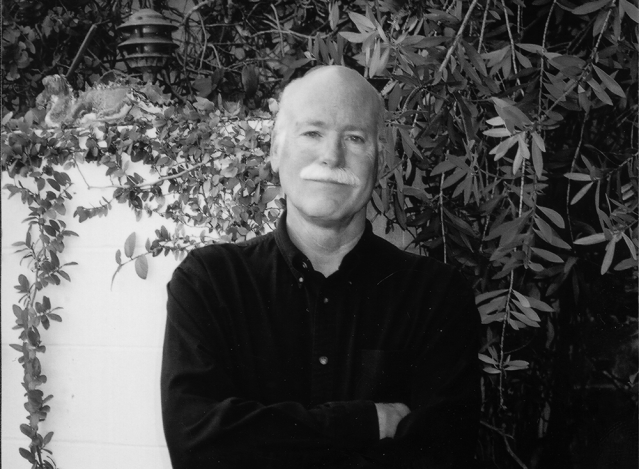 © Catherine Wolff
This interview took place in the summer of 2003, at Tobias Wolff's home in northern California. He had just returned from ten months in Rome, where he finished work on his eighth book, Old School. Standing by a wall adorned with family photographs, Wolff produced a galley of the novel, noting that the cover featured a photo of the dining hall at the Hill School, where Wolff had been a student. To get in, he forged his own letters of recommendation; two years later, he was asked to leave—for failing math and other crimes, among them "eating potato chips while leaning out the window." In 1990, the Hill School granted him his degree (class of '64), but only after the headmaster made sure to read a selection of Wolff's fictitious letters of recommendation to that year's commencement audience.
After school, Wolff briefly worked on a ship, and in 1964 volunteered for the army. Four years later, he was discharged. Oxford University came next, followed by stints as a reporter, a waiter, a night watchman, and a high-school teacher. In 1975, he was awarded a Wallace Stegner Fellowship by Stanford University, where he remained as a lecturer for two years. He taught in the creative writing program at Syracuse University from 1980–1997, after which he returned to Stanford, where he now holds the Ward W. and Priscilla B. Woods Professorship in the School of Humanities and Sciences. Widely considered a master of the short form, Wolff is the author of three books of stories: In the Garden of the North American Martyrs (1981); Back in the World (1985); and The Night in Question (1996). A novella, The Barracks Thief (1984), won the pen/Faulkner Award for Fiction; and his two memoirs, This Boy's Life (1989), which won the Los Angeles Times Book Prize, and In Pharaoh's Army: Memories of the Lost War (1994), a National Book Award finalist, are hailed as bench- marks of the form.
In person, Wolff is unassuming and possessed of a quiet authority. There is, of course, the mustache, which has gone white. And it's hard not to notice the military crispness with which he crosses his legs, his snap-to-it posture and the athletic efficiency with which he moves. Even so, these vestiges of a military life are tempered by his supremely emotive face and his habit of peppering conversation with down-home colloquialisms like ain't it the truth.
Though a private man, Wolff is open about his nagging suspicion that his good fortune in life—his arrival at the age of fifty-eight with his family intact, a home in a warm climate, a place to write and teach, even a dog—is a fabrication that could burn to the ground at any moment. "I am lucky," Wolff has said on many occasions, but there is resignation in his voice when he says it, a nod to the law of equal and opposite reactions. One might argue that Wolff's rough childhood counterbalances his current success, but Wolff himself has never made such a claim, probably because to do so would be to submit to self-pity, an indulgence he doesn't allow himself in his writing, and which appears to have no place in his life, either.
In conversation Wolff is quick to voice his exasperation with work he considers inauthentic, or with writers whose poses cast longer shadows than their books. All the same, during the interview he insisted that the tape recorder be turned off if he felt himself about to say something that might damage another writer's reputation. In most cases, his devastating comment would turn out not to be so devastating after all, but it is the curious mix of propriety and the writer's natural appetite for gossip that makes Wolff an engaging conversationalist. And although he didn't object to the inclusion of a story about Richard Yates (the as yet unpublished biography of the writer "would contain far worse," he said), months later he continued to worry that it was somehow too explicit to be fair to Yates' memory.
INTERVIEWER
Why don't writers like to talk about what they're working on?
TOBIAS WOLFF
Writers are superstitious. I don't mean knock on wood, throw salt over the shoulder—let me try to explain. I began this whole writing enterprise with the idea that you go to work in the morning like a banker, then the work gets done. John Cheever used to tell how when he was a young man, living in New York with his wife, Mary, he'd put on his suit and hat every morning and get in the elevator with the other married men in his apartment building. These guys would all get out in the lobby but Cheever'd keep going down into the basement, where the super had let him set up a card table. It was so hot down there he had to strip to his underwear. So he'd sit in his boxers and write all morning, and at lunchtime he'd put his suit back on and take the elevator up with the other husbands—men used to come home for lunch in those days—and then he'd go back to the basement in his suit and strip down for the afternoon's work. This was an important idea for me—that an artist was someone who worked, not some special being exempt from the claims of ordinary life.
But I have also learned that you can be patient and diligent and sometimes it just doesn't strike sparks. After a while you begin to understand that writing well is not a promised reward for being virtuous. No, every time you do it you're stepping off into darkness and hoping for some light. You can be faithful, work hard, not waste your talents in drink, and still not have it happen. That's what makes writers nervous—the sense of the thing being given, day by day. You might have been writing good stories for years, then for some reason the stories aren't so good. Anything that seems able to jinx you, to invite trouble, writers avoid. And one of the things that writers very quickly learn to avoid is talking their work away. Talking about your work hardens it prematurely, and weakens the charge. You need to keep a fluid sense of the work in hand—it has to be able to change almost without your being aware that it's changing.
INTERVIEWER
So do you go to work every day like Cheever?
WOLFF
Generally I do.
INTERVIEWER
Do you write in the house?
WOLFF
No, I have a study in the basement of the university library. They offered me a nice place to work with a view of the Stanford hills, and I turned it down for this dump in the stacks because I'm so easily distracted. All I need is a window to not write. The only books I keep with me are a dictionary and some other reference books. If I have a good novel in the room with me, I'll end up reading that. Writing's hard. You'll take any out, if you can. I work best away from the house because I'm too tempted to check for calls and my mail and deal with tradesmen and run an errand, go out for lunch.
INTERVIEWER
Serious writers don't strike me as lazy—just the opposite, in fact. So why the compulsion to do anything but write?
WOLFF
I don't know if that's true for everybody. I hesitate to generalize. I'm sure there are writers who don't feel that tug away from the desk.
INTERVIEWER
What's your writing day like?
WOLFF
Boring, if you're not me. I take a walk or go for a swim, then go to work, eat, take a walk, write, come home. I never go to movies about writers because writers lead very boring lives if they're actually working. When I was a kid and saw these pictures of Hemingway on safari or fishing in Idaho, or Fitzgerald in Paris, I thought, What an exciting life writers must lead. What I didn't know is that's what they do when they're not writing. What's exciting is finding a word that's been dodging you for days, or deciding to cut something you've spent weeks on. The excitement's in the writing. It doesn't offer much in the way of drama, I'm afraid. Routine becomes invaluable to writers, and that's why once they hit their stride, their biographies make very poor material.
Think about the way other people work—lawyers, for example. They get up from their desk, they walk into the doorway of the office next door, and say, Hey, do you remember that Warthog v. Warthog case from two years ago? and they talk about it, and that's work. They go out, meet clients and take depositions, they have meetings where they discuss strategies for pursuing a particular case—it's a very social profession. I wonder how much of their time is actually spent dead alone, producing hard solitary thought for hours a day. That's what writing is and in that way it's very hard work and it absolutely requires all the conditions that make one a bore: You have to be alone a lot, you have to be rather sedentary, you have to be a creature of routine, you have to fetishize your solitude, and you have to become very, very selfish about your time.
INTERVIEWER
You're just back from ten months in Rome. Why were you there?
WOLFF
I had no immediate reason for going. It wasn't to do research. I speak some Italian, but living in a country where I can't be completely aware of what people are saying around me puts this sort of bubble around the head, in which, for a time, not indefinitely, I find I'm able to work with more than the usual concentration and joy. I like not having a car, living in the center of a city where you can walk everywhere. All the errands that seem to consume one's life become very few, and you find yourself with great stretches of time for reading, wandering, and yes, working. It was a good place to live for ten months, and I was dying to come home at the end of it. I finished the book I was writing and began to wonder why I was there, and when I begin to wonder why I'm somewhere, I know it's time to come home, because I actually like being surrounded by my own language and knowing what's going on around me. But it's good for a while to be dropped through the bottom, to be a little helpless, to have to scramble to make do, because as you get older, you do less and less of that, and it's good for you, it takes the rust off.
INTERVIEWER
So living abroad is in some way inspirational?
WOLFF
Not in the sense that I'll necessarily write about the place I'm in—we spent a year in both Berlin and Mexico and I still haven't set anything there. But just the breaking out, the newness of things, the having to struggle a bit, all that is bracing.
INTERVIEWER
What will set off a work about Berlin or Mexico?
WOLFF
I don't know. It usually takes years for me to catch up to places I've been. In Pharaoh's Army was published twenty-six years after I got back from Vietnam. This Boy's Life — again, about twenty-five years after I had left Washington State. Now I don't have that kind of time to play with. I'm fifty-eight and I can't wait twenty-five more years. So I hope that my stories will suggest themselves a little more quickly.
INTERVIEWER
How long does it take you to write a short story—for instance, "Benefit of the Doubt," which you wrote in Rome?
WOLFF
That probably took me three months, working on it most days for some hours. It took a while to figure out where it was going. If a story ends up fulfilling the design that was in my mind when I first sat down, it never seems to have much kick. I have to be shaken out of my intentions as I work; I'm always very pleased when something suggests itself that makes me do that.
INTERVIEWER
Is it still the case that you don't move ahead in the work until you're content with the line you're working on?
WOLFF
Yeah, tends to be. I'm too fussy, it slows me down, there's no question about it, but I don't seem able to work another way. Yet after I've finished the story, I'm quite likely to go back and change or even cut those sentences I lavished so much time on. Did they really merit that much attention? I don't know. But I needed to do it to get where I was going. In my case, it's generally gnawing away at things that gets me where I'm going. I don't recommend my way of working—I don't recommend anything in particular as a way of working except to do it assiduously.
INTERVIEWER
Who do you show your work to and at what stage?
WOLFF
I don't talk about my work, and I don't show it to anybody until I've brought it along as far as I am able. I show my work to my wife, Catherine, first. She knows me better than anyone else and has a good instinct for the kind of thing I'm hoping to write, so can see where I failed to get it down. When Ray Carver was alive we sometimes traded manuscripts back and forth, though I have to say that my own stories profited much more from those readings than his; I can't join the army of those who claim to have written his work or brought it to perfection. And my brother Geoffrey—when we were younger we used to exchange manuscripts and really mark each other's work up. Then there's the process of getting things into print. I've always had very good experiences with my editors, Gary Fisketjon especially; I find it immensely helpful to be given different ways of looking at something I've done. And though she doesn't edit my manuscripts, Amanda Urban has given me twenty-five years' worth of advice and encouragement, and done her damnednest to get my work out in the world. I guess the point is, as you go on in this life you become aware of the folly of thinking you did something all by yourself. We're held up by others all along the way.
INTERVIEWER
How do you go about ordering short stories in your collections?
WOLFF
Can you imagine putting "The Dead" at the beginning of Dubliners? No, you wouldn't do that. You're conducting movements and moods with the arrangement of a collection. Having said this, if I go back and look at a book two, three years after I've published it, I can't remember exactly why I ordered it that way. And of course, after all the work writers do to organize their collections of stories or their collections of poems, that work is completely undone by the readers—
INTERVIEWER
—who open it in the middle.
WOLFF
Right, open it in the middle because that story has a grabby title, or because they're tired and about to go to bed and want to read the shortest piece. Readers skip around in collections, in a way they don't in novels, obviously—except for those creeps who read the endings first. Let's say I get a new William Trevor collection. I love his stories about schoolboys, and if the collection has one I'll read that first. I skip around for the usual reasons: my mood, interesting title, length, all kinds of things. And then, eventually, if it's a collection I really take seriously, I will read it front to back as the writer intended, trying to understand its form. If it seems thrown together, I won't devote that kind of care to it. But with a writer like Trevor or Grace Paley I would absolutely pay attention to the order of the stories.
INTERVIEWER
I'm glad you skip around sometimes. Glad to hear you don't always respect the writer's designs.
WOLFF
Well, writers need to remember that once the book leaves their hands, it's not theirs anymore. It belongs to its readers, and its readers will make of it what they will. Sometimes I get letters from students—We're reading this story in my class, and everybody says it means the narrator wants to be a girl, but I think it means he wants to join the circus. What does it really mean? I politely decline to answer, because after all the writer doesn't own the last word, and may actually have an incomplete understanding of a given piece. Robert Frost, for instance, always took pains to insist that "Stopping by Woods on a Snowy Evening" did not contain any suggestion of life-weariness or Thanatos, but it most certainly does. The evidence is in the poem and is simply irrefutable. Either Frost is playing a complicated game here, which would be true to form, or he didn't fully understand his own poem. Some very fine writers are extremely instinctive, even better than their intentions. Either way, the writer does not and should not have the last word. That, like the book itself, belongs to the reader.
INTERVIEWER
When you're writing, how conscious of audience are you?
WOLFF
Not much. I write to please myself, which is not to say that I don't care if others read it. Here's the thing—if I could imagine a smarter reader than myself, then I'd be smarter than I am. And if I could imagine a more sensitive reader than myself, I'd be more sensitive than I am. Those are my limits. But at those limits, if I think something I've written is something I would enjoy reading, I'm pleased. I can't wear myself out second-guessing some phantom reader.
INTERVIEWER
How do the processes of working on a short story or novel or memoir differ from one another, for you? Is there any difference once you've actually sat down and begun to work?
WOLFF
In the process itself, no, not really. The great thing about writing a short story is that you know the damn thing's going to end—no time soon, perhaps, but you can see the horizon. But then you're also thinking, Oh no, when I get there I'm going to have to call another world into existence. The beauty of working in a longer form is that, though you can't always see the horizon, and usually don't, you are returning to the same world day after day, enriching it and deepening it. But there's always the anxiety—My God, I haven't finished anything in years. Will I ever do this or will lightning strike me dead before I finish, and will all this time and work be wasted? I have great admiration for people who spend ten, fifteen, twenty years on a single piece of work, the courage and fortitude it takes to do that.
INTERVIEWER
Do you have any tricks to help the work along—do you stop writing in the middle of a sentence at the end of the day, things like that?
WOLFF
No, no. People have given great advice of that kind, but, man, if I have a good sentence I'm going to finish it. I'd be terrified of losing it. And to tell you the truth, I wonder if Hemingway really did that himself. I'm not calling Hemingway a liar, I'm sure he believed it when he said it, maybe he even did it once—but writers are not entirely to be trusted in these declarations.
Writers often give advice they don't follow to the letter themselves. And so I tend to receive their commandments warily. I don't have a lot of advice to give. The one thing I would say to a young writer who wanted counsel is to be patient. Time, which is your enemy in almost everything in this life, is your friend in writing. It is. If you can relax into time, not fight it, not fret at its passing, you will become better. You probably won't be very good at the beginning, but you will become better, and eventually you may actually become good. But it doesn't help to be afraid of time, or to measure yourself against prodigies like Conrad or Crane or Rimbaud. There's always going to be somebody who did it better than you, faster than you, and you don't want to make comparisons that will discourage you in your work. In fact, most fiction writers tend to graybeard their way into their best work.
INTERVIEWER
Have your concerns as a writer changed as you've gotten older?
WOLFF
I'm sure they have, but I can't really say how. I don't go back and reread old work. I prefer to let readers come up with those sorts of insights, to detect those patterns. I would be an unreliable judge, anyway.
Very roughly speaking, in writing short stories I tend to hew to values of exactitude, clarity, and velocity. In Old School, a novel, I allow my narrator an often indirect, musing voice. Velocity is not the cardinal virtue in work like this. There's no right way to tell all stories, only the right way to tell a particular story.
INTERVIEWER
Automobiles figure prominently in your work—both memoirs begin with trucks hurtling toward disaster.
WOLFF
Well, that's a funny thing. I was a nomad growing up, traveling all over the place. I didn't have my Yoknapatawpha County, but maybe the inside of a Nash Rambler is my Yoknapatawpha County, you know what I'm saying? I spent a lot of time in cars when I was a kid, and you know, there's something about cars— you're going somewhere, you're occupied, which can make people very unguarded in their conversations. I hitchhiked across the country a couple of times when I was a kid, and I used to have the most intimate conversations with strangers. It's partly because you're also a stranger and they know you're going to be getting out. And you know you're going to be getting out, so you'll say things, too. Not everything I said in these cars was truthful, and I'll bet that the things that were told to me weren't in every case truthful, either. But you know, they are wonderful theaters, automobiles, and the intensity of intimacy doesn't become embarrassing because you're supposedly doing something else—one person's driving, and you're both looking ahead, not at each other, and you're going somewhere, and it gets dark and there's a kind of trance one gets into, and something lifts, some reticence lifts. It's just amazing what people will say to each other.
INTERVIEWER
In "Second Home Blues," an essay, you write about your nomad years, but there's relief in your voice when you write that eventually you married, became a homeowner, settled in, after going along all those years before living out of a backpack.
WOLFF
I had an idea of myself as someone free and unencumbered, and virtuous for being so. Of course, one cannot live like this— I can't, anyway. And in fact, I find that all the best things in my life have come about precisely through the things that hold me in place: family, work, routine, everything that contradicts my old idea of the good life. For years I lived mostly out of a backpack, traveling light and living cheap, often bestowing my mendicant presence on my brother, Geoffrey, and his wife, Priscilla, on my patient friends. But, you know, it seems as time goes on that the deepest good for me as man and writer is to be found in ordinary life. It's the gravity of daily obligations and habit, the connections you have to your friends and your work, your family, your place— even the compromises that are required of you to get through this life. The compromises don't diminish us, they humanize us—it's the people who won't, or who think they don't, who end up monsters in this world. I'm not talking about dishonesty, I'm talking about having some give, sometimes letting go of things that you aren't inclined to let go of, that you may even have attached the name of principle to, to justify your fear of bending.
INTERVIEWER
In In Pharaoh's Army, your fiancée destroys your car while it's parked outside your apartment—though it's hard to believe—
WOLFF
No, it's absolutely true.
INTERVIEWER
It's an act of supreme intimacy.
WOLFF
Well, I did love that car. If I hadn't loved it so much she wouldn't have wrecked it. Now you've brought up this whole question of, Gosh, can this be true? when you read something like that. And you have to remember that I wrote these two memoirs with the knowledge that they'd be read by people who lived through those times with me. I couldn't write down things that were simply untrue, that I knew were untrue, because I stood to be ferociously corrected—and embarrassed—by people who knew better. Now that doesn't mean there weren't differences of interpretation—I'm sure, for example, that my then-fiancée would have a very different take on what happened: He had it coming, he was a selfish brute, I needed to get his attention. She would, I'm sure, have an explanation for why she destroyed my car that night, but she wouldn't dispute that she did it. So, too, with the other book. My mother was very much alive when I wrote This Boy's Life, and my brother, and other people who saw those times with me. So I was answerable. It's different from writing fiction.
Not that the reader can always tell the difference. I know I have stories that people tend to read autobiographically— "Firelight," for example, "Smokers," "Flyboys." Someone might say, Why didn't you put those things in your memoirs? The answer is, Those things didn't happen. I made them up. Now, there are moments from life that suggested the stories. In the case of "Firelight," my mother and I did indeed go around looking for apartments we couldn't afford, just for something to do on week-ends, but the particular events I described there didn't happen. So I would not be comfortable calling it a memoir. You could, I suppose, justify it by saying, Look, it captures the tone of your relationship with your mother and the things you did together, it gives a picture that is suggestive of the truth. Well, that's a pretty good description of fiction. Why call something a memoir that's actually a good piece of fiction—what's wrong with fiction? And the beauty of fiction is that you don't have to be loyal to memory, and you don't have to be answerable to anybody for your version of things. Obviously, sometimes our relatives and friends believe us to be answerable to them and wish we had not written as we have in our fiction, but nevertheless, the minute you call something a story or a novel, you're off the hook.
William Maxwell's novel So Long, See You Tomorrow is a wonderful test case for this whole question. It calls itself a novel, but if you look at the dust jacket, you see that the particulars Maxwell gives of his own life correspond to those of the narrator. The narrator is unnamed, so you have yet another impetus to put young Maxwell in his place. The novel is beautifully constructed to draw you in with the appearance of memoir, so you give it that trust, you think, This is real. Well, it isn't, it's made up.
The devices he uses to gain our belief, the invitation to read the book as history rather than fiction, are in no way reproachable—are all time-sanctioned instruments of literary storytelling. The earliest novelists like Defoe and Walpole often stated in forewords that their novels were diaries that had been found in various hiding places. The suggestion of historicity was part of the fun.
INTERVIEWER
Does it bother you that because you've got two memoirs on the shelf readers might look at the fiction as autobiographical?
WOLFF
I wish that people could say, Oh, this is a story, an invented thing, and be satisfied with that. On the other hand, it's entirely possible that someone will identify the narrator of my memoirs with the narrator of a given story. If there's nothing to contradict that, or to forbid it, and enough apparent correspondence to invite that reading, I just have to live with it.
Writers, to my way of thinking, are no more free in their choices than most people. Our material chooses us; certain things engage us, certain things do not. Certain subjects call me out and I feel like my feet are on the ground when I'm writing about them and no doubt this has led here and there to apparent repetitions and correspondences that may be deceptive in that they lead the reader to assume an autobiographical basis for the work. There's not really much I can do about that. I take comfort in the way that, say, Flannery O'Connor would tend to revisit the same situations without losing much in the way of her power or variety. You know, you have the surly daughter who is driven nuts by her mother's cheer and simplistic piety and common sense, and a shiftless handyman around somewhere. There are recurring patterns in her work, but she manages to refresh them each time out. I suppose I hope to achieve something like that.
INTERVIEWER
What place does violence have in your work—the threat of violence?
WOLFF
I've had some experience of violence, I've lived in fear of it, and I guess it would be strange if it didn't find its way into my work. I grew up in a world where violence was all too common—not deadly violence, so much, but beating, bullying, and threats— certainly in relations between boys, and between men, and often between men and women. I spent four years in the army, one of those in Vietnam. You know, an army is basically an enormous threat of violence or it is violence in motion. It's one of the two: it has no other reason for being.
INTERVIEWER
What do you think of Faulkner's description of violence in his work—that it's a tool like a carpenter's hammer?
WOLFF
Faulkner is implying a description of the writer as a painter with a certain number of colors he can choose from. Here's a dab of violence, and now I'll stick some humor in. In the best of his novels all this stuff is of a piece—the violence in Absalom, Absalom! is at the very root of everything that happens in that novel, and of course it ends in the violence of suicide. Sutpen builds his little empire on violence, and that is the story of the institutions of the South that Faulkner is writing about there. So it isn't just a writer's tool, it's an element of the whole social structure he's writing about. And that's the way I feel about the way violence enters my own work. I don't deliberately choose violence the way you might pick a wrench out of a tool kit, or dip my brush into that color rather than this color. It has to arise in some way from the demands of the story and the people and the milieu I'm writing about.
INTERVIEWER
Could you talk about the American notion that artists, writers, need to suffer before producing good work?
WOLFF
Sure, we have a cult of experience here, definitely. But we hardly originated it. The artist as lunatic and outlaw has been with us lo these many years. Think of Chatterton, Savage, Byron, John Clare. But it's not just a romantic notion. Historically, artists have been poor, they've lived on the margins of society, prey to the brutalities of the system, and they've become injured and angry, and undeceived by official pieties, and they naturally lob bombs over the fence. So there is an ancient disaffection between artists and the institutions they see as their antagonists, the status quo. There's an offended sense of dignity at work in them, and also a tremendous temptation to self-pity and self-indulgence. And the American version of artist outlaw is very, very heavy on the self-indulgence. The self-pity of being a writer or an artist has been a sovereign excuse for all kinds of baloney. You know, All the sufferings I endure and the terrible things I do to my wife and children are because I'm an artist in this philistine America.
INTERVIEWER
But if a writer can get past the self-pity, the idea is that rough experience will somehow translate into good fiction or poetry.
WOLFF
I've been thinking about that lately. Especially having gone to Italy, and surely at some level, thinking, still unteachably, that going abroad would somehow make me a different person and that this would show up and that the writing would be different and better because of it—all that. There's a wonderful line in the movie Round Midnight when the alcoholic saxophonist is about to go to Paris, and his friend, who wants him to get straight and not run away, says, You know who's going to be waiting for you over there in Paris, don't you? No. You are. So I go to Rome and there I am, waiting for myself. One is in Rome, and not in Rome. As Milton says, "The mind is its own place." And that's the way it is with experience, after a certain time. When I was young I idealized writers like Hemingway, Jack London, Orwell, writers who were active in the world. There's no question at all that when I joined the army there was a kind of literary impulse behind it. I'd learned all the wrong lessons from Hemingway and Erich Maria Remarque and James Jones, all these writers I admired—they were telling me, Don't be such a fool as to get yourself in a position where you're going to get shot for nothing by some other fool. And all I could think of was, Jeez, they wrote these great novels because they put themselves in danger and traveled to places where nobody cared if they lived or died. Great! That's for me! I'm not saying I thought this out in so many words—I didn't, I'm not an idiot— but the appetite for "experience" is natural to young writers. I've seen it often, and surely I had it, no question. But to get back to Flannery O'Connor, what kind of experience did she have, afterall? She spent, what, one year away from her farm in Milledgeville? Yet her stories are full of life and drama and real humanity, and it's because she kept her eyes open. Experience is about seeing what's around you, not going different places and putting yourself in danger—it's about being attentive, seeing how things work, what they add up to.
INTERVIEWER
Do you ever get sick of being always on watch?
WOLFF
For better or worse, it's become second nature—this habit of detachment and constant judgment. It's an occupational hazard of the writing life, the sense that life is here for you to review in some way, to apply a rubric to. I have a story, "Bullet in the Brain," about a book critic who is so jaded, and so filled with allusion and literary reference, that even when his very life is threatened he hears the threat as a series of clichés that he thinks are risible. This habit of being at a distance from life can remove you from what's real, if you're always stepping out of the stream of life in order to look at it. It is something that writers have to be alert to. Paying attention is certainly part of the problem, but it's also the antidote. If you're really paying attention, you will be reimmersed in life.
INTERVIEWER
What is it about writers that causes them to stand outside the stream of life?
WOLFF
Well, there must be something strange in our temperament that brings us to writing in the first place, and then the practice of the art over many years can lead to self-absorption, abstraction, walking around in a haze. When I'm working very hard on a piece, people will speak to me at dinner and I won't even hear them. So there's that kind of removal from life, as well. And the pernicious habit of viewing everybody as potential characters in a story— after a while you know not to do that, and it's absurd because it doesn't work that way, anyhow. But as to what makes someone be a writer, I'm damned if I know.
We all tell stories. The merest child comes home and tells the story of how the evil teacher has abused him, or how he defeated a bully in class that day; people come home from work and tell stories about their fatuous boss and we're all ears. We love hearing stories of other people's misfortunes—not terrible misfortunes, we don't like that, but if somebody has taken a really expensive holiday, we don't mind hearing that their flight was canceled and they had to sleep on the airport floor, and that there was no snow on the slopes when they finally arrived, and that the heating crashed in their hotel and that they had to wear several layers of clothing to bed every night. We live by stories. It's the principle by which we organize our experience and thus derive our sense of who we are. We're in an unceasing flow of time and events and people, and to make sense of what goes past, we put a beginning and an end to a certain thing, and we leave things out and we heighten other things, and in that way we break the unbroken flow into stories, because that's the only way we can give it significance. And that's why people will never agree that a friend's or relative's memoir is accurate. We have left things out without even realizing it, and heightened other things, but to our friend the missing moment was paramount and the heightened moment of no importance at all.
INTERVIEWER
Because your friend played a starring role in that missing moment—
WOLFF
It's like that line in Stoppard's Shakespeare in Love when the players are all drinking after rehearsal, and this wench in the pub says to the great hulk of a guy who's playing Juliet's nurse, Romeo and Juliet, I've never heard of this play, what's it about? And he says, Well, there's this nurse . . .
INTERVIEWER
In the 1980s you were labeled, along with Raymond Carver and Richard Ford, among others, a "dirty realist." The three of you were seen as—
WOLFF
We were friends, which probably encouraged it, though it wasn't like we were hanging out together all the time, you know, playing cards and shooting animals.
INTERVIEWER
Was there really any sort of renaissance taking place? It's made to sound as if the short story were cold in its grave and then this new pack of American writers came along . . .
WOLFF
I hate that kind of talk. I hated it even then. You know that line of Shelley's, "If winter comes, can spring be far behind?" Well, I was thinking, If spring comes, can winter be far behind? You know, once they're declaring a renaissance, my God, that means that some dark age will be fast upon us. No, no, the short story was never in any trouble. What happened was that a few journalists began to read short stories again, and decided that since they were reading them, it was a renaissance. But the short story has been a strong literary form in this country since the time of Poe. If you think about the people who were writing great stories all through the fifties and sixties — John Cheever, Flannery O'Connor, Katherine Anne Porter. Saul Bellow, a wonderful writer of short stories. Peter Taylor. Philip Roth, absolutely. Hubert Selby, Jr., Last Exit to Brooklyn.
INTERVIEWER
William Trevor?
WOLFF
I was thinking of this country, but of course William Trevor. Elizabeth Spencer. Grace Paley. J. D. Salinger. John Barth. Jean Stafford. So it simply wasn't true that there was some resurrection or renaissance in the short story. There was maybe a renaissance of interest in the short story, but that's a different thing altogether. Obviously, Raymond Carver's work carried some charge that invigorated readers. It's hard to say exactly what it is because the voice really comes down from Sherwood Anderson and Hemingway, it's not an unfamiliar voice, but it's brooding and often weirdly funny and it's got complicated undertones, and it somehow makes you feel the menace of everyday life. Ray's stories first became popular, it's interesting to note, right after Ronald Reagan got elected, with all his platitudes about morning in America and the whole maggoty stew of official optimism and national sanctimony.
Ray's work is deeply pessimistic, not in a programmatic way, but at the level of ordinary life, in its intuition of the fragility of people who are just hanging on day to day behind those sound-deflecting walls along the highway, waking up every morning not to an uplifting commercial but to a hard grind and the possibility of a pink slip. It isn't as if their story hadn't been told—realistic fiction has always been a very strong element of our literature—but Ray hit a tone that in some way confronted the religious nationalistic rhetoric that was coming out at the time. I don't think that was Ray's intention, but reading him was a definite tonic against the bullshit we were wallowing in, and it created a charge of excitement that I think probably helped all of us who were writing short stories, not just Richard and me and Jayne Anne Phillips and Ann Beattie and other writers who were identified as dirty realists, however nonsensically. Ray was baffled by all that, incidentally. To him this was just the way some people— his people—lived.
INTERVIEWER
Richard Yates's and your name often pop up in the same places—some claim that he was an influence on your work. Is there any truth to that?
WOLFF
Really? No, that's not true. I came to his work rather late, I'm afraid. I started reading his stories in the early eighties and ended up using one—"Oh, Joseph, I'm So Tired"—in an anthology I put together in 1983. Funny story about that. Yates was an odd duck, as is well known, and he did a drop take now and then. Now, when this anthology I'd edited, Matters of Life and Death, was coming out, the publisher arranged a launch reading for the book at a museum in Boston. Jayne Anne Phillips, Mary Robison, and Richard Yates were going to read, in that order. I showed up just before the reading, and met everybody in the lobby, and sat down with Yates for a little while—first time I'd met him—though he was hardly in a state to have much conversation with me. He was very, very drunk. He had on a beautiful suit that was full of cigarette holes, and his elbow kept slipping off the table, he could hardly put two sentences together, and I thought, Oh, well, what can one do, you know? And so the reading began, first Jayne Ann, then Mary, and Yates was slumped in the front row and every once in a while you'd see his head bob up violently and you'd know he'd gone to sleep. Now, "Oh, Joseph, I'm So Tired" is a very long story, and it's written in a complex language, full-throated sentences, delicately inflected, nuanced. How was he going to get through a page of it? But when Mary Robison ended her reading and Yates was introduced, he made his way to the podium and read that story without dropping a comma. He read it in a beautiful, smoke-cured, gravelly voice. It was a wonderful reading. A perfect reading. Professional doesn't even begin to describe it. And then he came off the podium and I went up to congratulate him and he was drunk again. He was like that surgeon in Oliver Sacks's book An Anthropologist on Mars who's got Tourette's—you know, his movements and moods are out of control—but when he goes in to operate, he becomes an utterly efficient surgeon, and apparently a gifted surgeon. There was something of that in Yates.
He was a beautiful writer, deeply melancholy—when his collected stories came out, Michael Chabon and I read on behalf of that new book, and one of the people in the audience said, Well, I like Yates's book, too, but I find that I can't read very much of it at a time, it's so sad and so hopeless. Well, yes. Often it is. Yates is not congenial. Nor is Paul Bowles, or Flannery O'Connor, her violence, her obsession with the sinfulness of the world. A writer who's got any distinctiveness is going to put off some readers.
INTERVIEWER
In In Pharaoh's Army, you mention that you were working on a novel during your time in the army. What became of that book?
WOLFF
It was an immature book about a lady-killing young paratrooper whom I hoped the reader would mistake for me.
INTERVIEWER
It wasn't published?
WOLFF
No.
INTERVIEWER
How long did you work on it?
WOLFF
I worked on it a bit when I was in language school in Washington, DC, and in Vietnam whenever I had free time. It wasn't very good, but so what? Very few of us write well straight out of the gate. Precocity is more common among poets, perhaps for the simple reason that poems are shorter than stories and novels. Most poetry is built on the flash, the glimpse, the stab of insight, whereas fiction is a kind of beaverish gnawing away, and the greater length makes the youthful weaknesses of the write more apparent. To sustain something over a period of time requires a different, and probably an older, more stoic temperament.
INTERVIEWER
Do you read much contemporary poetry?
WOLFF
Yes. Right now I'm reading Sharon Olds's The Unswept Room. Wonderful, wonderful poems. She has a poem from the point of view of a newborn baby about to be taken to her mother that makes you laugh and breaks your heart at the same time. Alan Shapiro's recent book, Song and Dance, about the death of his brother, is a masterpiece. Do you know Charles Hanzlicek's poetry? Read The Cave. Powerful, beautiful work. W. S. Merwin is a poet whose work I love. So too Stephen Dobyns and Charles Simic and Eavan Boland. Robert Pinsky. Seamus Heaney. I could go on all day.
INTERVIEWER
Do you write it?

WOLFF
No, I don't write poetry.
INTERVIEWER
Ever tried?
WOLFF
Yeah, I've tried. It just isn't a gift of mine. I don't know why, but when I go to write poetry I put on my poet's hat and something happens to me that shouldn't happen. Somebody published a parody of what they called a workshop poem—a workshop poem, what the hell does that mean—what was it? Something along the lines of, I go to the window. It's gray outside. It's raining. And I am important. You know? And when I read that I felt a little start of recognition.
INTERVIEWER
Are there any trends in contemporary fiction that worry you? Any that particularly interest you?
WOLFF
I have no idea where it will go, except that narrative—story— will carry it. From time to time writers will feel the demands of narrative as a tyranny and refuse them, even mock them. Sterne did it, Tolstoy himself did it as a young man. Literary postmodernism is actually pretty old hat. It's recurrent, and usually passes like a mild fever. We'll see it again, no doubt, and again it will pass. Or not. I can look back and see how things have gone in the past, but who can see ahead? I'll certainly be surprised, probably dismayed, because I'm a person of my time, no doubt about it.
I tell you, the one thing I hate is an absolutist. I hate absolutist ideologies, I hate absolutist aesthetics, I hate absolutist theologies, they're the burden and bane of this world. I have my tastes, but I don't read with the eyes of God, I know that.
INTERVIEWER
What credence do you lend critics?
WOLFF
They might be right when they criticize things in my work and in the work of others, but at a certain point I'm not sure that it's very useful because you are who you are, you write the way you write. If they don't like the way you write, there's really not much you can do about it.
INTERVIEWER
Do you read reviews of your own work?
WOLFF
I do. If I see something that rings a bell, I'll take it to heart. Doesn't happen too much anymore because, frankly, I know my weaknesses better than they do. And I know my work is not perfect. Or let me put it this way: I know my work is not all things to all people. It isn't going to be. I have a certain tone and sense of form and I have a certain body of material that I work from, and not everybody is going to like it, and if that's the problem, then there really isn't much I can do. But if someone picks up on a false note I've struck, that's useful. I've had it happen.
INTERVIEWER
Have you written reviews?
WOLFF
Years ago, a few. But it's not an efficient use of my time. A really good critic has a distinct voice. I didn't. I'd put on my reviewer's hat and immediately become stiff, correct. The other thing is, the older I get, the more I'm aware of how hard it is to write a book, for anybody, and I really didn't like giving ungrateful reviews. It's not my work anyway. My work is to write fiction.
INTERVIEWER
You've been teaching for about thirty years. How do you balance writing and teaching?
WOLFF
When I think about the kinds of jobs I've had and the ways I've lived, and still managed to get work done—my God, teaching in a university looks like easy street. I like talking about books, and I like encountering other smart, passionate readers, and feeling the friction of their thoughts against mine. Teaching forces me to articulate what otherwise would remain inchoate in my thoughts about what I read. I find that valuable, to bring things to a boil. But if I teach too much it begins to weigh on me—I lose my work. I can't afford to do that anymore, so I keep a fairly light teaching schedule.
INTERVIEWER
What of writing can be taught?
WOLFF
What I hope is that you can help people to become good readers and good editors, of both their own work and the work of others. I don't know anybody idiotic enough to claim that you can teach someone to be a fiction writer. You can help them up to a certain point understand what it is that they have in mind, and help them judge the difference between what's in their mind and what's on the page. Because it isn't always apparent to us that we're not getting it all down.
In fact, writers have always traded work back and forth. Older writers have always given help to younger writers. Turgenev to Maupassant, Stein to Hemingway, Pound to just about everybody. On the original manuscript of Eliot's "The Waste Land," you can see Pound's emendations—they're good, they're really good, he was a great editor. Now, did he teach Eliot to write? No. But he did help him see that there were more notes to be played he was playing. That is the kind of thing I hope to do. And to counsel patience—the beauty of patience, which is not a virtue of the young. As Yeats says, "Now I may wither into the truth." A heavy price to pay for getting there, but that is the price we pay.
INTERVIEWER
What do you suggest that your students read?
WOLFF
Oh, I'm not systematic about it, but—
INTERVIEWER
But you've edited a collection of Chekhov's stories, so you're well acquainted with his work.
WOLFF
Yes, I like Chekhov. To isolate just one element of his work, consider his endings. I think the besetting vice of most writers is a programmatic intention, making a story like an algebra equation with a solution at the end. Chekhov gives another model of conclusiveness—that conclusiveness inhabits the whole body of the story, not just the ending. That every good story expresses inevitability in all its parts, and yet is not foreclosed, shut down, at the last word. A good story somehow continues in a shimmer of possibility.
Chekhov is not out to prove the kinds of things that can be stated in paraphrase, if I can put it that way. The truths of his stories are truths that can only be realized in a story, they can't be abstracted from the story. He trusts in the simplest moments to be telling and meaningful. A young girl has just come back from the opera and is sitting in front of the mirror thinking about her suitors, and that's all she does for four pages. "After the Theater." Or "At Sea," that crazy sailor's story. Or "In Exile," a young man spending his first day in exile—he's on a riverbank and stuck with these other convicts and they're telling stories and giving him a hard time. Nothing actually happens, but moment by moment the terrible truth of this man's situation comes home to the reader. How does Chekhov do this? His is a deeply mysterious art. A school teacher in a cart. She's being taken in to get her pay, through this rude backcountry in which she's marooned, and she's having dreams about a local landlord, maybe he will woo her. He happens then to ride up to the cart, talks with her for a minute, and rides on, and you see that the departure of that man is really the departure of all her possibilities, and he is completely unconscious of it and she herself even, may, at some level, think that she was simply dreaming it, and then suddenly you feel the weight of her future overtake her in this cart, but Chekhov never says that, and so the knowledge comes through your nerves and is all the more painful for that. Now what kind of story is that? You're in a cart, a guy comes up, says a few words to you, and rides away. Why the hell is that a story? Nobody does much of anything, none of the characters has learned anything—no epiphanies. Chekhov's art is rooted in profoundly humane intuitions that surface in the form of stories and can't be told any other way.
That's the way we view our lives, by way of stories. Jesus taught mostly in stories—in parables: the good Samaritan, the woman at the well, the prodigal son. The teachings of that ancient Taoist text the Chuang Tzu are essentially a series of parables that force the mind into unexpected avenues of consideration and intuition. That's what story can do that statement can't do, axiom can't do, rules and commandments can't do. And that's why Chekhov with his freedom from programs and vulgar designs continues to have this power over us.
INTERVIEWER
You can't stomach rules about writing—I've heard that when you were younger, if someone told you a story couldn't be written, that was all the more reason for you to write it.
W O L F F
Oh, that was a provocation, absolutely. I remember in particular one occasion when I was in a workshop at Stanford back in 1975, and one of us brought in a story with a hitchhiker in it, and somebody in the workshop said, Oh, you can't write a hitchhiking story, hitchhiking stories have all been written, they're old hat from the get. I left the workshop that night and went home and started writing a hitchhiking story. There's no story that's used up. People say things like, There are really only seven stories. Well, no. There're as many stories as there are ways to imagine stories, and there are an infinite number of ways to imagine stories, and for them to be brand-new after you've done it.
INTERVIEWER
How'd that story turn out?
WOLFF
It was a pretty decent story, I think.
INTERVIEWER
Does that challenge still apply?
WOLFF
I no longer have time to react to other people's opinions.
I N T E R V I E W E R
Why did you start your memoirs?
W O L F F
I was working on a collection of stories when I started This Boy's Life. I didn't know I was writing a memoir, not at first. It was something I began on the side, a series of autobiographical notes about moving around with my mother as a boy. I thought I might use them as the basis for stories one day, and also as a record for my kids, so they'd know what their grandmother was like as a footloose, pretty woman, and how I grew up, because you don't just sit down and tell your kids, This is where I was born, this is what happened in fifty-five— you don't do that, it just doesn't come out that way. And there are certain assumptions they would naturally have growing up in a privileged world of academics, having bedrooms of their own, having bookish, loving parents who didn't get drunk and bully them, that kind of thing. It would be natural for them to think that my life had always been like that, when it hadn't. And there were things about the history of my family that I thought were not uninteresting. So I started to write some of this down. Several years earlier my brother had covered his half of the turf—he grew up with my father, I grew up with my mother—in his book The Duke of Deception. Back then I thought that the memoir bet had been covered. I'd never had an ambition to write a memoir—I know it sounds disingenuous for someone who's written two memoirs to say this, but I'm actually rather jealous of my privacy. So I didn't begin with the idea of publishing a memoir, but as I started getting these memories down, they took over. Writers wait for that moment when the material starts to carry them. It happens more rarely than one wants to think, and you're a fool if you don't give in to it when it does—drop everything else and go with it. But I never sat down and thought, I'm going to write a memoir. And when I got done, I said, That's that. I'm certainly never going to do that again. I remember saying to my brother after I finished it, I feel like I've sold my birthright for a mess of pottage. Because I feared I'd drained the well of my fiction.
Anyway, I went back to short stories, and I wrote one set in Vietnam, which I liked well enough—"Casualty"—but when I got to the end of it I knew, in a way the reader wouldn't know, all the stuff I'd left out, so I wrote another piece from my experience in Vietnam, about some guys going to get a television set from a nearby base on Thanksgiving Day — myself and this sergeant I served with—and, as before, I ended up putting the collection aside. That was a more difficult book to write because, of course, there was greater consequence to what happened over there. When I was growing up in the world of This Boy's Life, I was never responsible for anybody being hurt in an enduring way. My mistakes mainly hurt me. And I had the net of my mother's love under me. But so many people were killed in Vietnam — fifty-eight thousand Americans and over a million Vietnamese, and countless others crippled and irredeemably traumatized. This memoir wasn't something to be done lightly. The problem of tone in writing about such a thing is immense, and damn near insoluble. One of the great triumphs of Michael Herr's Dispatches is that he found a tone that was respectful of its destructive power yet also enlivened— jazzed—by its undeniable rush. I had lost a very good friend over there, and I wanted to get things right. I felt that I had people looking over my shoulder, almost, people I was responsible to. That this book was not a private thing.
I N T E R V I E W E R
Did you work from a journal? Do you keep one?
W O L F F
I'm ashamed to say I don't, because I insistently recommend to younger writers that they keep a journal. And I would recommend that to anybody. It's just laziness on my part that I don't. I never got in the habit.
Luckily I have a pretty good memory, and I'm not sure a journal would always have served me well, because I wasn't really honest enough to keep a good journal. When I was in Vietnam I sent home a number of letters to my mother and my brother. When I began to write In Pharaoh's Army some twenty-five years later, I got copies of these letters from them, thinking they'd be helpful to me in recalling that time. In fact they were no help at all; rather the opposite. The letters were mostly a parade of poses—stiff upper lip, reticent warrior, deep tragic thoughts, et cetera. They had very little in the way of astute detail about the life around me and the life I led. They were useless to me in writing the book, so I trusted my memory, which was actually pretty good about what went on there, the details of my day, the meanness and banality and boredom and occasional pure terror of my experience there.
This encounter with my letters made me skeptical about the kind of modern history that's based on the records of the grunts, so to speak. We don't do the great-man thing anymore, we look at the guys on the ground. Well, are the grunts really that much more to be trusted?
Still, once in a while I run across something that I do trust extraordinarily. I recently read a memoir by a man named E. B. Sledge, about his time in the Marine Corps during World War II in the Pacific campaign, and it was so plain and unaware of literary artifice that I found myself believing in it entirely. On the other hand I've just been rereading, for the umpteenth time, Robert Graves's Good-bye to All That, and he has a way of being both literary and true. Sometimes you do get a whiff of the tall tale. He tells the story of how, when the troops couldn't get boiling water for their tea, they'd fire off a long burst from their machine guns and then siphon the hot water out of the cooling chamber. Well, this turns out not to have been true, it didn't work that way. But I don't care—it was part of the lore of the trenches. It's a different kind of reality he's evoking there, the myths that the men created about themselves and what they did. But this is a long way around the barn. I keep intending to keep a journal, and I'd better do it pretty soon because I can't rely on my memory forever.
I N T E R V I E W E R
But the letters served as a sort of journal, so they were of at least some use to you?
W O L F F
Mostly they reminded me of what a poseur I could be.
I N T E R V I E W E R
Did you remember these poses?
W O L F F
Not as vividly as the letters recalled them to me. You know, that might be another good reason not to keep a journal—not to have to go back and encounter all these versions of oneself that one has tried to create over the years. And that could also be a good reason to do it—as an antidote to one's current temptations to pretense.
I N T E R V I E W E R
Is that something you actively try to avoid in your own writing —literary pretense?
W O L F F
You know that old chestnut of Horace's, his praise of the art that conceals art? That's something I spend time on, getting rid of things that make the labor of the writing evident. I don't want to create something that says, Look how hard I've worked on this sentence, Isn't this clever? Such things are often a delight to write and then have to come out in the rewriting. It takes some effort to achieve naturalness—you might even say that to be natural is unnatural. When George Burns was asked the secret of good acting, he said, Honesty. Once you can fake that, the rest comes easy.
I N T E R V I E W E R
Do you stay in touch with Sergeant Benet, or anyone else you served with?
W O L F F
No, no, I'm sure he would not be at all interested in hearing from me. No, he was a very sweet guy, and he tolerated me. We weren't friends. I was so callow, and so dumb, and so out of it. Really, it's amazing that I lived through it.
I N T E R V I E W E R
It's hard to believe that you were ever out of it.
W O L F F
Well, I was. I was. I understand that that can seem like a pose, too. Hemingway has that passage in "Soldier's Home" when he talks about the various poses that men strike when they get back from war, and one of them is that they were scared all the time, when in fact, for a lot of them, it was the highest point of their lives. You try the antiheroic pose, the heroic pose, and in that way, he says, you lose everything. I was without a clue, and that's no pose.
I N T E R V I E W E R
Based on that—
W O L F F
Let me backtrack just a moment. Just to make this clear. I went into an all-volunteer army, but then it became a draft army and they were sending hundreds of thousands of men over and they needed officers. I served as an enlisted man for a year and a half, and a pretty good enlisted man. I was in the Airborne and was trained as a radio operator, and had a little area of expertise, and then I was assigned to the Special Forces, but they were in such an accelerated schedule at that point, I didn't get the full range of training that I should have gotten. I wasn't there long enough. They sent me off to officer candidate school, where I graduated at the bottom of my class. Now, that isn't really all that bad, because more than half my class didn't graduate at all, so I was actually in the middle of my class, but no one below me graduated. And I wouldn't have graduated, either, except that they needed me—this isn't just bullshit—because I was the creative genius who'd put our graduation revue together. It was a big deal at Fort Sill, you had to put this revue on for the parents and the officers on the base when a class graduated, and I had organized the whole thing. I directed the skits and led the singing and indeed I'd written most of the songs we sang. I was the one who called cadence on our marches. I'd make songs up as I went, and we ended up using a lot of those in the revue—I was told that for years afterward troops at Fort Sill were still singing songs I'd written. But within a couple of weeks of graduation, they were sorting the class out and dropping a lot of people, and they had a decision to make about me. If they'd washed me out then, they would have had a hard time putting this show together. Maybe that's not the only reason they decided to pass me on, but I think that figured importantly in their calcula- tions. I was on the fence, and that's what tipped me back in. I'd flunked out of my boarding school because of my ineptitude at mathematics, and, of course, what do they send me to? Artillery Officer Candidate School, which is all trigonometry and calculus, okay? Logarithms and all that shit. Gunnery is really complicated. So anyway, there I am, an artillery officer. Then they send me back to Special Forces, where there is no artillery! So I had just spent six months away from the Special Forces, away from the training I should have been getting there, getting intensive training in artillery, and in military protocol, and in a way of being in the army that didn't apply to the Special Forces at all, which is very non-hierarchical—the units are small, close-knit, you don't pull rank on people—so they send me back to that unit where there is no artillery and none of the training I've just had applies, and where the training I had gotten at Fort Bragg was mostly forgotten in the six months I was gone. So I hang around there for a few months doing makework, waiting to be sent to Vietnam. But instead of sending me to Vietnam, they send me to language school for a year, where I learn Vietnamese but get no military training. So now I'm a year and a half from my last real military training, and then they send me to Vietnam as what? An advisor! To an artillery battalion within the Vietnamese Seventh Infantry Division. Advise them on what, you know? I can speak some Vietnamese, but the Vietnamese already know how to speak Vietnamese, so that's not advice I can give them. It was a classic military farce. So believe me when I say that by the time I got to Vietnam I was not ready to assume my responsibilities—and it wasn't entirely my fault. They played a crazy pinball with me that fragmented my training and finally made no sense at all. I didn't know diddly, so I really needed some taking care of, and thank God this sergeant stepped into the breach.
I N T E R V I E W E R
I didn't mean to imply that it was a pose—
W O L F F
Well, no, but it could very well be, and it's a timeworn pose at that.
I N T E R V I E W E R
It's difficult to imagine that you couldn't—
W O L F F
Do my stuff.
I N T E R V I E W E R
You had common sense.
W O L F F
Andre Dubus had been a Marine Corps officer, and he would never believe I'd been the lost boy I claimed to have been. The more I'd insist, the more he became convinced I'd been a terror to the enemy. His name for me was Silent Death.
IN T E R V I E W E R
Because of the Special Forces?
W O L F F
Yes. Every time I disavowed it he thought I was going into even deeper cover and that I had even more to say. He was needling me, no doubt. But he partly believed it, too. I know he believed it. And sometimes I'd get so frustrated at my failure to convince him that I'd start laughing and that would be even more evidence to him.

I N T E R V I E W E R
You wrote an entire book just for cover.
W O L F F
Exactly.
I N T E R V I E W E R
It's funny to hear that he wouldn't believe you, since so many of your characters seem to be wrestling with the notion that they are, themselves, fakes.
W O L F F
Sure. John Barth had a piece some twenty years ago in which he talked about his work, and as I recall he said he didn't care all that much for postmodern fiction, that he liked Dickens and Scott and Balzac, but that when he himself sat down to work he ended up writing another John Barth novel. So it is with me. I don't start out with the idea, Okay, I'm going to write another story about someone who feels like he's faking it, and what that does to his life. But the material will come as it does, obsessions will out. It comes, I suppose, from an instinctive suspicion that all this is a trick, that it's all going to vanish. My family, the wonderful luck I've had in life—all some kind of a dream. I was deeply affected by Robert Stone's novel Outerbridge Reach. Here's a man whose sailboat starts coming apart during an around-the-world single-handed race. He pulls into an old whaling station and waits for the boats to come around again, and then he's going to sneak back in and go for the purse—like Rosie Ruiz. To make this work he has to keep a false log and to send out phony reports on his position. In the end he is too honest to live with his own deception—it destroys him. That was the most extraordinarily dramatic way of giving expression to that unease so many of us feel of occupying a false position in the world, and sustaining ourselves in pretense. I suppose I do sometimes use my work as a way of correcting the false log, keeping a truthful ledger.
I N T E R V I E W E R
But the writing's not necessarily therapeutic, is it?
W O L F F
I've never thought of it that way. Still, though it doesn't have a therapeutic intention it can have tonic effects, in that it forces me into an alert, accountable relationship with life. And oddly enough, when the work's going well it offers some freedom from self-consciousness. Sean O'Faolain has a line I often think of: All good writing in the end is the writer's argument with God. That's it—it's like the Psalmists who are complaining: They're pulling my beard and spitting in my face—where are you, God? And why do you allow things like this, why do the wicked prosper? It isn't being down on your knees, piously offering it up. It's Why are things like this, damn it? What's going on here?
I N T E R V I E W E R
Do you think writing, being a writer, is a socially responsible way to spend one's life?
W O L F F
Is writing a socially responsible way to spend your life? Writing fiction? Man, that is a question I haven't been able to answer to my satisfaction. I can answer it, though my answers always leave me a little uneasy.
I think of it this way. I was changed by literature, not by cautionary or exhortatory literature, but by the truth as I found it in literature. I recognize the world in a different way because of it, and I continue to be influenced in that way by it. Opened up, made more alert, and called to a greater truthfulness in my own accounting of things, not just in my writing, in my life as well. It did that for me, and does that for me, and no one touched by it in this way should have any doubt of its necessity. Yet we writers do doubt, constantly. It's one of the conditions of our employment. Poor us. Poor us because lucky us—we have the leisure to devil ourselves with questions like this.
I N T E R V I E W E R
What about politics?
W OL F F
You want to ask me if a writer has an obligation to write politically?
I N T E R V I E W E R
Yes.
W O L F F
Some writers obviously feel that they do—that we all do. But what they generally mean, I think, is that one should promote their particular political vision. I doubt if most of them would be enthusiastic about, say, The Turner Diaries. Something isn't better because it's political—the politics can be as bad as they are good. And they often have the effect of making fiction programmatic, to use a word I've already used too often.
But there's another way of thinking about politics and writing. Go to the Greek root of the word, polis, which refers to a society, in the sense of community rather than state. When writing gives a picture of the community we live in, it's political. To return to Chekhov—Chekhov was criticized on all sides for not promoting various revolutions, not espousing specific theories and theologies and causes, but the essential humanity of his work, and its lack of interest in orthodoxies of various kinds, enabled him to give a picture of his community that was often highly critical and challenging to its self-conception. That is political writing, isn't it? Though not generally what is meant by that term.
And the most radical political writing of all is that which makes you aware of the reality of another human being. Self-absorbed as we are, self-imprisoned even, we don't feel that often enough. Most of the spiritualities we've evolved are designed to deliver us from that lockup, and art is another way out. Good stories slip past our defenses—we all want to know what happens next—and then slow time down, and compel our interest and belief in other lives than our own, so that we feel ourselves in another presence. It's a kind of awakening, a deliverance, it cracks our shell and opens us up to the truth and singularity of others— to their very being. Writers who can make others, even our enemies, real to us have achieved a profound political end, whether or not they would call it that.
I N T E R V I E W E R
You're a practicing Catholic, which has led some people to describe you as a Catholic or religious writer. Is there anything to that?
W O L F F
Hard to say. You might have gathered that I'm an admirer of Flannery O'Connor, but one of the things I don't love in her work is her too-evident orthodoxy. It gives some of her work a forced, predetermined quality. She'll even use her fiction to argue points of doctrine—in "A Temple of the Holy Ghost" there's a scene where fundamentalist Protestant boys are in a singing duel with a pair of Catholic girls, with a theological debate going on in the music. That kind of thing doesn't interest me much. It isn't about the writer's argument with God, it's about persuading the reader to a particular orthodoxy. When we see a salesman coming, we brace.
If my fiction has a religious element, it simply arises from my view of life, not from any particular theology I'm pushing. What faith I have inheres in the way I see things, and of course the way I see things is expressed in my writing, but not polemically. I'm not going to make anybody believe this or believe that by arguing for it in my fiction. I just don't think it comes to people that way. I am occasionally deeply touched by the work of Jewish writers, Christian writers, Buddhist writers, but the things that touch me are not sectarian. What are they, then? Gracious, I guess. I respond to something gracious in the writer. That doesn't mean nice, or kind, or consoling, though it can have that effect. It has to do with a certain courage and verve and even sense of play in facing things as they are. If there's no grace to be found in things as they are, then you'll have to find it in things as they aren't, and you know what Yeats wrote about that: "We had fed the heart on fantasies, / The heart's grown brutal from the fare."
I N T E R V I E W E R
Is that writing's purpose, then, to present a gracious reality?
W O L F F
I don't know that writing needs to have a purpose in that sense. Think of Beethoven's Archduke Trio, or Kenny Barron and Charlie Haden's Night and the City. To the extent that I can feel the presence of grace—the operation of some kind of grace in the world—I often feel it in music like this, where the words God or revolution or even soul are not to be heard. And what does music accomplish, after all? Can it be said to offer a plan for improving us, can it be said to give us new political visions, can it be said to make an argument for this or that faith? No. It is a good purely in itself, and that is a sufficient justification for its existence.