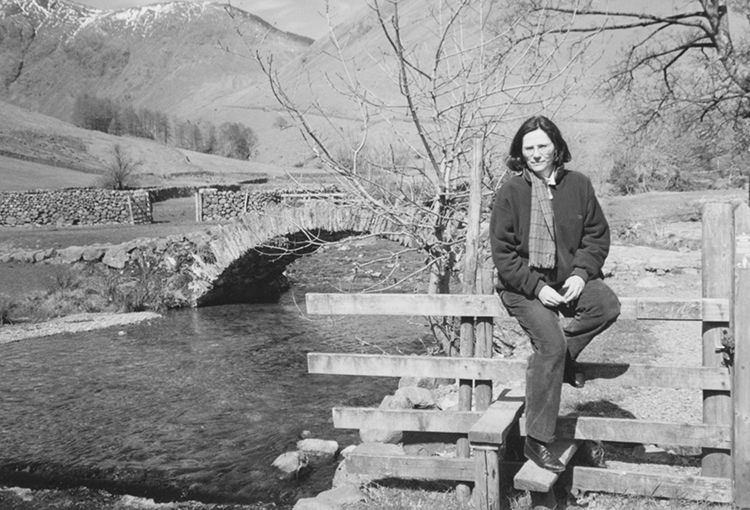 In the Lake District, 1994.
The first time a publisher approached Hermione Lee with the idea of writing a biography of Virginia Woolf, she said no. "I thought it was ridiculous," Lee recalls. Then a second publisher suggested the same thing. "At that point, I thought, Clearly, people feel it's the right time to have a new biography of Virginia Woolf, and clearly, more than one person thinks I should be the one to do it." Lee wouldn't, though, do it in a traditional, linear way. Instead of a fact—a name, a place, a birthday—she opened Virginia Woolf (1996) with a question that Woolf herself asked: "My God, how does one write a Biography?"
Although Lee did keep chronology in view, she approached her subject by theme, topic, and scene. The result was an original and sensitive account of a complex life. The same is true of each of Lee's biographies: Willa Cather (1989) is a hybrid of biography and literary essay; Edith Wharton (2007) considers Wharton not only as an American author but as a European one, drawing on a wealth of social, psychological, material, and historical detail. In all three books, Lee weaves masterly discussions of her subjects' work into the stories of their lives.
Apart from her biographies, Lee has written book-length monographs on Woolf, Elizabeth Bowen, and Philip Roth. She has also written short books about life-writing, as well as countless reviews, essays, and introductions. From 1982 to 1986, she hosted a television show about books, Book Four, on British television's Channel 4, and she is a frequent contributor to BBC Radio. After Lee graduated from Oxford, she taught at the College of William & Mary, the University of Liverpool, and, for twenty years, the University of York. In 1998, she was appointed to the Goldsmiths' Chair of English Literature and Fellow of New College at the University of Oxford. In 2008, she was elected president of Wolfson College at Oxford.
Our sessions took place early last spring. It was a busy time for Lee, who had just returned from Brussels, where she had given a talk about Isaiah Berlin's 1945 encounter with Anna Akhmatova. The following week, Lee traveled to New York and then to Los Angeles to deliver lectures on Edith Wharton. Then she was headed to Yorkshire, where she and her husband, the literary scholar and editor John Barnard, spend part of the year, to finish her life of Penelope Fitzgerald.
We met in Oxford, at a house hidden from view by a high hedge, on a quiet street at the edge of town. The house had an immaculate, rather grand foyer and a kitchen that seemed designed with caterers in mind. Lee was quick to point out that the place is not hers: it comes with her job. "I don't garden here because"—her voice dropped to an anxious whisper—"I might worry the gardeners." Her office upstairs, though, revealed her own distinctive taste for elegance and order. Framed photographs of Woolf hung on the wall; a raft of paper clips stood on her nineteenth-century partners desk. The only thing that appeared out of place was an odd pile of boxes and papers covered by a faded, crocheted blanket. It was the Fitzgerald family archive. Lee's biography of Penelope Fitzgerald will be published later this year.
INTERVIEWER
Virginia Woolf wrote a lot about how difficult it is to know anyone, even— or especially—oneself. When she was working on a memoir, she wrote, "I see myself as a fish in a stream; deflected; held in place; but cannot describe the stream." How did you find the nerve to write her biography?
LEE
What makes her such an alarming prospect is also what makes her a very inviting subject for biography. She herself is deeply interested in the genre. In that memoir, "Sketch of the Past," and in her fiction and essays and diaries, she keeps returning to the question, How do you tell the life story of a person? I think that's her prime interest. And because of her own interest in the complexity of the adventure of writing a life, and because of all the material in her gigantic archive, you are privy to how she thinks of herself as well as to how other people think of her and how she's presenting herself. She's not one of those difficult subjects for a biography, where you have hardly any information—like Shakespeare or Jesus. And she's not the kind of resistant subject, such as Willa Cather, who is like a wall of steel, preventing anyone who tries to come near her. The challenge with Woolf is that she has been so mythologized, so written about, so appropriated—and is herself so complex and multifaceted.
INTERVIEWER
Is fear a useful emotion for a biographer?
LEE
It can be, when it's not disabling. You would have to be an idiot to take on board writing the life of Virginia Woolf or Edith Wharton without any apprehension. The fear has to be channeled somehow into the energy of the work. While you're doing it, I think you have to feel that she is yours and you alone understand her. But in order to arrive at that feeling you have to deal with, and master, your apprehension. I had a conversation with the biographer Richard Holmes, ages ago, when I said I always felt rather daunted by the task. I always had voices at the back of my head saying, She doesn't know what she's doing. She can't do this. He said, "You know what I do? I get to my desk every morning and I hear these little voices saying, 'He doesn't know what he's doing!' and I raise my arm and I just sweep, I sweep them off the desk." I had a vision of these little jabbering gremlins, like the germs in those advertisements for lavatory cleaners, being swept off and away. No more fear!
INTERVIEWER
What's gained in learning about the life of an author?
LEE
You learn how that person works in all senses of the word works. You learn something historical. You learn how a book evolves and how it emerges from the muddle and the mess and the complexity and the contradictions of a person's life. You learn about all the things that human beings are interested in.
But when you read the biography of a writer you love, you also do lose something, there's no doubt. When I first read Katherine Mansfield, as a child, I had no idea she was a New Zealander. It just seemed to be a magic country—I knew nothing about it. And that was part of the spell. When I was a child, about eight years old, I went to stay with a family and I picked up a copy of The Waves that happened to be at my bedside. It was the first book by Virginia Woolf I ever looked at. I read the pages at the beginning, where the children are speaking in single phrases. I just thought, This is my language, even though I had only read two pages and didn't know what was going on. So I think that primal, childlike reading, where you know nothing, is very important. And reading biography interferes with that.
INTERVIEWER
You wrote about that experience. You called it a "secret language." Secret is a word you use often when you write about women.
LEE
In the 1980s, I edited two anthologies of stories by women called The Secret Self. The title was taken from a line of Katherine Mansfield's—"One tries to go deep—to speak to the secret self we all have."
INTERVIEWER
Cather uses it when she's writing about Katherine Mansfield.
LEE
She does. I'm very interested in that idea of secrets. Edith Wharton says, in a story, that a woman's life is like a great house full of rooms, and you never get to the secret room. I'm fascinated by these no-go areas, these secret places of reserve. At the same time, I'm extremely inquisitive and curious. Perhaps that's temperamentally why I've been attracted to biography. I want to penetrate those secret places, find out everything, and be completely ruthless. It's paradoxical—I wouldn't want it done to me, yet I'm very keen to do it to other people. And the thing that attracts me to these people is their secret self.
INTERVIEWER
To what extent are you conscious of being a woman writer, or writing about women subjects?
LEE
I haven't written only about women. Thirty years ago, in 1982, I wrote a short book on Philip Roth, whom I also interviewed for The Paris Review. I've written about Kipling and Trollope, Ford Madox Ford, William Trevor, Alain-Fournier, John McGahern. Still, it's true that my books have been mainly about women. There is a form of feminism in that, though I don't set out to write feminist biography. My subjects do have things in common, but those things aren't essentially to do with their being women. Looking back, I see I'm attracted by subjects who are individualistic, who don't like joining movements, who have carved out their own ways, who have remarkable minds, and whose marriages or partnerships, when they work well, work as forms of companionship. All my subjects up to now have been childless, but now I'm writing about the English novelist Penelope Fitzgerald, whose three children were very important to her. I'm not saying there is anything autobiographical about my choice of subjects. I'm saying only that these are the kinds of figures who interest me. If they have a feminist agenda, as Woolf did, it's a very complicated one. Beyond that I can't go. I certainly can't say to you, I have set out to be a woman writer writing about women writers.
INTERVIEWER
If I told you I wanted to write your biography . . .
LEE
I would be aghast. I like this kind of conversation, because we're talking about work and writing and ideas. But if you said to me, Tell me about your mother and father—that would be another thing altogether.
INTERVIEWER
And now I'm tempted to ask you about your mother and father.
LEE
Next question! No, really, I wouldn't mind talking about things like my childhood and upbringing, or my friendships, or my husband and step-children, but I wouldn't want to write my autobiography. It would go against the grain. And it would not be interesting.
INTERVIEWER
You're off the hook—for now. Is it important to admire your subject?
LEE
Yes, I start from a position of profound admiration for the work. But it's a mistake, in my view, to be sentimental. Writing a biography is not a love affair. It's not a marriage. It's a job, it's a piece of work. You always get asked, Did you like them? Did you love them? The involvement with me always starts with the work, with a deep fascination about what kind of person and what kind of circumstances produced that work. You're not writing about yourself, you're not writing about a friend.
When I was trying to work out how to write the biography of Virginia Woolf, I wrote an essay, in a book called The Art of Literary Biography, called "Virginia Woolf and Offense." It asked how you write about all the horrible things that are part of her character and her life story—racism, snobbery, spite, unkindness. There are some unpleasant things, too, in Edith Wharton's behavior. You can't pretend they're not there. You can't be defensive. Actually, I admired Wharton more and more, as a person and as a writer, as I wrote that biography. Whereas I found Cather increasingly unsympathetic as I wrote about her. I think she's a great, great writer, but I found her an unappealing personality by the time I'd finished.
INTERVIEWER
Do you find that you read biographies and think, This person is falling in love with his or her subject?
LEE
There are some figures, aren't there, who seem to attract a certain kind of emotive treatment. Woolf is certainly one of them, Plath is another, Lawrence is another. Or, biography can be a form of rescue operation, special pleading. Painted Shadow: A Life of Vivienne Eliot, by Carole Seymour-Jones, is a good example of that. It has to demonize T. S. Eliot in order to do its job of rescuing his first wife. Biography has so much to do with blame. It is not a neutral zone. So you will get biographies of Woolf where Leonard is blamed, or where her half brothers, George and Gerald Duckworth, are blamed, or where her father, Leslie Stephen, is blamed. It's as if you can't tell a life story without someone having to be blamed. Named and shamed and blamed.
INTERVIEWER
Does a biographer have to work through an urge to blame?
LEE
You mean, do I have to go to my analyst and say, Please stop me feeling angry about Teddy Wharton? No, it doesn't quite work like that. Clearly Edith blames her mother, Lucretia Jones, for lots of things that happened to her. I never got much closer to Lucretia than Edith allowed me to, because so much material had been done away with. But what interested me was the fact that Edith blames her. It doesn't so much matter whether I thought Lucretia was to blame for what happened to Edith—in her marriage, in her relationships. The point for me was that Edith thought she was.
In the story I'm writing now, Penelope Fitzgerald's husband is a sad case. The early part of the story is about the deep domestic difficulties that they fell into, difficulties that wouldn't have happened if he hadn't been the kind of person he was. That was mainly what stopped her writing until late in her life. And so do you set out to blame Desmond Fitzgerald for all Penelope Fitzgerald's troubles? No. You describe what happened.
INTERVIEWER
Some biographies seem to have been written out of a sense of grievance.
LEE
Or some kind of Oedipal rivalry. You shouldn't be jealous of your subject—it's a mistake. I believe in different hierarchies of writers and different hierarchies of artists. I think that I am a good biographer and a good critic, but that's not the same thing as being a great novelist. I have an endless admiration for people who create. If they are very good, like all the people I write about, they are the A-class artists. What I'm doing can be imaginative, and it can be thoughtful, and it can be just as difficult to do as writing fiction or poetry, but it's not creative in the same way as, say, Penelope Fitzgerald's The Blue Flower.
INTERVIEWER
Are you sad about that?
LEE
No, I just know that that's what I am. There might have been a moment in my life when I was about fifteen when I could have turned into another kind of writer, but it got lost. I wrote lots of terrible teenage novels about adulterous dentists and fatally romantic musicians, lots of religious sonnets, though I wasn't at all religious. And then I went to university and it stopped. Perhaps if I hadn't read English literature and become a literary critic and a teacher, I might have written fiction. Who knows what the road not taken is.
INTERVIEWER
Novelists traffic in a different kind of truth from biographers.
LEE
Well, they make things up. I don't make things up.
INTERVIEWER
You can't make things up in a biography, but at various points certain liberties have been taken. I think of some nineteenth-century biographies that make up dialogue wholesale.
LEE
Footnotes, indexes, source references—all the things we think of as essential if you're going to write an accredited historical life of someone—are very recent features, really, in biography. You don't get footnotes in nineteenth- century biographies. So, yes, conventions have changed a lot. Now you see footnotes going out of the window again. People put their footnotes online, or they don't have them, or they cluster them together and say, All references in this chapter are to these six books, which I find very frustrating because I always want to check the sources. We talk a lot in life-writing classes about the changing conventions of how a life is presented.
INTERVIEWER
Are there substantial differences between the capacious term "life-writing" and biography?
LEE
Life-writing, a term used by Woolf in "Sketch of the Past," is made up of different kinds of "true" narratives—biography, autobiography, memoir, diaries, letters, travel writing. These narratives can be thought of as distinct genres, but they can also overlap. Biography is bound to involve other kinds of life-writing. Biography makes use of letters, memoirs, diaries, and so on, and that can be a challenge for the biographer. Writing about Woolf, you are overwhelmed by the voice of that diary, those letters. If you want, as I did, to quote a lot, because you want the sound of her voice to be on every page—in a way, I just wanted to be a ghostwriter for her voice—then the trouble is that you can be overcome by the power of that voice. I always felt that I was to her, on a minor level, as she thought of herself in relation to Shakespeare. She says, you're reading Shakespeare and you're going along and you think, Oh yes, I can see how he does this, and suddenly he does something so astonishing, so unforecastable, so utterly original and strange, that you are completely outpaced by him and left gasping.
So one kind of challenge is writing a biography of someone like Woolf, where there is a huge amount of data to draw on and a very strong voice running all through the life, talking about itself. On the other hand, if you're writing about someone who didn't keep a diary at all, who didn't usually disclose too much in letters, and who was very formal and self-protective in her autobiography, such as Edith Wharton or, in another way, Cather, then you have a different problem. Where there are gaps, how much can you invent and imagine what's going on in the interior life? Can you allow yourself to do that at all?
INTERVIEWER
And how do you begin to solve those problems?
LEE
I firmly believe you shouldn't make up what you don't know. But in writing a life, you come to have a sense of the person and the way they think and behave, and you can sometimes penetrate their secrets through that acquired knowledge, even when the data isn't there. And you can, I think, get close to the quality, the texture of a person's life through how you structure the book and through your tone of voice.
I've been thinking about this with Penelope Fitzgerald. It's a technical, as much as it is an imaginative or intellectual, question. It's a question of getting the tone right. I don't mean that you deliberately change your tone for each book you write, but it's important to have a structure that is sympathetic to the subject. That was why I decided not to do my biography of Woolf as a straight-along-the-line chronology. You have to have chronology, or your readers will be totally confused, but because so much had been written about her, and because she herself was so skeptical and questioning about biographical form, it seemed worth trying to do it a different way. So the chapters draw together areas in her life—there's a whole chapter on her reading, or on her relationship with Mansfield, or on the houses she lived in, or on Bloomsbury—and I go back and forward in time. I derived the form from what she said about writing Mrs. Dalloway. She said she had invented a "tunneling process," "how I dig out beautiful caves behind my characters." They are going along in their lives, but they keep looping down into pools of memory and reflection. So in the biography, I suppose, there are "caves," or still points, or holding places, while the chronological life is going along.
With Wharton I had a different idea, which also tried to be in sympathy with the texture of her life. I wanted the book to be like a series of very richly furnished rooms. So you would go into the Henry James room, or the Italy room, or the dark room of France at war. It was all done with the utmost thickness and richness and density. Perhaps that was a mistake—it should probably have been two hundred pages shorter. But I just thought, Why not do it all? Because Wharton's life is so material, so expansive, so deeply involved with her context, and there are so many people and countries and such a lot of money! There are so many things. The Fitzgerald book, by contrast, is more economical and quiet and elusive, more restrained.
INTERVIEWER
Would you say you're taking your cues from their—
LEE
Yes. Exactly. I don't think anyone would notice this except me. People who read both books would just think, Oh, the Edith biography moved at a slower pace than Virginia Woolf. Or if they were to read the Fitzgerald, they might say, Hmm, this book's a bit shorter, thank goodness for that. But these are things that are worked out privately, internally. The reasoning isn't meant to show up explicitly.
INTERVIEWER
Do you begin with a structure in mind?
LEE
Yes, though it may be very vague, very loose at the start. You always keep a notebook when you're beginning a new project, and it's very inchoate, and there are all kinds of bits and pieces in there, some of which get lost, some of which prove to be crucial. I remember going back when I finished Virginia Woolf in 1996 and finding my first notebook from when I started to work on the book, in 1991, and it said, "This is all about structure." And it was.
INTERVIEWER
Do you always make a chronology?
LEE
Yes, I've always done it. Of course, there are existing chronologies of Virginia Woolf and Edith Wharton, so it's like reinventing the wheel, or like the man in the Borges story "Pierre Menard" rewriting Don Quixote. But I had to do it myself, so that I would learn and take possession of the life story. And then I used it all the time. The Woolf biography was a book that was trying to avoid a relentless chronological grid, but that chronology was the basis of the book.
INTERVIEWER
What else did the research process for the Virginia Woolf book look like?
LEE
I spent a lot of time in the big archives, in Sussex, in the manuscripts room in the British Library, in the New York Public Library. I went to see all the people I could go and see. You would go around and you would have your cup of tea, and they would tell you the same things they'd been saying for fifty years. And the minute you'd gone out of the house they'd ring each other up and say, There's another one who's just come round. She doesn't seem too bad. You could just hear it! I went to see Quentin and Olivier Bell a lot. Quentin was charming. He said to me, "I do feel you're putting me in my grave"—but in the nicest possible way. Olivier—who is a remarkable and splendid person, very fierce, very skeptical, very much the lion at the gate—would be truculent and brusque at first. She wouldn't tell me things unless I knew enough to ask. For instance, I gradually began to realize that there weren't any letters from Virginia's brother Thoby. I thought, But there must be some letters from Thoby somewhere! I knew there weren't any letters from or to her other brother, Adrian. She must have written to him, but all those letters disappeared. That's a great problem for the biographer— you can only describe the relationships fully where you have the archive. It's going to be a much greater problem for biographers of the future, of course.
INTERVIEWER
Perhaps Adrian got rid of them for a reason—or perhaps he didn't?
LEE
Or he didn't much like her, or he just threw away all his stuff. Who knows? But it makes a hole in the life story. Everyone who writes about Virginia Woolf notices that. Anyway, I thought, there must be something from Thoby. So about the fourth or fifth time I went to see Quentin and Olivier, we were sitting at the kitchen table, and I said, "Where are Thoby's letters?" And Olivier said, "They're in the attic." And only then did she show them to me. She was waiting to see if I would notice the gap before I earned the right to see them.
INTERVIEWER
How do you learn to notice that there is a gap to be filled?
LEE
You don't, until very late on. First you get to know the archive. You go through the whole archive and you don't know what you're looking for. It gets terribly repetitive, often, reading hundreds of letters. You think, Oh God, I know about this already. But sometimes you find things you don't expect, when you least expect it. Only when you've finished looking do you know what to look for. And then there's a strange force field that starts to develop— stuff starts coming at you. And you start looking sideways, you branch out from the central archives. When I was writing on Edith Wharton, I went to I Tatti, the villa in Italy designed by her friend Bernard Berenson, where she often visited. There's quite a mixed-up archive there. In that correspondence I found a description of her on her deathbed, written in French by someone who'd come in to see her on the day she died, and described it to Berenson. It was an extraordinary thing to find, sitting there, outside Florence. That's the kind of thing you find by looking sideways. You only really begin to get that when you are immersed in the story. You can't do that at the beginning.
INTERVIEWER
What is it like to write a death scene?
LEE
It depends how they died. Some cynical biographer said to me, Make sure it's a good death. Make sure you're not picking someone who just declined. In the case of Virginia Woolf, it is deeply upsetting to write a death like that. You feel you're finishing them off all over again. You get all the information you can. I found the court reports, the witness statements, which I don't think anyone had seen before—the local man who saw her setting out toward the river, who didn't see her coming back, and so on. You get everything you can, and you put it all absolutely in place. And then you write it as precisely as you can, but as you're writing it you are moved and emotional, of course. John and I were living in our house in Yorkshire while I was writing the biography. He'd been living with her, as well as with me, for years. He knows all about writing—he's a scholar, an editor—and he supports and encourages me in my work through thick and thin. But he came back one day from work, and I came down the stairs and I was crying. He said, "What's the matter?" And I said, "Well, she's dead, I killed her today." And he went, "Yea!"
INTERVIEWER
How important is it for a biographer to feel that involved?
LEE
Of course you must be involved in the story, or there will be no energy. I'm suspicious of people who say, Oh, it's just a commission, I've done that job, onto the next one. As in, If it's Tuesday, it must be Sir Thomas More. I don't really believe in that line. Otherwise, how could you spend the time and the labor on it for years and years? If you're writing a biography of Hitler or Stalin, I imagine it's not going to be a love story, but presumably you're going to be passionately involved in what happened to their victims, or how history made their lives possible, or the politics of their power. You're trying as hard as you possibly can to get back into that historical time, to imagine what it must have felt like to be a person at that time. That exercise of imaginative energy is strenuous, and it's concentrated. It is a form of absorption. So it makes it very hard to write it in little bits. You need a run at it. You need to be in it every day. It's difficult to combine it with other things.
There are people I know who can go straight back into writing a book from their other jobs or commitments, and within two seconds they're deaf to the world. But it takes me about half a day to remember what I was thinking. It's very painful. It's like when you've slept on your leg and you get terrible pins and needles before the leg comes back into action.
INTERVIEWER
What is a typical day when you're writing?
LEE
We'll go to Yorkshire for several weeks. We go to a ramshackle old house, where you can just walk out of the house into the countryside. We will get up not too late, and we will have breakfast and we will both go to our desks and all day long, until about three o'clock in the afternoon, I will write my book, and then in the afternoon we will go for a walk. Then we'll make supper, and then I'll probably do a bit more writing in the evening. That is my writing day in the country. It's very quiet and very concentrated. It's the opposite of life at Wolfson College, which is chock-full of people and meetings and committees and events and decision making.
INTERVIEWER
When you got your first appointment at Oxford, did you think back on your days as a student there?
LEE
It's odd. I was here from 1965 to 1970, and then I went away from Oxford for nearly thirty years. I came back in 1998, and some people just said, Oh, you're back. You could feel your whole adult life imploding before your eyes. There are still a couple of places in Oxford I never set foot in—even now they are too freighted with long-ago emotions.
INTERVIEWER
Taking that job must have made you think of Woolf and women in universities.
LEE
At New College there is a square quadrangle with a round lawn at its center. You're not allowed to walk across the grass if you're not a Fellow of New College, and most people don't walk across the grass anyway because it's not good for it. But I made a point, whenever I was crossing that quad, of walking across the grass, and every single time I did, I thought of Virginia Woolf and the part of A Room of One's Own where she describes being waved away from the college grass and the library by the beadle because women weren't allowed. But I had the right to be there.
I suppose that is where my feminism lies—to have reached a certain level in my profession in this country by writing and teaching, and to have benefitted from the strenuous labors of my female predecessors going back to the 1920s. I was not an active feminist in the sixties. I was very slow to get it. But I have benefitted from the movement immeasurably, like every other professional woman of my generation who is in a leading position in her institution. Because of the history behind me, it's always been to my advantage to be a woman when I've applied for jobs. I was the first woman to hold the Goldsmiths' Chair and I'm the first woman president of Wolfson College. I'm very proud of that. But I was lucky. I owe it to women who fought battles before my time, and I'm always aghast and depressed, professionally speaking, when some young women in the next generations seem to set feminism and its history aside or to disregard it.
INTERVIEWER
Are you left-handed?
LEE
You noticed. Like all classic lefties, I write with my hand awkwardly curled over the page. When I was at the French Lycée in London, from the age of four to eight, there were one or two sadistic teachers, and they used to tie my left hand behind my back and try to make me write with my right hand. They used to put a label on my back and I had to wear it around the playground—"Je suis trop bavarde," "I talk too much." It didn't have much effect. I still talk too much, and I'm still left-handed.
INTERVIEWER
Why did your parents send you to the Lycée?
LEE
They wanted us, me and my older sister, to have more than one language. They wanted us to be slightly outside—for a little while at least—the standard English educational system. And they were very Europhile, very Francophile. They were typical of certain kinds of postwar, culture-loving, travel-hungry English, longing to get to France and Italy. They loved French and Italian and Russian literature, and they were passionate about music, opera, theater. My sister and I had a culturally privileged, central-London childhood in the fifties and early sixties. Part of that was that they thought it would be a very good idea for us to get some French education. And it was a very good idea, especially for my sister, who is bilingual as a result and has spent her life working with French literature and language, as a teacher and translator.
INTERVIEWER
Did your mother direct you to most of the books you were reading?
LEE
Yes, she was a very strong reading influence on me. She died at the end of 2003, at the age of eighty-two. She was a highly intelligent and imaginative person who had grown up in a poor working-class family in London in the 1920s and had had to leave school at fifteen, and she deeply resented that fact. She should have been running a college. She was self-educated, really. So she wanted me and my sister to do the things that she hadn't done, and she was also jealous of the fact that we were doing the things she hadn't been able to do—go to university, work for a living, have a career. For women of my generation, that is a very common trope—our clever, thwarted mothers who didn't have the opportunities we have. She did work briefly at Jonathan Cape, the publisher, during the war, when she was very young. She was a publishing assistant to Rupert Hart-Davis, and she met H. E. Bates, and so on. She had a remarkable library, which my father's still got, though I keep worrying he's going to get rid of things, because he's rather like the father in Roth's Patrimony—energetic about throwing things out. As a child, I read my mother's books. My father's a great reader, too, but it was she who pushed books at me all the time.
INTERVIEWER
What did your father do?
LEE
He's a retired general practitioner, who was also a very good amateur cellist. He had a single-handed practice in central London for most of his working life. He was a medical student at Guy's Hospital at the start of the war, then he was in the navy as a doctor in wartime, and went to the Middle East, to Alexandria and Haifa. His family was an Eastern European Jewish immigrant family who came, as many thousands of other people did at the turn of the century, from Odessa and Poland. The family name originally was Lipovici. It was changed to Lee by my great grandfather. There he was, my father, Benjamin, in his twenties, posted out to Haifa at a time when the immigrant ships full of refugee Jews from Europe were coming across, and one of the jobs of the Brits was to hold them back. Extraordinary, really. My mother was a Celt, with Irish and Scottish parents. He decisively married out. They both got away from what I surmise must have been difficult and unhappy childhoods and put their families behind them. I don't have links to any relatives apart from my father and my sister, and very few hard facts about my parents' family histories. I sometimes think this might be why I became a biographer!
I think my mother influenced my father hugely in his reading. He already was a reader, but she broadened his range. All my conversations now with my father, who is ninety-two, are about which Dostoyevsky novel or which volume of Proust he's rereading at the moment. We have phone calls about how the early Elizabeth Bowen is not as good as the later work. He reads Le Monde every week, he reads Italian, he has German. My sister sends a lot of French books his way.
He's a redoubtable person, and has a steely will that keeps him going in his solitary, near-blind old age. There is an absolute refusal to have anyone help. There is a grimly realistic and humorous attitude toward death and mortality. No sentiment is allowed. Complete self-reliance and a formidable will is also something, as you can imagine, that could make one's childhood quite stressful at times.
INTERVIEWER
And all of that culture!
LEE
I know. When other girls were partying and listening to Cliff Richard and Elvis Presley, I was sitting at home and listening to my father's friends play Bartók's string quartets, following with the score in the corner of the room. I was a skinny, serious child with round spectacles and long, dark hair. I was a culture hound as a child, and I didn't really react against it. Most people react against their childhoods. I think I just carried on.
INTERVIEWER
Did your mother get you interested in writers' lives?
LEE
That came a bit later. When I read fiction and poetry as a child and a teenager, I just read for the story and for characters and language, in a completely absorbed, uninquiring way. It wasn't until later, when I went to university and it was all textual criticism, that I began to fret that we weren't being told about writers' lives. I started to want to read biographies. And this was a time when some amazing biographies were coming out.
INTERVIEWER
Do you have any models when you're writing biography?
LEE
I'm very influenced by my close friend and editor Jenny Uglow because of the sympathetic nature of what she does. She's a different kind of writer from me, she's much more of a historian and much stronger politically in her views. I admire her hugely. I've been influenced by Richard Holmes, and his book Footsteps: Adventures of a Romantic Biographer. That idea of biography as a quest or journey had a strong effect on me. I've been influenced by some unusual, imaginative versions of biography, like Alethea Hayter's A Sultry Month, where she takes a short period of time in her people's lives, or Penelope Fitzgerald's life of Charlotte Mew or V. S. Pritchett's life of Turgenev. Pioneering biographies of women like Jean Strouse's book on Alice James are important to me. That book is a model of its kind and ahead of its time. And I was terrifically influenced, growing up, by that great out- pouring of big new biographies of great major figures, when I was becoming a reader—Edel's James and Holroyd's Strachey and Painter's Proust and Ellmann's Joyce. I wrote a short book on biography in 2009 for Oxford University Press, and I went back then to a lot of those big books, which I hadn't read properly since they came out. I was startled by how laboriously Freudian some of them seem now. At the time it didn't really bother me at all, because they were such a revelation. Now they—Edel and Painter, anyway—seem awkward and schematic.
INTERVIEWER
Is it possible to look around at the biographies coming out today and say, In forty years people are going to look back and think, This is an era in which they were doing x kind of book?
LEE
It's become more possible now—as it was in the eighteenth and early nineteenth centuries—to have flexible forms for biography. You can write "obscure lives," of Virginia Woolf's servants or of little-known nineteenth-century women. You can write a whole biography as one year in a life, or as a selection of scenes, or as a quest. The approaches and the formal structures, at least of literary biography, have become more experimental. Perhaps my work is part of that change.
INTERVIEWER
Have you ever found yourself suppressing something you learned?
LEE
No. In the past this question hasn't arisen, because I've been writing about safely dead people. Most of their secrets were already out there before I began to write about them. Think of all those people who tried to keep their secrets hidden! Poor Willa Cather tried so hard to prevent people from quoting her letters, and what happened? Everybody who wrote about her paraphrased her letters, which was much worse than quoting them. She'd have done much better to say, Let everybody quote me, let nothing be kept back. As it was, her secrets were out there, but her own voice was obliterated. Now, at last, all that has changed, with the publication of her Selected Letters. It's a wonderful and long-awaited breakthrough.
I'm writing now about Penelope Fitzgerald, whose family has given me permission to look at and make use of her papers. They have been completely helpful and generous—they asked me to write the book. But they are bound to be sensitive about how I treat their mother's life story. Wouldn't you be? I know I would. If someone were writing about my parents or my family, I'm sure I would be protesting, You can't say that! But for the biographer the act of writing has to be completely ruthless. You have to write as if everyone involved in the story is dead. Otherwise you're not going to get anywhere. You're going to take your pen off the page or your finger off the key at every moment, and say, Oh, I'd better not say that.
INTERVIEWER
You pay a lot of attention to friendships and social relationships, more so than some other biographers do.
LEE
I think that when people are at their most frivolous, superficial, gregarious, and chatty is often when they are most revealing about themselves. Woolf writes very brilliantly about that. We all have different parts of ourselves, and your secret self, your solitary self, your nighttime self, your gregarious, chatty, e-mailing self are all mixed up together. They overlap. But I'm interested that you say I spend too much time on the social stuff.
INTERVIEWER
I certainly didn't say too much time.
LEE
No, no, it's interesting. A lot of time, anyway. And had I not done that, the book on Wharton would have been shorter.
INTERVIEWER
But you explain this yourself in your books. To use the example of Wharton—Wharton portrayed herself as a solitary writer and downplayed some of her female friendships in particular. But you show that actually, if you look at her letters, these people mattered more to her than she let on.
LEE
It is one of the fascinating and less agreeable things about her, that when she comes to write her autobiography, they're not there. She minimizes the part that her sister-in-law played in her life. Minnie Jones was her researcher, her helper, her supporter, the key member of her team. But she barely appears in Edith's autobiography. She wants you to feel that she did it all herself. So in my book I wanted to emphasize her female friendships. Also because Percy Lubbock and Henry James's clique liked to give the impression that she had no women friends at all. They made her out to be a woman who only really liked being with men. So her reputation suffered from those early versions of her, some of which were quite spiteful.
INTERVIEWER
Some biographers call women by their first names. How do you decide whether to do that?
LEE
There are questions about naming that you have to sort out, if you're writing about a woman subject. Nobody who writes about Dickens would call him Charlie all the way through a biography. But people tend to use a woman subject's first name. Nobody's noticed—they probably just think I'm in a muddle—but I called Wharton and Woolf by their surnames when I'm talking about their writing and their professional work, and by their first names or their pet names when I'm talking about their personal lives. I call Woolf "Ginny" and Wharton "Pussy Jones" when I'm writing about them as little girls. I had a running joke with my friends that I was going to call my life of Edith Wharton "Pussy: A Life." That would have got me a different kind of audience! I call Wharton "Edith" when I'm talking about her friendships. I kept changing all the way through. There's the same problem with the biography I'm writing now. Everyone in Penelope Fitzgerald's family called her Mops, no one ever called her Penelope unless they met her later in life. And she didn't like the name Penelope. But it would seem very peculiar for me to call her Mops all the way through.
I talked to Jenny Uglow a lot about this when she was writing about George Eliot, because when a woman writer "becomes" her pseudonym, it's a real problem. You've got to make up your own rules about naming. Nobody writes books about "Mrs. Woolf " anymore. Though they did!
INTERVIEWER
You've said that there aren't rules for writing a biography. But are there guides?
LEE
I don't like present tense—"She goes down the street and sees the person who will change her life and at this moment her life is utterly altered." I hate all that. I don't like "She would come to think that in future days." Very hard not to do it, but I think better not to. I don't like "She must have" or "She would have." But again there are times where you must say "perhaps" or "possibly" or "I don't know." A reviewer was very cruel once about a biography written by a friend of mine: "Every time she says, 'He must have,' she means, 'I don't know.'"
INTERVIEWER
How do you know when to say, "We can't know"?
LEE
When you can't.
INTERVIEWER
Then how do you know when to stop searching?
LEE
When time runs out, or when things starts to repeat themselves, or when you've got to the end of where you know the archives are. And you will always miss something. I'm absolutely sure that things will continue to come to light about Edith Wharton. There is a lot of stuff somewhere out there that I couldn't find. It is painful when you've written and published a book about someone, and then other things get discovered. The classic case for me was the fascinating recent discovery of Wharton's letters to her governess, Anna Bahlmann. I cried! It was too late for me. And there will be more. She went into the apartment of her life's companion, Walter Berry, in Paris the day he died and took everything. Who knows what that means? She took it, so we don't know. In an archive at a college in the States, where I was looking for something completely different, I did find two letters from Edith to Walter. There aren't any other letters that we know of, out of what must have been hundreds.
INTERVIEWER
When you write about those two letters, you say she doesn't sound like his lover.
LEE
Yes, because they were deeply undramatic, and they proved to me that the less interesting story was probably the truer one—that they weren't lovers. She fell in love with him when they were very young, and there was a possibility that he might have proposed to her, and he didn't. And in later years, it seems very clear to me that they were good companions and she was his confidante and he was her escort and her helper and her reader, but they weren't lifelong lovers. I would be astonished if a trove of letters from Edith to Walter appeared at some future date in which it became apparent that they were lovers. I would be really wrong-footed. But who knows, it's possible that they might. There's so much missing from that huge archive.
INTERVIEWER
Do you write on your computer?
LEE
I'm a classic example of my generation, which is that I started writing books before computers arrived, and I continue to feel the need for a physical connection between the pen and the page. So I write by hand when I'm writing a book, and then I put it onto the computer.
INTERVIEWER
Do you print it out when you revise?
LEE
I print out endlessly. I waste huge amounts of paper, whole forests. I'm very bad at reading on the screen. I print out and then I edit by hand. I can't edit on the screen. If I'm writing a lecture or a speech or a review, it will be pretty much all on the computer. But if I'm writing a book, I have to start writing it by hand. And I mark up essays and dissertations by hand. My students look at me in horror as I pass them back my handwritten corrections.
INTERVIEWER
What was Penelope Fitzgerald like as a teacher?
LEE
One of her ex-students said to me, She minded more about the books than she did about us. She wept for Mill on the Floss, but she wasn't tenderhearted with the students, she wasn't at all motherly.
INTERVIEWER
Are you motherly with your students?
LEE
I love teaching, I learn enormously from my students, I'm very interested in them, but I think I have a reputation for being rather brusque. I don't like creating warm personal relationships with my students while they're my students. I think it's a mistake. A number of them have gone on to become friends, one or two of them very close friends. But while I'm teaching them, or while I'm supervising them, they come in and they sit on that sofa and they talk about their work and that's it. I don't ask them about their private lives, and I don't invite them to talk about their private lives. I'm not terribly good when people burst into tears. I tend to give them a glass of water and go out of the room for five minutes for them to pull themselves together. And they usually do. Because they're mortified at having shown weakness in a professional situation. As I would be.
INTERVIEWER
Having burst into tears on occasion—
LEE
We've all done it. But the students who have enjoyed working with me—I know because they've told me so—have made good use of my being rigorous and perhaps quite fierce.
INTERVIEWER
It sounds as though those are qualities you take to your work.
LEE
I think I'm as hard on myself as I am on them. I know that my graduate students want to give me something to read that will make me say, Hey! This is great. That's a good moment, for them and for me. But I'm not very effusive with my praise, and I'm probably bad at concealing when I don't think a thesis is terribly good. I think that's a weakness. One should try to encourage people.
INTERVIEWER
I'm so glad I'm not a student.
LEE
It's hard. Especially writing a thesis. I didn't do a Ph.D. I did a two-year graduate degree, and then I went off and got a job. I was in the last generation of academics who could do that.
INTERVIEWER
When you're writing, do you develop theories?
LEE
I think it's a mistake to start writing a biography with a concept. It's fine to have an ambition—someone you want to put on the map, something you want to draw attention to or some emphasis you want corrected. But to start five or ten years' work on someone by saying to yourself, My concept for this book is going to be that they repressed their childhood memories, or they were a deeply divided personality, or they were secretly gay, or they had a fatal disease which they weren't aware of until too late—however interesting the concept is, it can make the book come to grief, because it's too much of a straitjacket. I think it's better to be more open, less certain.
INTERVIEWER
Posthumous medical diagnoses seem particularly tempting.
LEE
Very tricky. There's a critic and biographer, David Ellis, who writes very well about that. If you're going to place a medical diagnosis at the heart of a biography, how early on in the life do you start explaining the subject's behavior as a symptom of their illness? How can you be sure?
INTERVIEWER
You thought Virginia Woolf was suffering from an illness.
LEE
I thought her mental instability was an illness, but I didn't want to put a label on it because I thought it was lots of different kinds of illnesses in which physical symptoms and mental instability were very closely intertwined, and it was hard to unpick them. And this was something that she understood herself, and wrote about, and mastered. I think she made a rational decision to take her life, rather than an unhinged decision. It may be that my own desire to control things, or be rational about things, led me to create that version of her, rather than a version of her in which "madness" would be more . . . inspirational. You know, the Kay Redfield Jamison version—the inspired genius who is also the mad person. I suppose I was giving that version short shrift.
INTERVIEWER
Those are choices you have to make.
LEE
Well, they are inclinations you have, aren't they? Here I am, repudiating all autobiographical content in biography! But you write the book that your nature inclines you toward. You write the book that your education, your temperament, your training, your class, your race, your gender, your nationality incline you toward. You can't write a book as another person.
This goes back to the issue of the "concept" biography. I don't have a theory about Penelope Fitzgerald. I'm deeply interested in the shape of her life, and I'm fascinated by lateness, late starts. She didn't start publishing novels until she was sixty, for a variety of reasons. I feel there was a powerful underground river running through her life. She was a brilliant young woman, and everybody thought she was going to be a writer and she was writing away like mad in her teens and early twenties, and she was the editor of a magazine. And then it all went underground. Meanwhile, she's writing notes in her teaching books, which are a form of apprenticeship, and she's bringing up her family, and she's coping with her husband. And then he dies. And then up it comes, this underground river, at the age of sixty, and she writes thirteen books in twenty years. I don't have a theory about that. Nor do I want to blame anyone. But I want to understand it and show it happen- ing as best as I can.
INTERVIEWER
This is something you consistently look at—the ways in which a period that is commonly considered a dead period in a writer's life feeds into their work. I'm thinking especially of Cather and her journalism, and Wharton and the marriage years before she writes.
LEE
There's a wonderful quotation from Proust, which that great Anglo-Irish novelist Elizabeth Bowen uses. She puts it in her preface to The Last September. "It is those periods of existence which are lived through carelessly, unwillingly, or in boredom, that most often fructify into art." Isn't it excellent that that can be the case. My friend Victoria Glendinning has a motto she uses, which I sometimes steal—"Nothing is wasted." It's a very reassuring and consoling idea, even if it isn't always true. Think of those terrible phases in your life when you're just grinding along, or you're missing your way, or everything seems arid and disappointing. It helps if you can say to yourself, But something will come out of this. Penelope Fitzgerald wrote a note to herself that I take to heart—"Experiences aren't given to us to be 'got over,' otherwise they would hardly be experiences."