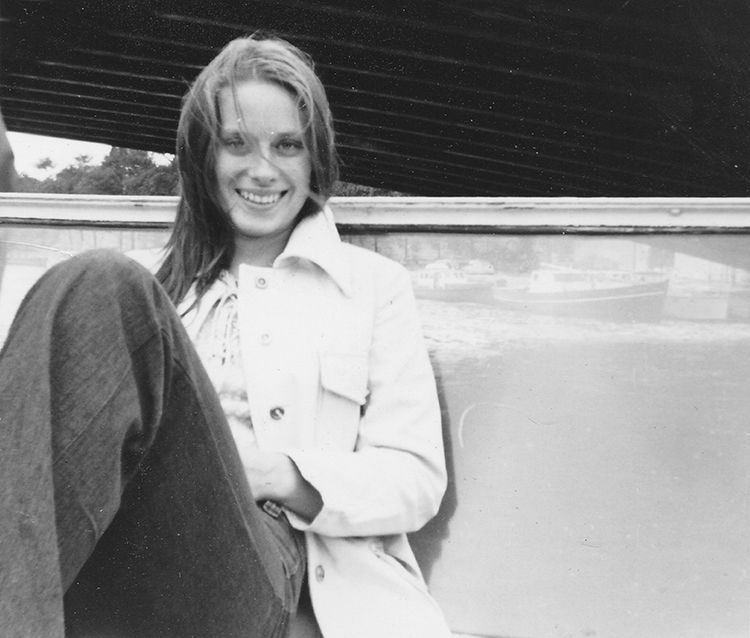 Lydia Davis in Paris, 1973
This interview began in Oslo, in September 2013, as a public conversation between Lydia Davis and her translator Johanne Fronth-Nygren at the Norwegian-American Literary Festival. The day before, Davis had met Fronth-Nygren for an introductory lesson in Nor­we­gian. "Soon we were talking about cats and gardens and family members, all in Norwegian," Fronth-Nygren remembers. "That knowledge, of cats and gardens and family members, followed us onstage."
Their public conversation was supplemented the next spring by two private sessions, one with Fronth-Nygren and another with the Spanish journalist Andrea Aguilar, each of whom visited Davis at home, in the converted school building she shares with her husband, the painter Alan Cote, in ­upstate New York. Fronth-Nygren describes the scene: "In the field across the road are the cows Davis has written about in 'The Cows.' Or rather, two of the cows she wrote about have been slaughtered and replaced by new cows, while the third, which refused to enter the van to be taken to slaughter, is still grazing in the field. Inside the big brick building, the three cats dart up and down the stone steps and lounge in squares of sun under the tall classroom windows."
Both interviewers describe Davis as a gracious and conscientious hostess. In Aguilar's case, the questions and answers continued as Davis and Cote sped her to the Albany train station. (When they discovered the train was delayed, Davis gave Aguilar a guided tour of the station, pointing out restrooms, the newsstand, and the waiting area.)
Davis is the author of one novel, The End of the Story (1995), and six story collections. Her translations from the French include new versions of Swann's Way (2002) and Madame Bovary (2010). She received a MacArthur Fellowship in 2003 and is the recipient of the 2013 Man Booker International Prize. She was recently made an Officier de l'Ordre des Arts et des Lettres by the French government. Since this interview was completed, Davis has continued to work at her Norwegian and recently finished reading her first Norwegian novel, Det uoppløselige episke element i Telemark i perioden 1591–1896, by Dag Solstad.
—The Editors
INTERVIEWER
Many of your stories deal with what you might call the ethics of parenting. Like "The Old Dictionary," for example, where a mother worries that "even though my son should be more important to me than my old dictionary, I can't say that each time I deal with my son, my primary concern is not to harm him." Where did that story start?
DAVIS
Oh, that just started with the perception that I was treating this old book better than I was treating my son.
INTERVIEWER
So the narrator is you? Is that often the case?
DAVIS
Just because a story uses material from the writer's life, I don't think you can say that it's her life, or that the narrator is her. As soon as you select the material from your life, and arrange it and write it in a stylized manner, it's no longer really identical to that life and that person. But often something will start from my real life. So there I am with the dictionary. And here is a conundrum, a puzzle, and often one question will lead to other questions that seem logical to me. What do I treat the best and why? But again, it's stylized. I'm leaving out a great deal. It's not a complete picture.
In general, it is true that I am always examining how I live my life. Always. It's sort of relentless. Not just, Have I had a healthy breakfast? But everything. There is a constant judge. Maybe it's my poor mother who lives on in my head. She was always judgmental, and her mother was ­judgmental. There's a long line of mothers passing judgment, and it's sometimes very ­oppressive. If I take a short break from work and lie down on the sofa to read and stay there half an hour instead of ten minutes, just how bad is that? Is that really bad? Suppose some nice person writes you a letter and you love getting it but you don't answer for two months. That's more clearly a bad thing than spending an extra five minutes reading on the sofa.
INTERVIEWER
I think of the narrator of your story "Glenn Gould," who wonders whether there is a way of being selfish without hurting anyone.
DAVIS
By never marrying, and living alone and having long conversations in the middle of the night with a friend. And by never seeing that person.
INTERVIEWER
In the recent story "Writing," the narrator says, "Life is too serious for me to go on writing." Do you feel that way? Could you ever stop writing?
DAVIS
I do stop for periods. But I can't see stopping altogether, just because I enjoy it so much. I have posed myself that question. If you were alone on a desert island and there were no more world and no more people, would you go on writing? Supposing I had the pen and paper, I probably would.
Like a lot of my stories, that one just followed one momentary thought—What am I doing here, putting odd sentences together and creating some little piece of nonsense, when people are dying on the other side of the world and our government's going to damnation? It's something that a lot of ­artists, I'm sure, feel at one time or another, that they're wasting time or doing something frivolous. So instead of answering myself and ignoring it, I wrote it out as a little thought. I didn't know how much value to give to that story, but I showed it to a very severe critic and she liked it, so I decided it passed.
INTERVIEWER
In another story, "The Letter to the Foundation," from the same collection, you seem to write about the obstacles to writing and to teaching.
DAVIS
That's much more to do with teaching than with writing. There I am trying to take on the persona or character of a midlevel, not very interesting academic who gets a minor grant that is major in her little world, but not otherwise. That story is mainly made up of complaints about teaching. I find teaching difficult and let that all come out in the story. That was the part I enjoyed writing the most, all those crazy problems of teaching, all the dread.
INTERVIEWER
You rarely give your characters names. Why is that?
DAVIS
I've always felt that naming was artificial. I've done it. I wrote about one woman and called her Mrs. Orlando, because the woman I based her on lived in Florida. Recently I wrote a story called "The Two Davises and the Rug" because I have a neighbor named Davis and he and I were trying to decide which one should end up with a certain rug, and I was very fond of using that name, even though it wouldn't make much difference to anybody if I called it "The Two Harrises and the Rug."
When I was about twelve years old, I wrote a story for a school assignment about a girl named Wimple. I could have called her Jane or Betsy, but even then I didn't give my characters usual names. I don't know exactly why not.
INTERVIEWER
What was the story about?
DAVIS
A girl who is not able to go to sleep and who decides to climb out her window, down the fire escape, and have an adventure. So she does . . . but it's a pretty short story. It's mainly about how she gets down the fire escape and how she annoys the neighbor with her noise, and then realizes she is never going to be able to climb back up the fire escape. So she decides just to face her parents' displeasure and come in the normal way. But it has a good bit of dialogue when she's making noise getting out the window. Her mother calls from down the hall, Settle down, Wimple, try to get some sleep, or something like that, typical of what my mother would have said.
Want to keep reading?
Subscribe and save 33%.
Subscribe Now
Already a subscriber? Sign in below.