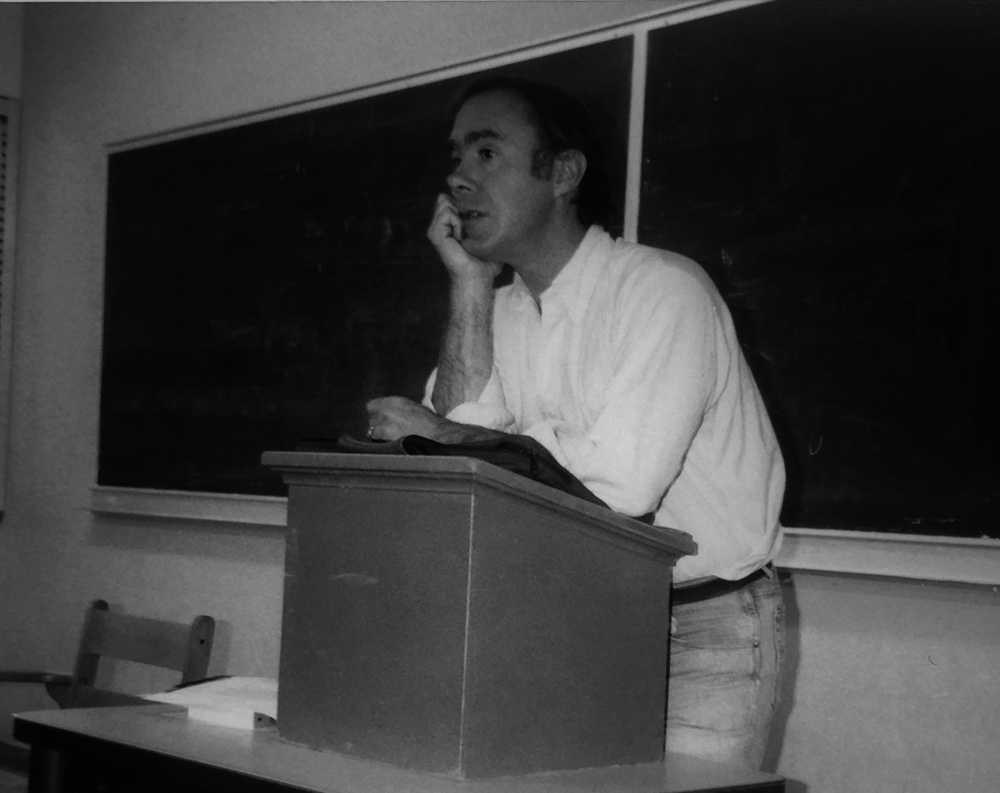 Hass teaching at St. Mary's College, ca. 1977. Photo courtesy of the author.
Robert Hass read poetry early on, but he first imagined being a fiction writer. And though he would become known around the world for his poems—sometimes giving them titles like "Novella" and "A Story about the Body"—his first publication was a piece of prose fiction in a Faulknerian vein, printed in his college magazine. Later, his dissertation at Stanford combined an analysis of the nineteenth-century novel with an inquiry into economic ideology, work that provided him cover for a private and steadily growing love for poetry. Hass went on to become a renowned professor of poetry, but would still teach, from time to time, courses on narrative film, Tolstoy and Dostoyevsky, or, recently, Nabokov and Naipaul.
His own story begins in 1941, when he was born the second child of four to a specialist in tax law and a homemaker. Hass spent his early years in San Francisco before the family moved in 1945 across the Golden Gate Bridge to San Rafael, a small town in then-rural Marin County. His mother struggled with alcoholism and his father seemed to hate his job, and "neither," Hass would recall, "seemed to be having their lives." He grew up hunting and fishing, and would one day raise his own children blackberrying and mushrooming and birding around the Bay Area.
Hass's first collection, Field Guide, was selected by Stanley Kunitz in 1972 for the Yale Series of Younger Poets, and by the time he published his second, Praise, in 1979, critics were describing him as one of the finest poets of his generation. "A singular brightness," wrote Elizabeth Hardwick, "and freshness of mind." "Visceral pleasure," said Carolyn Kizer. Among his earliest models and interlocutors were Denise Levertov, Robinson Jeffers, Kenneth Rexroth, and Gary Snyder, the last of these especially opening a prospect for Hass onto the possibility of writing about the place he was from. His most recent collection is Summer Snow (2020), the title a reference to his beloved Sierra Nevada. Over the course of his life, Hass had been awarded many of the important accolades in American poetry, from the Pulitzer to the Wallace Stevens to the National Book Award, along with a MacArthur grant, and he twice served as poet laureate consultant to the Library of Congress, a job he was very good at and which made him "miserable."
Hass also produced two volumes gathering some of his essays and reviews—Twentieth Century Pleasures (1984) and What Light Can Do (2012)—ranging across poetry, film, photography, and the culture at large. For the former he was given the National Book Critics Circle Award. A Little Book on Form (2017), which everyone likes to point out is not particularly little, is a poetry master class between two covers. And there is Robert Hass the translator—of haiku, of Dante, of lyrics by Frida Kahlo and Tomas Tranströmer, and especially of the volumes of Czesław Miłosz, which Hass labored decades bringing into English. Miłosz said it was "one of the extraordinary accidents of my life" to have met the younger man.
Our conversation began in 2010, but we didn't finish it until this January. We recorded our first bout at the dining room table in the house in the Berkeley Hills that Hass shares with his wife, the poet Brenda Hillman. For our second session, eight years later, we moved to the living room. Through the corner window the bay was shining like a sheet of tin in sunlight, and beyond that the San Francisco skyline was threaded with fog. Some days later we did another round in his office on the Berkeley campus. At one point a crow landed on the concrete balcony just outside the window, and he offered it a bit of cookie he found in his desk, but it flew away. For our final discussion, we went back to the living room.
By then, the world seemed in some ways a very different place. But the concerns and themes that emerged in our first conversation had only deepened. In Hass's poems, and in his talk, there's a striking mix of the plain and the elaborate, the earthy and the urbane. He dwells in his art not only on human suffering but especially on what remains to be felt and known in suffering's wake. And context, itself one of Hass's great subjects, became a touchstone as the interview unfolded, too.
Hass's smile is sweet and a little bit sad. Sometimes as he answers a question, so much seems to be occurring to him—"My mind went seven places at once," he writes in his poem "Consciousness"—that he starts to speak in luminous fragments. He's told me he's not sure he believes in digression. "There's nothing to digress upon," he says.
INTERVIEWER
How, in general terms, do poems come to you? I'm thinking of Seamus Heaney saying he was never sure whether the will could do the work of the imagination.
ROBERT HASS
Seamus had such a gift for naming the issues in making. And he was such a conscious maker, it's understandable that he would go there. My experience is mostly that the will can make prose and it can't make poetry. But it takes will, sometimes, to put yourself in the place where poetry might happen.
INTERVIEWER
In A Little Book on Form, you quote Lowell saying that it's easier to write a good poem than a good line. I have the instinct that the opposite is true—that a good line is easier—just mathematically, because it's smaller. Easier to concentrate upon, and compass, and refine.
HASS
I think he meant that if you have a piece of writing and really work at it, you can make it better and possibly good through diligence and craft. To write a good line—something that's especially evocative or indelible—it either happens or it doesn't. You can't make it happen. I think you can make a poem happen. But either it occurs to you to write, "April is the cruellest month, breeding / Lilacs out of the dead land," or it doesn't. So it's easier to write a good line in that it takes absolutely no effort to do it—it either comes without effort or it doesn't come.
INTERVIEWER
Do the sounds of words, and their rhythms, lead the creation of a poem for you? As opposed to having a predetermined thing that you want to say.
HASS
I think so. Robert Duncan speaks of the "tone leading" of vowels. One vowel sound leads you to another vowel sound leads you to another vowel sound—I mean, at some point, the core of the business of poetry is to be taken someplace you didn't know you were going by the sound out in front of you that you didn't know you could hear until you heard it. This is probably true of prose, too, it's just more intensely true of poetry. Sound harmonies and disharmonies lead you to say things and invent things you couldn't otherwise say. And the other part, of course, is that those harmonies, if they're particularly arresting to the ear, make the old connection between poetry as an oral art and memory as a storage system. That's the oldest thing about poetry.
And I think about rhythm, on a couple of levels. Rhythm at the level of one word after another, making musical phrases or interlacing musical phrases, and also, at some point in the process, I'll feel an arc of the whole thing. And that's another rhythm. As we speak I'm making a gesture like a rainbow, rising and falling. But the action could be veering, it could be turning back on itself.
I taught myself about poetry and its forms around the edges of a Ph.D. program in literature. I remember reading Troilus and Criseyde, which tells the story of this love affair, and at the end, Troilus in heaven repents his unchristian behavior, and when I read the commentary the assumption is that the meaning is at the end, but if you stand back and look at it as a three-paneled screen, which is what medieval people did—here's before they get together, here's when they get together, here's after they get together—right at the center, there they are with their arms around each other. Chaucer has all this imagery—birds, nightingales, honeysuckle—and this incredibly sweet lyric. The shape is a three-part dance. Comedy, lyric, recantation. It's not that the recantation is the truth. Process is the truth. And the singing is in the central panel.
INTERVIEWER
What is formless? What doesn't have form? Is that even something we can think about?
HASS
What a smart question. A difficult question. I have an early poem in which I point out that the Roman word for ugliness is informis—that which has no form. I had in mind that misery is the absence of form—probably a pretty good definition of depression, the inability to tell yourself your story. It's connected to some idea of purpose as a principle of coherence, even if your story is a moving target. People find it so hard to live without the idea that there's a spirit of or in history leading toward some desirable end. "Isn't it pretty to think so," as Jake Barnes said in 1924. Which I think is why people are still Hegelians one way or another in the twenty-first century. You would think that the twentieth century would've bleached that out of us. And in that way you can say that twentieth-century art was a huge wrestling with an idea of form, once the idea of a divinely inspired shape was leaking out of the culture.
INTERVIEWER
Over the years you've talked about there being two different kinds of poets, those who chip away at things and those who pounce.
HASS
I think Jorie Graham proposed this to me—the ox and the lion. The ox puts on the harness every day and pulls, and the lion sits around digesting the last meal and then pounces, and then sits around again. I put on the harness, but basically I tend to pounce. I get my most interesting work done in bursts.
INTERVIEWER
What's the difference between the two modes, in terms of the type of work you produce?
HASS
The work I've done in translation, or writing essays, for example, is just labor. You get in and you do it, though the getting in can be prolonged agony. With poems, if I have a deadline—like I told my editor, Dan Halpern, that I'm going to get a book ready, so I know he needs a finished manuscript by a certain time—then I can get down to work in a forced march and say, Okay, I'm going to spend x number of hours a day and wrestle with these things and muscle through all my hesitations and get the poems into shape. There's a part of me that wants to let problems go for a while, let a piece of writing simmer and percolate, in the hope that my unconscious will take care of it. That the solution will come. And I think that's useful up to a point, but I also think you come back to the basic thing about writing. You've got to exercise your will and get work done. You've got to show the muse you're willing to show up, whether anything is happening or not. But in another way I've been such a bad model, as far as work ethic, because of my ox-like tendencies. A lot of that labor went into prose and translation. Sometimes I would be in the middle of writing an essay on Ernesto Cardenal or on what's going on in Chinese poetry, but I'd be thinking, Why don't I just shut up and try to write a poem?
INTERVIEWER
You just mentioned Halpern, who published Praise at Ecco, and with whom you've published ever since. How did that book come about?
HASS
All my life I'd been writing poems to write poems. I didn't conceive of books. But then I thought, I'm going to make a book. I was writing a lot of poems, or beginning a lot of poems, that seemed like they were doing exactly what the poems in Field Guide were doing. And then at a certain point I felt like I was writing another kind of poem. There was a specific change, you can hear it in the first few pages of Praise. "Heroic Simile," "Meditation at Lagunitas," and "Against Botticelli" were not necessarily about a long line but about engaging a declarative sentence. Trying to learn to write free verse, my models were strongly accentual versions of that mode—William Carlos Williams, Gary Snyder, Ezra Pound, and Denise Levertov to some extent. And the other thing I had acquired, probably from reading Hemingway and American culture in general, was a certain style of masculinity. The ideal of the laconic male who didn't have a whole lot to say except, Yup. Nope. Yes ma'am. No ma'am. And in Hemingway's prose the tactic seems to be, like in "Big Two-Hearted River," just describe what you're seeing and the reader will guess what you're feeling. And at a certain point in my life—maybe something I'd learned in marriage—this was not an idiom in which I could think very well or feel very intensely. You didn't want to be a wall to the person you were living with. And so the breath changed. The flow of the lines got longer than in the music I knew how to hear. And so the writing changed. I thought I was on the beginning of a new path at that point. And I had some poems that seemed kind of a halfway house between those two impulses, the laconic and the flowing.
But anyway, so, how many years was it, five? I was writing poems. And I was in New York and giving a reading. This was sometime in the late seventies. Dan said, I would like to publish your next book with Ecco Press, which he had just started. I said, Dan, I don't have a book. And he said, I just heard you read an hour's worth of poems I haven't heard before. There must be a book there. I said, I've got lots of poems, but I've no idea for a book. And I was really stuck because I was dead sure that it had to be organized more or less chronologically in the order that I'd written the poems. And he said, Let's take a look at them, and we went to his place. He had an apartment down on West Thirtieth. A penthouse in the middle of the Garment District. We started to lay out the poems on the floor. And he started moving them around, and I said, See, here's the problem, you can't do this, and you can't do that, and those have to come near the end, and this has to be near the beginning. And he said, Just let me work on this, will you? He laid out all the poems on the floor and started moving them around. He put what I thought were some of the strongest, which I was sure had to come at the end, at the beginning. And he said, I think this is starting to work. And I went into the bathroom and threw up. And came back and looked and said, Actually this does kind of work.
INTERVIEWER
Praise seems more abstract, more openly symbolic, than Field Guide.
HASS
Well, it's not afraid of abstraction. Pound had said, "Go in fear of abstractions." In Field Guide, naming the world more or less committed me to the concrete, which tended to be rendered in staccato and short-breathed language. While I was working on Praise, something woke me up to the music of the declarative sentence. Some of it I got from the example of Robert Duncan. Some of it maybe from Jack Gilbert, or, I had met Linda Gregg, and she was writing poems in declarative sentences that felt both airy and very strong, and it opened up something. In Field Guide, although there were other things I was writing about, too, one of my impulses was a celebration of the natural world, but also of young adult life, of marriage and daily rhythms and babies. The world, suddenly available, seemed very much alive and very possible. And there was all this violence that was external—these were the years of the civil rights movement and the escalation of the war in Vietnam—and the bad guys were hard at work. It seems to me now that those were the poems of a young man in his twenties. And as my life opened up, and all the issues in that life that didn't have to do with the external world, that belonged to dailiness, desire, immanence, transcendence, that comes out of—you know—you're no longer thrilled at getting a paycheck, you've got to live a life. I look at the poems in Praise and think—like "Songs to Survive the Summer," "These are the dog days, / unvaried except by accident"—time seemed so slow to me in a certain way. It doesn't anymore.
INTERVIEWER
So, what changed when you found your way to more declarative sentences?
HASS
It was for me a matter of breath.

I won't say much for the sea,
except that it was, almost,
the color of sour milk.
That's the beginning of the first poem in Field Guide. It sounds to me, when I read it now, like a poem so uptight it can barely breathe. And it was much more a matter of physical breath getting longer that created a different impression, less of tension and more of momentum.
INTERVIEWER
And in Human Wishes (1990)—this is ten years after Praise—you begin with the six very long-lined sonnets. What can you say about the germination of Human Wishes?
HASS
Well, again, there was a period of false starts. And then a couple things intervened—one was that I was writing more prose. And in the course of writing, I was trying to figure out, having been through a Ph.D. program, how to write prose about poetry that sounded like it was written by a human being. Essays on Rilke, on Tomas Tranströmer, among others. And I found myself, in a couple of the essays, laboring over paragraphs to get them right in the same way that I worked in poems. And I thought maybe I could write prose poems, or short prose, or whatever you want to call them. So I set about, for a while, the task of writing a paragraph a day. And that gave rise to some of the short prose pieces like "A Story about the Body." I thought for a while that I would do a book of verse and a book of short prose. But they seemed to belong together. And I was experimenting with how you mix verse and prose inside a poem, which I had already done a bit of in Praise.
In a way, there's an interesting pattern here—that the formal change between Field Guide and Praise really had to do with being able to articulate thought and feeling in my life, and I learned that in a marriage, not in a book. I had to learn to talk in my marriage. And it changed the way I breathed in poems. In the case of Human Wishes, I think I was attracted—well, I was in a kind of psychological trouble, my marriage was falling apart, and the seeming objectivity of prose was something I thought I could attempt. The rhythms of verse give you much quicker access to the unconscious, and I think maybe I didn't want to go there. This trying to think about what you tell as a story versus what you sing as a song, and how you move in and out of one another, became interesting to me. At certain points, in order to make the metonymies in a line of poetry work, you also—or first—need to tell a story.
INTERVIEWER
Why do you think you write poems instead of, say, novels?
HASS
I think at some point in my early twenties I just fell in love with the music of verse.
INTERVIEWER
Do you have any thought on why for you it has been important to show the poet making poems, in the poem?
HASS
When I began writing poetry, that was the idiom in the air, it was just what you did. I think it had to do with what was happening in painting, what was happening in jazz, what was happening in filmmaking. Process as revelation. I remember in Persona, one of the Bergman movies that I saw when I was just starting to write, there was the devastating end of the movie, and the next thing you hear is the sound of the projector flapping through the last bits of film. I was totally thrilled by that. It made perfect sense, too. It was the idiom of late Modernism, I guess you could say, and I was drawn to it.
And it was interesting for me to work in that period when everybody was becoming Postmodernist, in the eighties. Czesław Miłosz was my neighbor, and we became friends. I was spending one day a week trying to help him get his poems into English, poems that were full of torment about this question. The existentialist answer to the question, which was his answer, which is really the answer of Modernism, is—I'm a maker. This is making. This is not formed values, this is an ideogram of an action. He was suspicious of Postmodernist practice. He was inclined to think that most experimental poetry, if you set it next to the whole range of ordinary human suffering, was a kind of feral vanity typical of artists. Including himself.
INTERVIEWER
The foregrounding of artifice—dwelling on the making of the poem, in a poem—seems to go to the core of what poetry is, doesn't it? That it offers a place in language where we don't forget that we're using language?
HASS
Yeah, that's wonderful. To someone who isn't in love with poetry, maybe it's hard to convey why. I was just working on this in a poem, I was trying to think of how to convey the absolute magic of the simplest line—"it rained yesterday, and the evening air was cool." And of where you end a line, which defines where you begin the next one. "The mother bear leapt onto the trunk of a fallen tree / To look back at us."
But it's tricky. I was also thinking about young writers talking to each other about poetry at that stage when you are intoxicated by every microlevel of movement in a poem. There's such a fine line between plainness and banality. Somebody asked Buson if there was a trick to poetry, maybe to haiku, and he said, Yes, learn how to be simple without being vulgar. I think that was his way of saying the same thing.
INTERVIEWER
When did you start thinking of yourself as a poet?
HASS
Maybe in my late twenties. When I got to college I met people who would say, I'm a poet. And there was a group of people, some of whom were two or three years older than me, who actually had some tangential relation to the North Beach Beat scene, or wanted to. And there were bars in Berkeley with names like Steppenwolf and the Blind Lemon, down on San Pablo Avenue, where you could go and hang out and feel literary. The first poems that struck me in college were actually John Donne's. What I remember is the opening of his poems, in which he writes things like "I wonder, by my troth, what thou and I / Did till we loved? Were we not weaned till then?" or "For God's sake hold your tongue, and let me love." Those poems in which he grabs you by the lapels. The directness was very startling to me. And I just loved it.
Even earlier—I think I was in the eighth grade—I remember coming across a book of contemporary poetry in which there was a poem by Wallace Stevens called "Domination of Black." It electrified me. And it's an imitation of French Symbolist poems, it's kind of villanelle-like, it just repeats certain phrases, "turning in the wind" and "the cry of the peacocks" and "the night came, / Came striding," over and over again—it isn't about anything, it's just creating a mood, but I felt like I had been told the truth for the first time in my life. That was definitely my first experience of poetry, this suddenly being made to feel alert and pay attention.
INTERVIEWER
Tell me more about where you grew up.
HASS
I was born in San Francisco, but mostly grew up in San Rafael. Before we moved, I spent those first years in a neighborhood called Presidio Heights, which is just south of the Golden Gate Bridge and looks out directly on the pine forest in the Presidio, which was a military base. I was born in March 1941. My parents told me that I was at the beach with them on December 7—it was one of those cold but sunny Northern California days—when they got the news of the bombing of Pearl Harbor, and they looked out at the ocean horizon.
My father had inherited the house from his father and divided it into two flats, renting the more palatial floor to a man who—I learned years later—was supervising the building of the atomic bomb at Berkeley. He was Oppenheimer's administrative boss. This bachelor had a valet and a cook, an older Filipino guy who, if we went downstairs and visited him in the kitchen, would carve animals out of peeled potatoes and deep-fry them for us. Two generals lived on the block, one next door. My early memories are the sound of foghorns and the feel of the fog and the green of the fog and the pines—and military limousines pulling up in front for the generals to be picked up and driven off to the post. And my aunt, my mom's younger sister, was engaged to a guy who was a fighter pilot in the Pacific. When he would come home on leave, there would be parties. And we'd be whisked off by the driver of some officer to the military base and taken to a movie at the post.
INTERVIEWER
You went to a Catholic high school?
HASS
I went to a public school in San Francisco and briefly in San Rafael, and then from second grade on, I was in Catholic school—which for Catholic kids was public school because it was free—in San Rafael, at a school named Saint Raphael's, which was attached to the church. Founded in 1817 or so, one of the last of the missions. It was created as a hospital. At first the missionaries didn't understand that they were giving these people European diseases to which they had no immunity. I've read that between 1820 and 1860, three-quarters of the native people of California were dead from disease. By 1900, according to some estimates the population had been reduced by ninety percent from a combination of epidemics and the genocidal instincts of the Yankee settlers. I grew up with portraits of saintly Franciscans tending to Indians. That was my school culture. My father was Protestant and my mother grew up in a strongly Catholic culture, though she wasn't a particularly pious person. My grandmother, her mother, was very devout. But if you were Catholic, you went to a Catholic school. It was automatic.
INTERVIEWER
Did you feel religious as a young person?
HASS
I've gone and looked at my old journals and I've found that somewhere in my junior or senior year of high school I went through a fit of piety. Religion felt like the invitation to perfection, which for certain natures must be a huge temptation. It probably had a "step on a crack, break your mother's back, step on a line, break your mother's spine" feel to it. That is, I wanted to walk through the world without breaking anything.
I liked the liturgical world of the church. There are a lot of Catholic narratives of mean nuns and sexual guilt, and that wasn't my experience. My family life was complicated and so I loved being around the nuns. The Dominican nuns at school wore habits in those days, and they looked like something between angels and swans. It felt like a warm, rich world. There's a line somewhere in Czesław's poems in which he says something like, a Roman Catholic education and the twentieth-century novels of romantic love are not a good recipe for an adult life. It suited my impulse to worship women, and to adore.
INTERVIEWER
Growing up, how did you learn about what was happening in poetry in the Bay Area?
HASS
Newspapers, which I read by the time I was in high school. There was still a weekday book column in the Chronicle. Also the older brothers and sisters of friends. There was a literary community in San Francisco, and in Sausalito, near to me in Marin. And the Beat thing was happening in North Beach. I was in high school when Howl was prosecuted, and we heard that it was a dirty book, so of course we went out and bought it. It was basically incomprehensible to me at the time. There were lines that I thought were funny and uncomfortable, like "go fuck yourself with your atom bomb." The great line of that poem is, "America I'm putting my queer shoulder to the wheel." But I don't know if I got how brave and droll that line was, or, for that matter, if I knew what queer meant at that point.
The poetry that really interested me I learned from my older brother, who liked to read poetry out loud. He took a course in Romantic poets and he was reading Wordsworth and Coleridge. I remember him reading to me some lines from "Tintern Abbey"—"These hedge-rows, hardly hedge-rows, little lines / Of sportive wood run wild"—and I thought, I didn't know you could do that. The way Wordsworth modifies his perception. I just loved it.
INTERVIEWER
Field Guide doesn't seem to delve into your early life much.
HASS
I didn't write about it there, no, although I was writing autobiographically. I was writing right out of the experiences I was living. I was thinking about it the other day, about how much I'm aware now how derivative each of those poems is and where each of them came from. The poem called "Adhesive: For Earlene" begins,

How often we overslept
those gray enormous mornings
in the first year of marriage
and found that rain and wind
had scattered palm nuts,
palm leaves, and sweet rotting crabapples
across our wildered lawn.
I was learning to write, and I was just channeling the irregular line length of Lowell's Life Studies in that little bit. I was thinking about palm nuts, palm leaves, and sweet, rotting crabapples. There are probably a zillion places in Faulkner where you have adjective-noun, same-adjective-but-different-noun, then two-adjectives-noun as a rhythmic pattern. Of course, I was entirely unconscious of it at the time. I was reading an interview with Zadie Smith yesterday and she quotes Nabokov, who remarked that nobody reads as much or as well as they did between the ages of eleven and fifteen. In some way, your whole imaginative vocabulary of sounds is already buried in you by the time you're nineteen or twenty years old and you're just following these little paths through the summer grasses that other people have walked.
INTERVIEWER
There's one image, though, in Field Guide that seems pointed, in its relation to your childhood. A softball—like a moon—coming down.
HASS
That's the one image, yes, that hints at something. My parents were children of the Depression, so—and I think this is the thing that was socially unusual about them—their parents had been to college, but they had not. So I grew up in a house full of books, but my parents were not intensely readers. My grandparents were. Another thing about the culture of our house was that by the time I was six or seven, it became clear that my mother had a fairly severe drinking problem. Which was binge-drinking alcoholism. That persisted throughout my childhood. And I found my way, at some point, to the library to try to read about it and understand what the deal was. I couldn't have been more than ten. It felt like a betrayal of some kind, and also creepy, to take down books with the word alcoholism in the title, because it seemed coldly scientific. I started trying to figure out what was happening. One out of six Americans, I've read recently, is addicted to either drugs or alcohol. Of course, when you're a little child you think your family is uniquely shameful, but I came to realize that my situation was not very unusual.
I had read Life Studies, and I had read Ariel, and I had read Kaddish, which I think were the three books credited with unleashing one's own family as the subject of poetry. And in my generation, people were in different ways writing about that stuff. It didn't interest me. It wasn't where my energies were engaged. Until they were. And when they were, it was mostly because I was having to deal, in my own life, with the psychological debris of things that had formed me. And so I found myself thinking about it, and when I found myself thinking about it, I found myself writing about it. I was aware that by that time everyone was already getting sick of autobiographical poetry about unhappy, difficult childhoods. And I had to figure out how to work with this, what I was doing with it.
INTERVIEWER
What are some of the poems you're talking about?
HASS
I guess the poems in Sun Under Wood (1996), written in the eighties, really. I was in my late forties. I had just been through a divorce and I was thinking about this kind of life-shaking, life-altering event.
INTERVIEWER
That's the book that begins with happiness and ends with an interruption.
HASS
[Laughs]
INTERVIEWER
And seems to reveal the beginning of your relationship with Brenda.
HASS
Yeah. Sun Under Wood is . . . elegiac in a bunch of different ways. But it was also a period when I was dealing in difficult ways with my relationship to my mother and to my brother.
INTERVIEWER
But it begins with a poem called "Happiness."
HASS
A couple of things happened over the course of those years. One was the end of my first marriage, which was a twenty-three-year marriage. Earlene and I had been boyfriend and girlfriend since we were thirteen years old. And then during that time my father died. My mother had trouble managing her life. I had trouble figuring out how much to try to manage other people's lives. So there was a lot of caretaking and also new energy. I don't know what I would think of that book formally if I read it now. I think I was thrashing around. But it was also when I met Brenda.
INTERVIEWER
It seems to me that one of the sources of poetry for you, all through your work, is context—the backstory, the minutiae of history—which comes from the Latin for "connection" and "weave" . . . I see it as early as Field Guide. Is this an accurate assessment?
HASS
Yes, he said with dismay [laughs]. I think partly I got that from coming of age as an artist in such a politically troubled time, where some of the models—Levertov, Duncan, Snyder, Ginsberg, Adrienne Rich, Etheridge Knight—were trying to engage with their time and their materials. So the big argument back then was an argument we're still having, asking how poetry is political or not political. I had two kinds of examples before me. It seemed to me that great poetry came from the inner life. Emily Dickinson is an example of that. But there was this other tradition, the Ginsberg tradition, of people trying to write about politics, or the human fallout from politics, and I was engaged by that. The violence of the world seemed like one of the great and puzzling mysteries, dances, rhythms of life. Especially in those years, when on the one hand I was twenty-two or twenty-three years old and I had a baby, and watching this child grow was kind of a blissful time, and magical to watch, and then you got up every day and read the news about how we were pouring down bombs on populations of peasants, and burning whole jungles, the shock and level of violence, people turning hoses on black kids trying to go to school, the appalling series of assassinations, John Kennedy, Malcolm X, Martin Luther King, Bobby Kennedy. The violence was part of my emotional life, especially the contrast between the sweetness of life, of days, of that time and then, on the other hand, the cruelty of the world. All of which seemed to want one kind or another of contextualization.
When I was writing Field Guide, Dow Chemical was manufacturing napalm near the marshes. It felt like there was an ache in the land that connected to my feelings about the history of violence played out there. I was reading Lowell's great "Quaker Graveyard in Nantucket" and those first poems of his, his brooding over his New England. There was a sense that part of the work of poetry was in that way regional, the work of looking at, sorting out, critiquing, and celebrating the culture you grew up in. So in that, I felt like California gave me a subject.
INTERVIEWER
And something of a reputation.
HASS
I'm told my poetry was described once as the work of a "laid-back" Wallace Stevens. I don't really know what that means. It's code for something about California. Though to be compared to Stevens is just fine with me . . .
INTERVIEWER
Your teaching career took you, initially, to Buffalo, New York.
HASS
My first teaching job was at suny Buffalo. I started there in 1967.
INTERVIEWER
Did you like Buffalo?
HASS
I had never really been out of California. I had been to New York City once. And I had been to rural upper Michigan briefly. And I had been to Mexico, as all California kids had been, but it was my first time living away from home. Buffalo is more exotic in my imagination than London or Paris or New York or Berlin or any of the other cities where I've lived since. It was a wonderful place because it was full of writers, which is why I wanted to go there. It also had a good modern art museum, the Albright-Knox, full of the work of the New York School painters.
The other thing about it, of course, was that it was Buffalo. The T-shirts say CITY OF NO ILLUSIONS. It had been a prosperous, industrial Great Lakes city at the turn of the century. It was deep into Rust Belt trouble by the time we got there, and in fact, the re-creation of the university by Nelson Rockefeller was in some way an effort to revive the local economy. I loved it there, I loved the university, it was just a great job. Buffalo was something I had longed for, the richness of the cultural and intellectual community. I felt I had arrived. Graduate school had been very disappointing to me, because I thought I was going off to fifth-century Athens, and instead I was dunked in this kind of country club environment in which everyone was manufacturing intelligence for the Vietnam War.
INTERVIEWER
You lived in the countryside outside Buffalo for a year. What was country life like?
HASS
Oh, it was gorgeous. First of all, for a Westerner, upstate New York summers were so, so beautiful. The humidity, and the heat, and the green, green grasses at a time when our landscape is drying out. I didn't know the wildflowers of the East. I was teaching them to myself. I got out of town partly because politics in Buffalo had become dangerous, or potentially dangerous. We rented somebody's summer home that was mostly not used in the winter, right at the edge of Chestnut Ridge, which is a state park. Beautiful forest of hardwood, very old, some of the oldest black birches in New York State, and a pine and fir forest, as well. It had a little pond that we turned into an ice-skating rink in the winter. I just loved being in that landscape. But it was difficult, because the snows were really something. And I felt at a certain point that Buffalo wasn't my place.
INTERVIEWER
What do you mean when you say the politics there became dangerous?
HASS
I grew up thinking that Berkeley was this place where the guys who tended to be political did so in order to get girls. I was a little contemptuous of political engagement. But by my senior year of college, the civil rights movement was inescapable—it was the period of the Freedom Summers, when college kids were going south to join the black kids who lived there and who were sitting in the restaurants and agitating for voting rights. The indelible figure for me was James Baldwin. Reading those essays, I felt like you had to somehow be engaged with what was going on. When I got to Stanford I joined SNCC, the Student Nonviolent Coordinating Committee. My first year of graduate school coincided with the Free Speech Movement at Berkeley, and we were all electrified by that. So when I got to Buffalo I was now a faculty member, and I wanted to figure out who was doing that work, and it was the Students for a Democratic Society. And eventually I became the faculty adviser for the group. Which later turned out to be complicated. Around the time of Kent State, when the demonstrations were at their most active, the district attorney for the city of Buffalo—or for that county of New York—decided to do an investigation of the radicals who were creating all the disturbances, to see how the taxpayers' money was being spent—if it was being used to organize these demonstrations, it was a violation of university regulations—and they went looking for who to investigate. And they found me.
INTERVIEWER
What happened?
HASS
There had been a sit-in by some faculty members around the time of the bombing of Cambodia. A law firm was representing them because some people wanted them fired for doing that, and so a young lawyer from that law firm was representing me when I got subpoenaed to appear before the grand jury. And I said, What I don't want to do is name names—I was thinking about the McCarthy era—and he said, Well, I can file a motion saying that you don't have to respond to the subpoena because it would be self-incriminating—the precedent for this was some of the Communist Party's legal struggles—and I said, Well, from their point of view I'm probably the Communist Party. Which the lawyer misunderstood. So the next day there was an article in the newspaper saying that I was a Communist. Which would've been funny except that I had picked up the phone the day before I was supposed to appear in front of the grand jury and a whispered voice described the streets that my son took walking home from school. Which made it scary. Leslie Fiedler, the critic and novelist, was the chairman of the department, he was a wonderful man and he was in charge of the local "legalize marijuana" group—which made people insane in Buffalo in the sixties, the idea of legalizing marijuana—and I told him about this phone call I got, and—he got hate calls all the time—and he said, Here's the thing, just say to them, Before you kill my child, would you come over for tea, or for a drink? I think that if you met me you would not want to kill anybody.
I never got a second call, so I never got to say that sentence. But that's partly why we moved to the country.
INTERVIEWER
The rhythms of child-rearing, you've said, were really important to you.
HASS
Defined my life.
INTERVIEWER
Child-rearing and artmaking were not in conflict for you?
HASS
No. For a while when I had a studio in a converted garage in the backyard, the kids would come out, and to get my attention they would say, I want to write a poem, and so I would just set aside what I was doing and they would say something and I would write it down and type it out and give it to them. Also because my wife was such a great mom, she made it so easy for me to be a writer and also we both really loved doing it, loved the rhythm of kids, but it absolutely did inform everything. And I miss it now.
INTERVIEWER
What is "it"?
HASS
Reading them stories, putting them to bed. Watching them become the singular beings they are becoming. When you're taking care of small children, it's the one time when you don't have to ask what the meaning of it all is. The meaning is to get through the day without closing a car door on their fingers.
INTERVIEWER
What would you say is the relation of poetry to knowing, to knowledge?
HASS
Oh, it's a powerful question. And I don't really have an answer. One answer is that the particular thing that poetry does, which is lodge or make a perception in a given rhythm, is knowledge. That is, to say

Among twenty snowy mountains,
The only thing moving
Was the eye of the blackbird
is knowledge. Whatever metaphor you want to make out of the eye of the blackbird. That almost any line of poetry, if it comes alive in that way that language can, constitutes knowledge—that's one answer.
Another way would be that poetry since Baudelaire has been in effect an alternate tradition of knowledge to the official culture's description of itself. And out of that, Pound could describe himself as sailing after knowledge and take the image of Odysseus and then set sail as an explorer, and his metaphor for it in The Cantos is—he uses the word periplum—which is Latin for "the look of the coast seen from a ship." That's the view of poetry. Which is a very touristic view, in a way. You would want on one hand to be Whitman plopped down in the middle of the city, a sponge to all its sensual impressions, and on the other to be that person glimpsing the coast of what it's like. So there's that idea of knowledge embedded in the idea that poetry, insofar as it traffics in knowledge at all, is about what is not in the textbooks.
The third way of thinking about it is the way that poetry was treated, from the time of Augustus to the middle of the eighteenth century, as a pleasant way of conveying information to people. Someone in the eighteenth century, given the choice between reading a poem in rhymed couplets about how to make cider and a textbook about how to make cider, always chose the poem in rhymed couplets. They thought that was what poetry was for, pleasant and beautiful ways of describing experience that could just as well be described in prose. So sometime toward the end of the eighteenth century or the beginning of the nineteenth—Romanticism—people came to make the claim that poetry was its own form of knowing, not a nice way to paraphrase common sense but some particular kind of knowledge.
I think I subscribe to all of those different views, but the first and the last interest me the most. In the notebook poems in Summer Snow, I did try my hand at making visible the process by which we acquire what people think of as knowledge. You go to a conference on the philosophical idea of a world without war, a world of peace, and you take down notes on the memorable things that a bunch of people said and reproduce them, along with other observations. Is that knowledge?
INTERVIEWER
Do you ever come to a point, in making a poem, where you wonder if anyone is going to understand it? What do you do then?
HASS
One of the things that was interesting to me working with Czesław for twenty-five years was that he never thought it wasn't the most important thing in the world. He had despair about the world. He had despair about whether his art could ever achieve what he hoped it would achieve. He had a feeling that serious art can lose its way among junk. But he always felt that, as he says in one poem, "Great was that chase with the hounds for the unattainable meaning of the world." He always thought that the poets and the philosophers and the artists and the theologians and so forth were engaged in the grand human adventure.
The other thing is that poets with their choices invent their audience. They may or may not ever call that audience into being. Dickinson invented an audience of upper-class Whigs with refined taste who had the intelligence to read her subtle poems. She didn't want to be in a bog. Whitman thought he had to get everybody writing and reading poetry that was more like the immediacy of newspapers than the refinements of English poetry. They both invented their own audiences. If you were going to do a market survey, probably the same percentage of people now read each of them, though they made these different choices. And you get to become this very refined person if you're reading Emily Dickinson or T. S. Eliot, and you get to be this generous and looser person if you're reading Audre Lorde or Walt Whitman. So you have to write for your imaginary audience and your imaginary audience is going to locate its sensibility in the place where its deepest social values are.
INTERVIEWER
So what do you do when you're wondering whether anyone is going to understand some poem you've been laboring over?
HASS
The answer is always case by case, poem by poem. On the one hand I was very drawn to the Modernist poets. I got my education from them. On the other hand, there's no doubt that there's a sort of elitist thing going on. In a mild way, I experience this question not so much with Praise but with Human Wishes—I found myself writing about the human problem as a poetic problem, by saying, "A man thinks lilacs against white houses, having seen them in the farm country south of Tacoma in April, and can't find his way to a sentence, a brushstroke carrying the energy of brush and stroke / —as if he were stranded on the aureole of the memory of a woman's breast." I was trying to name a particular psychic condition. And it's not that the poems in that book were that hard to understand, but they're not inviting, they're very much my inward musing. I was in the middle of a middle-class life with a family, trying to be a stand-up dad, and I was full of erotic longing in a way that I think everyone between twenty-five and ninety must be, and it came to me as a problem of language. It was often haunting images, images that were sort of stranded there without a context to make them flow back into life.
It's interesting to look at Williams's Collected Poems, 1921–1931, because it was first—I mean he had a bunch of small, fugitive publications in various avant-garde magazines of the period, and a couple of books by obscure publishers, which he paid for, so this is his first book that is going to get some distribution—and the first poem is a kind of talky little ironic poem about his mother. He's written all these amazing poems, you know, from "To Elsie" to "Spring and All," and he picks this quirky funny talky poem as an introduction—and he doesn't even include "Spring and All." Who knows what was going on in his head, but clearly at the opening he wanted to create this sense of entering an unbuttoned conversation. His choice.
It's for every young poet to figure out, and it's a kind of politics to imagine your polity in your poems. Of course what happens over time is that you develop responsibilities for what you've done, for what you need to deal with, to continue to deal with—you're not so much writing for anybody as you're writing to the issue, whatever it is.
INTERVIEWER
Speaking of politics, how do you navigate—as a poet, as a human being—the political situation in our moment? It seems very bad out there.
HASS
In the late fifties, early sixties, I was aware that there was this culture of people who were trying to think about a whole range of social justice issues more or less out of the mainstream. Lawrence Ferlinghetti starting the Journal for the Protection of All Beings, the essays of James Baldwin, Whole Earth Catalog, experimental institutions like Black Mountain. A writer who was very important to me for thinking about politics in those years was Paul Goodman. I met him when he came to Stanford. We were talking about researching the power structure and how we were going to confront the military-industrial complex, and he kind of said, Whoa whoa whoa, slow down. Here's the thing, figure out what you love doing and try to find a way to do it, and if you find that the structures of institutions around you keep you from doing it in the way that's valuable to you, there's where you work on changing the structures. If to be an actor you have to survive doing degrading commercials, figure out how to change that system. Maybe it's government support of the arts, maybe it's something else. If you're a scientist and you can't do the kind of science you want to because of the money, that's where you try to make change.
You can almost say the names as if they were beads on a rosary or something, remind yourself of Sojourner Truth, remind yourself of Whitman, remind yourself of the writings of Jefferson about the "rights of man," even though he didn't get the implication of what he was saying. There's a connected set of figures, a repository of dynamic, moving, conflicted, half-wrong-all-the-time figures who are trying to sort through the values that would make humane life possible. And we at this moment particularly need them.
I remember listening to Terry Gross interviewing Philip Roth, and she asked what it takes to be an artist. He said there were two things, to his mind. A deep appetite for play, and a moral stake in the world. I thought, That sounds right to me.
INTERVIEWER
You said Miłosz was always convinced of poetry's supreme value, or maybe the value of humanistic pursuits. What about you? Do you have that faith?
HASS
I do pretty much have that faith. You know I've been teaching for—well, I started graduate school when I was twenty-one, and I was teaching the same kids you're teaching at Stanford by the time I was twenty-two, and I've been at it for fifty years, and when I walk across the campus between classes there's this explosion of energy, all these young people going back and forth, and I think, One of them is studying the receptors in cells that might tell you how to treat cancer, and another one is doing medieval Persian, and another one is writing a proposal to look at Swedish movies of the thirties. There are many things wrong with the university as an institution, but it's been the place for me. I love the idea of people studying everything and experimenting in labs with everything. To be part of that enterprise has always seemed to me like a gift.
INTERVIEWER
As poets, we may study language, we may study the classics, whatever, but other kinds of hands-on activities, like cooking or birding or having a garden if you can . . . How important are those sorts of things, in your view, to a poet's development?
HASS
When I started in the literature program at Stanford, I was already very interested in walking and exploring the country around there, that bit of the Coast Range hills. But I became passionate about fishing and birdwatching in those years just as pure escape from the mental life of graduate school.
One of the pleasures of coming into adulthood, into one's twenties, is you start doing your own cooking, and doing your own shopping, and in our kind of culture, consumer culture, it's one of the ways you establish your relation to the earth. And there was something in California culture, this interest in food, and the availability of terrific vegetables at all times of year . . . I love something sacramental about the idea of cooking in relation to the seasons. I have one long poem in which I introduce a recipe for onion soup. And another talking about different ways of learning to cook squid when it's in season. I don't want to use the word ecological because it wasn't then an ecological thing, it involved food and cooking. And as I think about it, I suppose this is connected to being Catholic.
INTERVIEWER
"Eat, tongue."
HASS
The humbling participation in the food chain is right at the center of human existence, and either we turn it into a ceremony and a feast or we're doomed. For the past fifteen, maybe twenty years, I've been team-teaching with my friend Gary Sposito this introductory environmental course at Berkeley. At some point I take all the students out and teach them how to identify the trees on the campus, just as a way of getting started. The Japanese and Chinese traditions are full of not only richly symbolic but very exact knowledge of landscapes, and that came from agrarian cultures in which you needed to know the value and uses of plants. When I was younger I was reading Gary Snyder and Wendell Berry, and those two in particular set out a kind of moral agenda around environmental issues.
Reading Gary and Wendell, I thought, Do I want to go and live on a farm? Well, first of all I would not be good at it, I'm not handy. I'm handy around a library. I knew that my home is in the cities. And so I imagined an art that makes people feel alive to and responsible for their environment, even—or especially—in the city. I do think that it's been, really since the Romantics, one of the tasks of the poet to keep the industrial culture in touch with its natural roots—which we're sapping badly in so many ways. And I imagined that such an art could be exemplary in that sense, even though the poems are about whatever—longing and suffering and whatever presents itself to you as the subject matter of your poems.
When I had this ridiculous job of being a poet laureate—which made me absolutely miserable—I started a national program, called River of Words, to get kids to learn the natural history of the place where they lived. That was one direct-action way of addressing the crisis in the human relation to the rest of the species of the earth. You have to know enough about and care enough about those species if you're going to become stewards of them. It was my impulse to figure out how to make that intervention, for American kids at least, and to some extent it has worked. There are thousands of children who now, every year, get out there, either write poems or make art about their local watershed.
INTERVIEWER
I'm struck by the fact that you and Brenda got married, and then you pretty much immediately got pressed into service as the country's poet laureate.
HASS
Yeah. It wasn't great.
INTERVIEWER
How did you two meet?
HASS
Well, Brenda came to Berkeley because of her first husband, Lenny Michaels, the short story writer. They met in Iowa. Lenny and I were not talk-about-our-problems close friends, but we were both people who thought of ourselves more as writers than as academics, functioning in this academic company town. And we both had kids and all the attendant stuff. So when Lenny arrived back in town with a new girlfriend who he was going to marry who was a poet and who had been a student at Iowa—my friend Louise Glück had said to me, There's this wonderful young poet coming—well, that was how I became aware of her. And during those years we had very separate lives. Brenda was around, and I would occasionally see her, at the track running, or in the pharmacy—we lived in the same neighborhood—and I found her very attractive and so I just stayed the hell away from her [laughs]. Some years later she was writing the poems that were in Fortress. They were appearing in American Poetry Review, and I thought they were gorgeous. They felt like Mahler to me, or late Beethoven. There was a kind of ragged majesty to the poems. I thought, Oh, she's the real deal.
Eventually her marriage ended. And about a year later my marriage ended, and I was miserable, and I thought, What would make you feel happier? I thought, I would like to stand in line for a movie talking to Brenda Hillman. The next day I went over to Robert Pinsky's house and Robert and Brenda were having tea in the backyard. And I think I asked her out for tea or something. So that was how we met.
INTERVIEWER
That was the mid-'80s?
HASS
It was the summer of 1986.
INTERVIEWER
Your works are different stylistically, though I would say you seem to share a lot of themes and concerns. Do you and Brenda read each other's drafts?
HASS
Short answer is yeah, but not immediately. And we give each other drafts to read rather than reading to each other. Brenda actually hates being read to. And Brenda, who writes every day, often has things that she would immediately show me. I don't have that habit because I didn't go to a creative writing program. I never had the experience of, you know, you write something and somebody's going to read it in a week and give you feedback. I give her work at certain points, when something is far enough along. We certainly read each other's books before they're published. But sometimes I won't see her work much at all, until there's a considerable piece of it, a manuscript or something like that. We talk about poetry all the time. In some way my tradition is the plain style—Wordsworth and Whitman and that part of Stevens that belongs to plain style. Brenda thinks that there should be some interesting thing happening at the level of language in every line. Otherwise the line is boring. It's not just a richness of imagination, it's a language of resemblance as a language of mystery, in which she thinks. In that way—just to use Baudelaire's idea about correspondences—she's a profoundly Baudelairean poet, though that is only one side of her work. The materials that her poetry uses, or the prosody, could look like William Carlos Williams, maybe some H.D., but its ancestry is a Symbolist aesthetic, one that thinks there is a mystery in every common object that has to be teased out.
I have some hesitation in showing her my poems because when I read her poems and then read mine, my poems seem so obvious to me [laughs]. I feel like a cow staring at a billboard compared to what she's doing. When we walk, which we do a lot, I'll say, What is that bird's song? Three notes and then five? And she'll say, The one that sounds like an orange scribble? Her world, like Rilke's, is constantly being taken inside and transformed right at the level of perception.
INTERVIEWER
I wanted to ask a bit more about translation, which has been a significant part of your life's work, especially in terms of haiku and Miłosz. What sorts of problems and possibilities does translation present you that you find irresistible?
HASS
A lot of times I do find it resistible. The work I did with Miłosz is, in a sense, a separate category, because I never learned any Polish. I mean, I now have a small vocabulary, mostly of nouns. But I never learned the language, and I still would have trouble pronouncing some of it. But I listen to the music of it a lot. And once I was working with Czesław, there was this body of work to be done, and some of it engaged me a lot and some of it didn't very much. There were specific kinds of problems that I liked working on. If something is in Old Church Slavonic in the middle of a poem, or there's a scrap of medieval Lithuanian, or Old Polish, then you have to figure out where in English to go to get an equivalent. Questions like that. And questions of untranslatable sounds. So in the work with Czesław, there was a lot of problem solving. And in his case, people wanted to see that work. He wanted that work to be seen in English. These were some of the first translations. We were doing lots of it. I could think of myself as the advance scout. Other people might do other and better translations later.
With these English versions we were making, he seemed to feel that good enough was good enough for him. He was happy to say, There, that conveys that pretty well, and move on to the next poem to translate. Occasionally, there'd be a particular magic in a poem, or a formal thing, like, here's a poem that's in rhymed couplets, say—well, can you do rhymed couplets in English, with an author looking over your shoulder, that still stays close enough to the meaning of the original text? Not adding anything to it? So sometimes I would say, Oh, I know exactly how to do this poem, beginning with his first English version, which he roughed out. Sometimes I didn't have to do anything. I'd say, This seems fine as it is. Or I would say, Do you want high diction here? Or low diction? The high-diction way would be, say it this way. The low, sort of normal-speech diction would be, say it this way. I loved his company. It was incredibly interesting to watch this body of work. Some of the poems I thought were amazing. Some of them, just okay. But the job was to get it done. So that was one kind of translation project.
Another kind would be working on haiku. I was studying the poems. I didn't have any particular intention of publishing translations. That came later. At the start I was just fascinated by the way they are extremely condensed and extremely plain. I learned very little Japanese in making my versions, so where the poems were complex in their references or their use of language, I was relying on commentaries either in English or, a little bit, in French and German. To say, Oh, okay, there's a pun here. How do you get it across? Or, there are at least two words for fortress, and one of them is more archaic and associated with the heroic narrative tradition. So which word do you use? Or, more complicated, the first lines of this poem are written in the Japanese syllabary and the last line is written in Chinese characters. So you've got an effect like Chinese rain falling on Japanese landscape. How do you get that across?
When I was living in Berlin for a semester, I was trying to work on my college German and bring it back. I was reading around in contemporary and modern German poetry and saw that there were a lot of poems with imagery of night and twilight. And I thought it would be interesting to do a little book of translations of German poems on night and twilight from the twentieth century because that country went into the dark in those years. So I'm looking around, and if I find a poem about night or twilight, it's interesting to me. And one thing I ended up with is a poem in Time and Materials (2007), a Trakl translation of sorts. "After Trakl," I called it. He has a little poem in which he describes "evening with its brown and blue." Braun und blaue Farben. And the next line hears the shepherds' flutes dying away in the distance. And then he says, Des Abends blau und braune Farben. So first he describes the evening's shade of brown and blue, and then as he hears the flutes dying away, he renders it blue and brown. He's just registering that frisson in the change of color, when it goes from being blue with a little brown, to brown with a little blue. Just before it gets dark. That's the whole point of the poem. To try to figure out how to get that specific. And then I realized I didn't want a shepherd's flute. Because I wasn't trying to translate the poem. I was trying to translate the perception and the emotion. So I think I said, "Evening with its brown and blue / (Music from another room)," rhyming blue and room to pick up on the rhymes in Trakl's original. And then, "Evening with its blue and brown. / October night, the sun going down."
Why would you do it? To see if you could.
INTERVIEWER
In many of the questions that I've asked you, even personal questions, you've often responded with literary examples before delving into your own experience. I'm curious why you think that is.
HASS
I don't know. It must be the way my mind works. What would be an example?
INTERVIEWER
When we began this interview, I think I asked what the first thing you'd done that morning was. You said that you had peed. And then you were talking about Issa's haiku on peeing in the snow and Bloom in Ulysses flipping through a magazine while moving his bowels.
HASS
There are a couple of possibilities. One is deflection from the personal. Either because you want to keep the private private, or just because it seems narcissistic. I mean, who cares what I do when I first get up in the morning? So I tend to leap toward what brings it to life, what brings a subject to life, which would be all the literary stuff that's in my head. That would be one explanation. Then, there's another haiku by Issa that comes to mind—

The man pulling radishes
pointed my way
with a radish.
He's talking about daikons, those long Japanese radishes. And what I love about the poem as a poem is that Issa has imagined himself stopping to ask for directions, and it's only after that, as he's on his way again, that he's having the thought, the amusing thought, that this guy is so much of his element that he was using his radish to point directions. My impulse is definitely to point with the radish. I have to say, I'm subsumed to materials of my art.