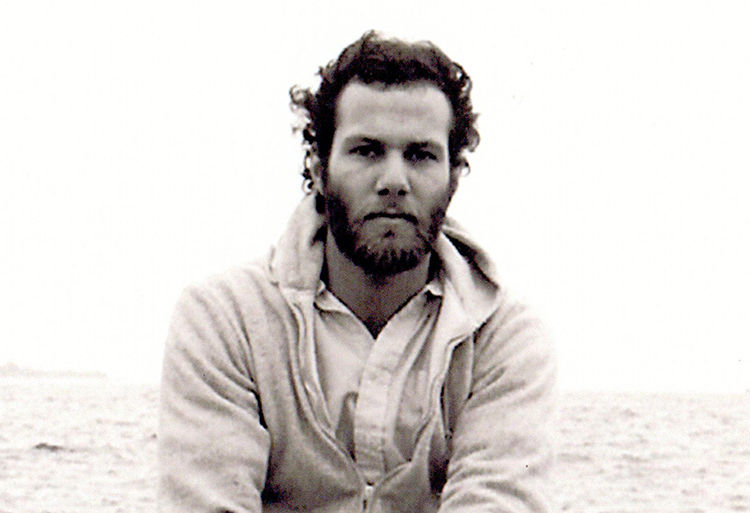 In Nags Head, North Carolina, 1978.
Henri Cole lives alone in a small, bright apartment on the top floor of a five-story building in the South End neighborhood of Boston. He works in solitude many hours a day. Cole comes from a family of five children, raised in Virginia. His older brother was a colonel in the Marine Corps; at six feet tall, with his erect bearing, long arms, and capable hands, Cole could be mistaken for a former marine himself. He shows the unfailing politeness of many Southern men; his voice and manner have a marked gentleness about them. Yet underneath, you sense an iron will. It's difficult to imagine him marching in step to anything but the rhythms in his own head.
He works at a large desk surrounded by prints and drawings by artists such as Louise Bourgeois, Vija Celmins, Jenny Holzer, and Kiki Smith (he has collaborated on projects with the last two). He prefers art made by women. Above an emerald-green couch hangs an etching by Smith, of a fawn, its legs folded under its long body, its big eyes looking guilelessly out of the picture. Each hair of its pelt is articulated, so that the creature seems uncannily present, although the model turns out to be not a living fawn but a piece of taxidermy. There is an analogy here with Cole's poems: his language, as precise and distinct and elegantly astringent as those etched lines, has an uncanny quality, too. How he brings so much hidden feeling to the surface is a mystery that haunted this interview.
Cole has published eight books of poetry, including Pierce the Skin: Selected Poems, 1982–2007; a new collection, Nothing to Declare, will be published next spring. He is the recipient of many awards, including the Lenore Marshall Poetry Prize, the Kingsley Tufts Poetry Award, the Rome Prize, and the Jackson Poetry Prize. He teaches at Ohio State University and is the poetry editor of The New Republic.
Our conversations took place over three sessions last winter—two in Boston, one at an apartment in New York where Cole was a guest. On all three occasions, Cole offered me tea when I arrived and would ask with real interest about my own work and life; it took some effort to turn the conversation toward him.
INTERVIEWER
You've said you see yourself not as a confessional poet, but as an autobiographical poet. What's the distinction? Your poems often use facts from your life.
COLE
A confessional poem is more diary-like and confined to the here and now and without much aesthetic dignity. When I am writing, there is no pleasure in revealing the facts of my life. Pleasure comes from the art-making impulse, from assembling language into art.
INTERVIEWER
And yet revelation is a fact of these poems. They feel intensely personal.
COLE
This is the result of artifice and extreme control. When I was forty, I lived in Rome and spent a year looking at Italian art—thousands of depictions of a man nailed to a cross and of the saints and martyrs—in which pain and suffering are in the foreground. I asked myself then what kind of poem I wanted to write. You could say that my time in Italy "Romanized" me and laid something bare. The experience made me ask why my poems were so academically descriptive and what I could do to change this. This was the beginning of a shift in style. Many of the poems in The Visible Man were written there. It's my most astringent book, and though now, when I read it, I'm embarrassed by the contents—lines like "Why do I appear to be what I am not?/To the world, arrogantly self-sufficient./To myself, womanish, conflicted, subservient"—the book is a record of the person I was, and I feel pride in the young person who was able to write it all down. Some people speak of poetry as therapy, but I don't have this experience. For me, the therapy is in finding the right words and getting them in the right order. There is not any therapy in personal revelation.
INTERVIEWER
It seems to me that your poems refuse therapy. They give us access to certain kinds of pain and grief, and then they leave us there.
COLE
I think it would be rather narrow—and moralistic—to say that poetry must comfort us and point to what is good. I don't think that is the function of art, though sometimes it is a happy result. In any case, a sentimental, moralizing poem is not what I want to write. I don't want the reader to experience comfort—I want the opposite. A lyric poem presents an X-ray of the self in a moment of being, and usually this means dissonance. I think immediately of the "sonnets of desolation" or "terrible sonnets" by Gerard Manley Hopkins, where there is no compulsion to hide the darkest corners of the soul.
INTERVIEWER
But do you feel any ethical responsibility as a poet?
COLE
No, though I admire poets who do, like Seamus Heaney. Using the Gospel story in which Christ draws a line in the sand with his finger to prevent a crowd from stoning an adulterous woman, Heaney says that writing can change things. Over time, occasionally, I have felt a need to speak as a gay man, since until recently we were not encouraged by society to love one another, marry, and have children. So if I have an ethics, it is simply to be true, but never at the expense of original language.
INTERVIEWER
In your first books, you are not out as a gay poet.
COLE
In the beginning, I used nature as a mask for writing about private feelings. Oscar Wilde says somewhere that man is least himself when writing in his own person. But give him a mask and he will tell you the truth. This, in part, is why myths and fairy tales are so valuable to poets—they are masks. And that's what I was throwing off in The Visible Man—in addition to description and rhyme, which I felt had "nursed and embalmed me at once." Instead, I want "to see the beast shitting in its cage," as I say in "Arte Povera," the opening poem of The Visible Man.
INTERVIEWER
When you wrote the poems in your next book, Middle Earth, in your mid-forties, it was as if your style had cooled.
COLE
I was born on the southernmost island of Japan, Kyushu, and lived there for only the first year of my life. When I finally returned, at forty-five, I lived in the foothills north of Kyoto, in two tatami-mat rooms, with a futon, a wok, a laptop, and very little else. It was the farthest I'd ever been from the West, but it was strangely familiar to me. It felt like I was the only white person there in the foothills, and I lived completely alone. It was a marvelous setting, where mountain life touched city life, so there were giant insects, like praying mantises—"I found a praying mantis on my pillow./'What are you praying for?' I asked. 'Can you pray/for my father's soul, grasping after Mother?'" Everything seemed kind of exaggerated and intensified by my loneliness. As in Rome, I asked myself again what kind of poem I would write. I could have written tankas and haikus, like an American travel poet, but I didn't want to do this. So I spent many weeks just reading. Then I decided to try writing free-verse sonnets and bringing to them some of the qualities of Japanese poetry, valuing sincerity over artifice, frequent use of simile, the presence of nature as an emblem for interior states, and so on. The first poems I wrote were in a rather minimalist style, like a rock garden. I tried to write poems of pure contentment, because I was so deeply moved by the setting—the rice fields were being planted and were full of happy frogs that talked all night and accompanied my sleep. It was intense. And slowly, I wrote about it. And these were the poems that became Middle Earth.
INTERVIEWER
Did you speak any Japanese?
COLE
I took a Japanese-language course, but that was a failure. Then I studied tea ceremony and found a metaphor for what I was trying to do in the new poems. Everything is carefully choreographed in a tea ceremony, in part to arouse the senses. As a result, you hear the water bubbling in the pot, taste the delicious sweet cakes, consider the cluster of trees out the window, and read the scroll painting in the tokonoma. There was an elegant simplicity, or rough grace, which I wanted to translate into poetry.
INTERVIEWER
What brought your parents to Japan in 1956?
COLE
My father was an enlisted man in the Air Force, stationed at Itazuke Air Base, which is located near Fukuoka, a big modern city today.
INTERVIEWER
Many years ago, you wrote of your parents that you had reconciled yourself to "life in a house where violence erupted in predictable patterns every few weeks."
COLE
My parents were married thirty-four years, and they always worried about money and seemed unhappy. For as long as I can remember, there was violence between them. My mother was a first-generation Frenchwoman. Her parents emigrated to Marseilles from Asia Minor, after the Armenian genocide of 1915. Her father was a mason. French and Armenian were spoken in her youth. As a young woman, she worked as a clerk at the Army Exchange, where she met my father, an American soldier. After they were married, they lived in Pennsylvania, Illinois, Nevada, Oklahoma, California, Japan, Germany, and, finally, Virginia, where I was raised.
My father was a farm boy from Rockingham, North Carolina. Like Mother, he only received a high school education. His parents were sharecroppers. They grew peaches and tobacco and received a house and groceries in exchange for labor. They were very poor. Many of his ancestors, who also lived in the dusty sand hills of Wolf Pit township, were classified as mulatto by the American census. Enlisting in the military was my father's path to freedom. My four siblings and I were brought up as first-generation American children—my parents had no desire for us to speak French, for instance, or Armenian. The French I know I learned in school and from living in France. Mother had a beautiful accent, but she was always embarrassed about her grammatical errors. She worked as a seamstress when I was a boy.
INTERVIEWER
Did your father have good French?
COLE
His comprehension was better than his speaking ability, so you wonder how much they could communicate when they first met.
INTERVIEWER
Did your father stay in the military?
COLE
After twenty-five years, he retired—as a chief master sergeant—and worked for a television station. He was a drinker and had a bad temper. I sometimes ask myself, if they'd had more money, whether things would have been different. The unhappiness, the quarreling, the violence—it marked me. When my parents separated—I rarely speak about this—Father moved in with a man, with whom he lived for many years. He called him his roommate. Like me, he was private and never spoke about this relationship. For some years, while he was establishing a new life, we had no contact. These were also the years when I was coming out, but when Mother wrote telling him I was gay, he immediately invited me to come visit and to bring a friend. I think he was bisexual, perhaps a four on the Kinsey scale. He loved my mother and then he loved someone else.
INTERVIEWER
Did he open up to you about his own life, once he knew that you were gay?
COLE
Not at all. My older sister tried once to talk to him, but he cut her off. Parents never talk about their sex lives with their children. But my father read my books through and through. He had this set of books called Harvard Classics, and he read them cover to cover, while sitting at the end of the sofa in lamplight. They were his Harvard education. He was the reader of my two parents. Mother only read the French version of Reader's Digest. To her a book was something to keep on the coffee table, which is where she kept my poetry, next to the Bible.
INTERVIEWER
Did it help you become a reader, seeing your father read?
COLE
I think my father felt sidetracked from his dreams and he didn't want the same thing to happen to me. Reading is one way to keep from being sidetracked. Seeing him at the end of the sofa, calmly reading—that is how I picture him, frozen in time. Mother was earthier and loved gardening. On her knees weeding, sweeping the driveway, and planting annuals—that is how I picture her.
INTERVIEWER
"Immortal" is a poem about your mother dying and your not wanting to look at her. How did you arrive at this formulation at the end?
"Look, Henri, isn't she beautiful!"
my aunt exclaimed,
but I couldn't.
I don't need to know
what I already know.
Is that what you thought at the time, or did you arrive at this insight through writing the poem?
COLE
I knew I wanted to write about Mother's funeral but not in any explicit way. There is another poem—"Dead Mother"—in which I do that. Do you know Allen Ginsberg's great, loose-lined elegy for his mother, "Kaddish"? I wish I could be as free ranging and Dionysian as him. My poems are so controlled, impacted, and reticent. Also, I write too much about Mother. It's a cliché for a homosexual man to write about his mother, but she lived through poverty and war, her first baby died, her husband left her, she had chronic back pain and became addicted to pain killers, she attempted suicide and was institutionalized, and, at the end of her life, she was bedridden with diabetes, congestive heart failure, dementia, and breast cancer. Our own lives are so much easier than the lives of our parents. We just float across the surface of experience compared to them.
Anyhow, my poem conflates several things. One of them is Mother's actual funeral. I don't know where the formulation "I don't need to know/what I already know" came from. At her funeral, after the casket was sealed and ready to be transported to the cemetery, my aunt arrived and wanted to see her, so they opened it again. "Look, Henri, isn't she beautiful!" was something my aunt said.
INTERVIEWER
Do you understand your parents better now?
COLE
I have more empathy for them. Be kind—that's my motto. Also, Je ne regrette rien. I think the portraits of my parents in my poems are balanced, even when depicting unhappiness. I think about my parents every day.
INTERVIEWER
Was it in college that you really began to write poetry?
COLE
During my junior and senior years, at the College of William & Mary, I took poetry-writing classes. I had no talent, but I had intensity and my teachers nurtured me.
INTERVIEWER
Who were your early teachers?
COLE
My first writing teacher was Susan Thompson—she and her partner, Betty, who was blind, were so dear to me, inviting me to their home. I had never known anyone like them in my strict Catholic, rigid disciplinarian, military childhood. They were liberators. I was also reading novels by Conrad, James, and Woolf with a marvelous professor named Elsa Nettels. It was she who first made me see language as a delicate instrument of the interior life.
INTERVIEWER
Were you unhappy in college? Did you start writing out of unhappiness, or out of a sense of discovery?
COLE
I wasn't sure how to be a man. That's embarrassing to admit, but it was a different time. My brothers were jocks and becoming military men like my father. It seemed like everyone I knew planned to work in Washington after graduation—for the government or at Riggs National Bank or selling real estate. I couldn't do any of these things. I had numerous part-time jobs in college, and one was delivering flowers—I don't know why, but driving a van around Tidewater, Virginia, helped me see I was going to be different. I went into many funeral homes and saw things I'd never seen before. Maybe that's what the rest of my life has been—some version of driving that flower-delivery van around Virginia.
INTERVIEWER
What did you see?
COLE
Well, first there was the extreme beauty of the floral arrangements and the sweet smell that filled the van, and then there were all the sad corpses in the funeral parlors that I visited. I remember once laying a pretty wreath at the foot of a black woman's open casket and thinking that the moment was so much more authentic than anything else in my life.
INTERVIEWER
And after William & Mary, you went to Columbia.
COLE
First I spent two years in Wisconsin, where I learned I didn't want a doctorate, so I applied to Columbia's creative-writing program. Also, in Wisconsin, I worked with the philosopher-poet John Koethe, who remains a friend today.
INTERVIEWER
What was Columbia like in those years?
COLE
It was a harshly competitive place, and expensive, but I learned so much from my teachers—Stanley Kunitz and Daniel Halpern, who read my thesis, Joseph Brodsky, who terrified us, biting the filters off his cigarettes and spitting them on the seminar table, Derek Walcott, requiring us to memorize and recite Whitman, and Richard Howard, spending whole classes on a single magnificent poem by Elizabeth Bishop—"The Bight," for instance, about which he told us, "Poetry is organized violence!" Howard taught me to be a close reader. I also took a helpful class with the literary critic David Kalstone, in which I read Jarrell, Merrill, and Rich for the first time. It was quite an array of aesthetics to synthesize into something of my own—almost too much.
INTERVIEWER
Did you have relationships with men at that time?
COLE
I didn't come out until I was thirty. I was a real Southern late bloomer.
INTERVIEWER
Did you date women?
COLE
Yes, in high school and college. I even joined a fraternity, where the women were called our "little sisters." Pledging a fraternity was part of my search for some version of masculinity that suited me. But I wasn't good at being a brother, so to speak. I was looking for another kind of love.
INTERVIEWER
Did you try other ways of being a man?
COLE
I think I just put my head down and worked very hard. Suddenly, so much of my life had gone by. It was classic sublimation, Freud would say—working to escape feeling. Many of my closest friends are women. I think they are a more highly developed species.
And many of my favorite artists are women—Jenny Holzer, Kiki Smith, Vija Celmins, Louise Bourgeois, Agnes Martin, and Susan Unterberg. I divide the world into two types of people, those who want to control something and those who want to make something. I'm attracted to the makers.
INTERVIEWER
I've noticed that you like to talk about "making" a poem, as if you were making something with your hands.
COLE
Well, I am making it with my hands. Sometimes I wish writing poems involved more physical activity—instead of just sitting around like a beetle at my desk and pushing a pencil a few inches this way and that. Writing with a pen or pencil is so much more sensual than typing on the laptop. The touch of the pencil lead against bright white paper, the sound, the smell—I love it. I usually begin at my kitchen table, and once I have ten or eleven lines, I move to the other room and sit at the computer—ugh!
INTERVIEWER
How does a poem begin for you?
COLE
It can begin in many ways. Sometimes with a phrase, or with a photograph, or with a bit of conversation, or with a headline or clipping from the newspaper, or with a real experience, or with a poem I've read and loved. When I'm not writing, I keep an envelope of ideas. [Brings out a manila envelope stuffed with clippings, cards, Post-its, images, scraps.] These are my prompts, hundreds of little pieces of paper with things I've written down. Here's a picture I took of a tattooed gravedigger. I was in a cemetery in Dublin, with Seamus Heaney, and we were visiting Hopkins. Look! You can see the soil on the shovel the gravedigger is carrying. Here is a postcard of a famous Giacometti sculpture called Woman with Her Throat Cut. Here is something I wrote down—"Loving the moon, I ignored the stars." Here's a title for a poem I've always wanted to write—"Gay Bingo at the Pasadena Animal Shelter." Here's a name of a species of hen—"black sex-link"—isn't that odd? It's all stuff that means nothing to anyone but me.
INTERVIEWER
When you want to write, do you go through this file?
COLE
When I sit down cold, with no idea how to begin, I go to the envelope.
INTERVIEWER
And how often do you sit down cold?
COLE
I don't sit down often enough. Life intercedes. [Leafing through the envelope, pulling things out.] I love the offhand things people say. Here is something a therapist said to a friend—"If you want a zebra, why would you settle for a tapir?" Here is something a man seated behind me on the Amtrak train shouted at his cell phone—"She ain't gonna have no fuckin' house. I need a pair of sneakers." Here is something I heard in a news program on the radio—"Mike tries to presentate the food real nice." And here is something Mother said when she was dying—"I am with a lot and without a lot." That makes my eyes wet, reading it.
I like combining high and low dictions in my poems. Of course, Ashbery famously does this. Like a body, with bone and flesh, a poem needs different densities.
INTERVIEWER
What happens to the prompt after you choose one?
COLE
The little piece of paper is like a seed, which I plant in the soil of the imagination and water with time. It's like farming. Sometimes it seems like there is a demon, too, or guardian spirit, who helps me along.
I don't know why I write when I do or why I'm silent. I don't know why a poem begins in one place and ends up in another. I don't know why there's feeling today but tomorrow nothing. Perhaps some inferior god could explain all this.
INTERVIEWER
There must be ways you've learned to control it, or invite it, or open yourself to it.
COLE
Sleeping really helps—is that okay to say? I can't do anything without sleep, except vacuum. Reading helps, too. Reading is like putting high-octane gas in my Honda—it makes me run real well. I like my poems to have a seat of change—or volta, as it is called in the sonnet—a place where some transformation occurs and knowledge, like a tendril, emerges. I don't want the poem to be a skinny, flat line that goes from A to Z. I don't like narrative poetry. I want fresh water to always be flowing into the poem, changing what came before, like in a spring-fed lake.
INTERVIEWER
What about images? You've said that simile is one of your favorite devices, and often your similes involve a very powerful final image. Are those like visions?
COLE
Oh, that sounds religious. As I say, it's really more like farming—here a turnip, there a sunflower, here some corn, there some peonies.
INTERVIEWER
I'm always wondering how you achieve that effect, because often you write very plainly, at least in the later books. Here are some lines I love from the poem "Myself Departing," about aging and being abandoned by one's body— "Though my eyes / leaked, my fingers, cracked from thirst, dried them. / The ring was gone, but the finger lived." How do you make something so plain also so tremulous?
COLE
I want the language to be as pellucid as possible, but the content psychologically complex. This is a kind of counterpoint. The movement of the poem should be like a canal, with a volta that surprises the reader.
INTERVIEWER
Many of the poems in Touch use a set of paired images. It often seems that one part of the poem is an answer to the other, but in a mysterious way. When you're setting out to write a poem, do you have this figured out in advance, or do you write your way there?
COLE
I never have anything figured out, or know the ending in advance. This is one way prose writers are different from poets. My novelist friends outline everything and know where they're going. But I have no outline. Sometimes, the poem takes on a life of its own, and I must yield to it, like a rider on a cantering pony.
INTERVIEWER
What's a surprise you've come upon lately in your work? Either a surprising image or a surprising turn that a poem took.
COLE
There's a poem about my father called "Oil & Steel." The ending is as follows— "Once I saw him weep in a courtroom— / neglected, needing nursing—this man who never showed / me much affection but gave me a knack / for solitude, which has been mostly useful." In an earlier draft, instead of "which has been mostly useful," I wrote, "which made me a writer." But thinking hard about it, I realized that the earlier draft, though dramatic sounding, wasn't true. So I took a step backward, toward something more discreet and true—and painful. This was the last thing I changed in the manuscript to Blackbird and Wolf.
INTERVIEWER
How many times do you revise poems before you decide that they're done?
COLE
Maybe thirty or forty. I do a revision every day until it's done. This might go on for months or years. Sometimes I get it on the first day. Those are the poems written by the demon.
INTERVIEWER
Partly for my own selfish purposes, because I love hearing you read, would you read "Taxidermied Fawn"?
COLE
Oh, sure. I don't think I've ever read that poem in public, because it's a little hard to follow.
When a soft projectile hits a fixed obstacle,
soft comes out of it badly. Over there,
in the bedroom, that's a fawn.
Salt, blood, and saliva are gone now.
Sleep and death have transported the lithe body,
folded legs, and tiny bumps on the head.
A minor smear on the white spots is the only
evidence of a violent passage from bridal innocence
to the whiteness of death, which is the absence
of everything, and, in the end, all there really is.
It's dark now, pitch dark. When you walk
through a beam of light, bending your head back,
I'm not scared. I think, Well, what a pretty body,
and then I remember you are dead.
INTERVIEWER
The last time we were together, you showed me a Kiki Smith print, which hangs in your apartment, of a taxidermied fawn, and I wondered about that image and its relationship to the poem.
COLE
You could say that the first part of the poem is a description of Kiki's haunting fawn. When you look at it, you don't really know that it's a taxidermied fawn, it's just a pretty creature sitting statuesquely. Each hair in the fawn's fur is drawn in a unique Kiki way. It's part of a series of prints she made of dead animals and birds—working from actual specimens. They're commemoration images, in which death, though degrading, also has beauty.
Suddenly, what's going through my thoughts, just now, as I'm speaking, is how I was unable to look at Mother in her coffin and how I knew that the image of her there would be too powerful for me. But here, death almost looks like life. Then my poem turns suddenly, and it comes into the present, saying, "It's dark now, pitch dark. When you walk / through a beam of light..." At first, it seems like I'm addressing the fawn, but I'm actually addressing the memory of a person, a deceased friend. For me, this is the volta, the seat of change, the bend in the canal where the reader gets splashed with green water. I don't know why I like this strategy of indirectness—of beginning with purely aesthetic description and then going someplace else. And I don't know why I like the weird statement of exposition that the poem begins with about soft projectiles. This is something I heard on the radio, so I wrote it down, and it became one of the slips of paper in my big envelope.
INTERVIEWER
Maybe this is a good moment to ask you about Marianne Moore's poem "A Grave," which you've said was important to you in appreciating indirection.
COLE
There was a time when I admired Marianne Moore as much as Elizabeth Bishop, or even more. I like how her work doesn't sound like either poetry or prose. Her sensibility is completely sui generis. "A Grave" is in her second book, Observations. She wasn't even forty when she wrote it, and her young eyes gaze at death without overdramatizing it. In the poem, a man places himself in front of her at the seashore and blocks her view of the surf. So there's some irritation being recorded at the same time that the poem looks soberly at the ocean as a grave. I love how it just abruptly ends and doesn't come to any grand climax. I want my poems to do that—finish on a descending note. Pound wanted her to rearrange the last line to gain drama, and though she did it to please him, later she switched it back. I hate that Marianne Moore is sometimes dismissed as an eccentric old maid who wrote descriptive animal poems, when in fact she was a radical modernist. Another thing I admire is how she might be writing about personal loss or grief, but because she does it symbolically, we can't be sure exactly what it is. In "A Grave," it might be something about her womanhood in relation to men, or it might be something else. "Man looking into the sea," she begins, "taking the view from those who have as much right to it as you have to it yourself."
INTERVIEWER
But she takes the view back.
COLE
Yes, I like this independence of thought. And the long limpid lines that recall Whitman. And the sober vision of the sea that reduces everything to grit. Her poems don't seem to be written to please anyone. The ones about animals are principally about humans and states of the soul. This makes me think also of the last poems of Wallace Stevens collected in "The Rock," where it feels as if experience has been reduced to its essence. Here, too, the poems are chaste about biographical content, and I find this impressive, because though Stevens is withholding a great deal, it feels as if he is revealing a great deal. I wonder if this is connected to the proximity of death?
INTERVIEWER
Occasionally, his poems arrive at irreducible ideas or statements. I think you do this, too. An image can lead to some formulation or fact.
COLE
I remember Stanley Kunitz saying, End on an image and do not explain it. An image—if it's done right—should embody the exposition of feeling.
INTERVIEWER
So you're often weighing the balance between exposition and description?
COLE
Yes, a poem is like a body, and if you take a CT scan of it to see the structures inside, you want to find many things, not just description or narration or exposition or imagery or rhyme. Each of these modes of writing will have a different density, or shadow color, on the CT scan, and ideally the scan will contain them all.
INTERVIEWER
And what about plot?
COLE
Every lyric poem has elements of plot, but plot can't dominate or the language will recede. I think narrative is only interesting up until the point where language can continue to assert its originality. Today, there are lots of poems around that are the opposite of narration—instead, they seem to be preoccupied with fragments and unmeaning. Sometimes they even derange language and eliminate denotation. But this is a wagon that will pass by, because no poet worth the name can disregard his or her subjects, which come from the heart. A poem is not just an act of the mind.
INTERVIEWER
When did you first read Moore and Stevens?
COLE
I read them first in college. Then I took a seminar on Stevens with Mark Strand at Columbia. Also, I've read Helen Vendler's trenchant books about his poems. Though I am drawn to his mind, and the motions of it recorded in his poems, he was not a liberator. Still, one of the first poems I memorized was "Bantams in Pine-Woods." Perhaps it was because I was a young gay man trying to figure out what kind of poems to write and how to speak about desire that I was more drawn to Hart Crane. With Crane you get this high-testosterone, verbal athleticism. I've always believed that deep sorrow is being sublimated by the ramped-up language—the sorrow of unsanctioned desire. It was almost as if he was speaking directly to me in code. I felt the same way about James Merrill when I was young. I hate when Crane or Merrill are dismissed as "elegant" poets. It seems to me that heterosexual poets are never described as elegant, unless they are European.
INTERVIEWER
What about Merrill's sonnets? Were they a model for you?
COLE
The two great sonnet writers of the last fifty years are Merrill and Heaney. Merrill's poem "The Broken Home," a sequence of seven sonnets, was a revelation. In the poem, the speaker yearns to be real, like the family he observes in a city window. This seems to me a discreet reference to Merrill's homosexuality. Heaney's sonnet sequence, "Clearances," written after his mother died, was a model for my poem "Chiffon Morning," which is a portrait of my parents' marriage. If you're a lyric poet and you want to tell a story, writing a lyric sequence is one way to do this, so that each section gives a different aspect to your theme. In the end, all the sections emanate from a central point of energy, like the rays of the sun.
INTERVIEWER
For a time, you and Heaney were colleagues at Harvard. Did you show him your work?
COLE
I remember once talking to him about my book The Visible Man—it had just been published and I was feeling apologetic about the erotic content. He told me the poems were a record of something in "the arena of human emotion." The most important thing was to contribute to the arena of human emotion, he insisted. I've never forgotten this. And to hear it from the son of a cattle farmer was unexpected. It seemed the most patient and generous response to a book others had dismissed as aberrant. It pushed me forward. He describes himself as being a poet of in-betweenness—in between Catholic and Protestant, in between England and Ireland, in between rural and city life, and so on. He is proof that in-between is a good place for poetry. In my own writing, I am in between the North and the South, in between formalism and free verse, in between vernacular and high speech, and, as a gay man, in between genders. Heaney's example made me want to fly beyond all the identity markers others assign to me.
INTERVIEWER
Vendler was a colleague, too. Has she influenced your work?
COLE
Helen Vendler is simply the smartest person I know about poetry. Her intelligence and deep maternal instincts are unlike anything I've ever experienced. I think our friendship freed me to put more of myself into the poems.
INTERVIEWER
Because you had felt that some things didn't belong in poems?
COLE
Yes, absolutely. I've come to see that poems can be self-critical and self-forgiving, too. There's much more of a counterpoint now between these two things.
INTERVIEWER
You make me think of your poem "Shaving."
Outstretched in the tub, like a man in a tomb,
I pull the razor across my face and throat.
The bathroom is pristine, spare, without any clear
conflict; I like that...

...Through our eyes,
pain comes in (my doctor told me this),
but how does it exit, if you're looking forward
and I'm looking back, my big, unlovely head
you called it that) feverish, then shivery?
It's a "looking in the mirror" poem—you have many of those.
COLE
My mirror poems come to me from Cavafy, via James Merrill.
INTERVIEWER
"Shaving" is a good example of self-forgiveness, actually. You talk about your "big, unlovely head" in the poem, but there's humor and compassion, too, especially in the parentheticals, which are a common feature of your work. What do you use them for?
COLE
As a counterpoint—something naked set beside something clothed. Probably the parentheticals come from Bishop, who uses them more as a self-interruption that adds a little chuckle.
INTERVIEWER
You were saying that the mirror poems are borrowed from Cavafy and Merrill.
COLE
Yes, Cavafy has that amazing short poem "The Mirror in the Front Hall," in which a good-looking delivery boy, a tailor's assistant, brings a package into the foyer and afterward the mirror retains his image and is so happy and "proud to have embraced/total beauty." Merrill has gorgeous mirror poems, too. In one, the mirror says, "I grow old under an intensity / Of questioning looks."
INTERVIEWER
Did you ever meet Merrill?
COLE
I first met him at the home of David Kalstone, my teacher. I was from the South, like Merrill's mother, and this pleased him, but our friendship was professional—Harry Ford, at Atheneum and then Knopf, was our editor. But there was no poet I loved more in my early thirties. I was living then in a studio apartment on the Upper East Side, and once I invited him over for tea. When he arrived, I remember him looking at himself nonchalantly in the hall mirror, just like Cavafy's delivery boy does.
INTERVIEWER
What else happened at tea? Was it a successful meeting?
COLE
At my desk, I was gluing together a "visible man" and painting his abdominal parts—liver, spleen, intestines, et cetera—which impressed Jimmy. When I served him almonds, he told me that Elizabeth Bishop had once had a terrible allergic reaction to them, causing her whole head to swell up. It was Valentine's Day, so we talked about relationships. He called himself a "caretaker" and agreed when I said that even caretakers need caretaking.
INTERVIEWER
Is it possible, after publishing three books of free-verse sonnets, you have come to the end of a road?
COLE
Yes. I've been trying to write more vertical things. Terser poems, with only two or three stresses per line, instead of a sonnet's five or six.
INTERVIEWER
And how do you find switching or migrating to a different form?
COLE
Strange, at first. But I like asymmetry, as in the sonnet's octave versus the sestet. In Japan, four is considered an unlucky number, because the word for "four," shi, sounds like the word for "death." So there is tetraphobia. You never buy four dinner plates, for example, or have four buttons on your coat. Instead you have threes and fives—as in the three lines of a haiku and the five lines of a tanka. Like the Japanese, I'm superstitious and have been avoiding quatrains and trying five-line stanzas instead. There's no need for me to beckon death.
INTERVIEWER
Do you have a favorite, among your books?
COLE
I hope my best book is still before me.
INTERVIEWER
Earlier you showed me some of your collages. Could you tell me about those?
COLE
My collages are amateur, but I enjoy making things with my hands. Collage-making is for amateurs.
Really, it embarrasses me to talk about them in a serious way, but they're very connected to my poems, because they bring together disparate things and combine bits of my poems with photographic portraits.
I got the idea from an excellent artist named Gary Brotmeyer. I buy these old photo cards at flea markets, and then I handwrite lines from my poems on them and add various paraphernalia. They range from minimalist to kitschy.
INTERVIEWER
And where do you get the objects that you glue on them?
COLE
Sometimes from my body, as with hair or baby teeth. Sometimes from the medicine cabinet, as with aspirin or pills. Sometimes from my jewelry box, as with buttons and my old Boy Scout pins. Sometimes from my desk drawer or junk shops. They're eccentric and sorrowful and a little garish, like me.
INTERVIEWER
I think they're sillier than your poems tend to be.
COLE
Well, I feel silly talking about them, because I'm aware that Ashbery makes collages, and he's sort of a god.
INTERVIEWER
Why should you feel apologetic? Why shouldn't you be able to express yourself in another way, besides being a poet?
COLE
I don't mean to be falsely modest. But, in truth, I'm still slightly embarrassed to say, I am a poet. I'd rather say, I make poems.
INTERVIEWER
Is being a poet really an accident of fortune and fate?
COLE
I don't know.
INTERVIEWER
What about force of will and commitment?
COLE
Well, I am a Taurus. I do have a lot of will and commitment. I persevere, as any poet must, in the face of obstacles.
INTERVIEWER
I wanted to ask about sentimentality. It seems that sentimentality worries you.
COLE
Oh, I hate sentimentality. Heterosexual men are more susceptible to it than women, because middle age keeps telling them they're gods. This is not true for women, however, who are often discarded. Is it possible that we can more readily see the bleakness of the human condition if life has been a little harder for us? Nothing kills art faster than sentimentality. Also, I dislike tepidness.
INTERVIEWER
What is your most joyful poem?
COLE
"Green Shade" and "Morning Glory" come first to mind. But it's interesting that if you look at lyric poems across the centuries, it's mostly the sorrowing impulse that dominates. Could it be because sorrow is a more complex, inscrutable emotion than joy? That's not to denigrate joy, but maybe we're just so glad when we experience joy that we don't need to verify it with art. Sorrow is an altogether different matter.
INTERVIEWER
Why do you think that is?
COLE
Because sorrow is bottomless. But, fortunately, those of us who are readers can seek out solace in the beauty of language.
INTERVIEWER
You write in your poem "My Weed," "I'm not a member of the ugly school," which I like.
COLE
That's a poem set up in the Adirondacks. Year after year, on the stone path down to the lake, there has been a big, tall weed there to greet me on my way to swim, so I began to bow to it out of respect. It's a private joke, but also an occasion to meditate on aesthetics.
INTERVIEWER
You enjoy swimming?
COLE
I've always been a swimmer. It's a good activity for a solitary person, because you don't have to speak. I adore the ritual of going for a long lake swim with a canoe escort and stopping now and then to observe the clouds and hear the wind soughing in the trees and smell the air and feel the silky water, then continuing on, with my legs and arms kicking and crawling.
INTERVIEWER
Do lines come to you in the water?
COLE
I often figure things out when I'm swimming—about life and about poetry, too.
INTERVIEWER
Can we talk more about beauty?
COLE
I don't know if there is more to say. To me, there is nothing more beautiful than the human mind—this is why mental illness is so frightening. I think Agnes Martin's drawings are beautiful. They look like squares—or sonnets— but they are actually rectangular, creating a little dissonance, like the asymmetry of an octave over a sestet. Her hand-drawn pencil line has the subtlety of a vein on the underside of a leaf. I love her drawings. Certainly, she is not a member of the ugly school.
INTERVIEWER
Who else?
COLE
Balanchine comes to mind. I love those black-and-white ballets—Apollo, Agon, The Four Temperaments—set against a blue backdrop. What he can do in twenty-eight minutes knocks me over. I love when the only color on the stage is human flesh and hair.
INTERVIEWER
You are not afraid to use words that are clichés, like love and pretty.
COLE
Is love a cliché? I didn't know that. I like pretty because it's a word teachers cross out. I think of Elizabeth Bishop's poem "Crusoe in England," in which Crusoe, back in England, remembers his beloved Friday and says, "—Pretty to watch; he had a pretty body."
INTERVIEWER
It reminds me of a line from your poem "Myself Departing"—"The pretty body I wanted no longer galloped over me, / shouting, 'Open, open!' " Funny, even as it startles me, I resist it a little.
COLE
Well, maybe it's time to put it in the freezer, along with the other words I've frozen, like little and God. In general, I like the idea of going right up to the edge of cliché and then stopping. Especially as a man writing, I don't want to feel any compulsory need to be "masculine."
INTERVIEWER
In "Apollo," you write, "subject is/only pretext for assembling the words/ whose real story is process is flow." And yet your poems have a lot of content and subject matter you return to. It's a paradox.
COLE
You're right, it is a paradox. To me, the facts of my life commemorated in a poem are the most boring part. It really is about process, about assembling language into poetry—this is where the satisfaction is.
INTERVIEWER
But your material is the self.
COLE
Yes, but my medium is language. It's the medium of language that gives a poet style and originality. Though I think an original sensibility can make a poet distinct, too. In this connection, Wisława Szymborska and James Schuyler come to mind.
INTERVIEWER
In your essay "How I Grew," you write that "the state of being necessary to become a writer" is a state of "exile and aparthood." I find this a very stark statement. In the next sentence you recall having a tree house and defending your solitude there against a gang of violent neighborhood boys. Is your solitude still something you have to defend?
COLE
A teacher once said that being a writer is like sitting in a room alone at a desk, while next door there is a loud party going on to which you have not been invited. This seems fairly accurate. There are so many divagations nowadays—with Twitter and Facebook and iPhones and texting and all the rest. Fortunately, my television has only five stations—that's enough for me, though I really miss watching the French Open.
INTERVIEWER
What do you think of immortality?
COLE
I don't understand this question. Do you mean "immortality," like Keats's "Here lies one whose name was writ in water"? If so, I think one is forgotten almost immediately after the earth is tossed back into the grave and the mourners turn away. Life resumes.
INTERVIEWER
So then why write?
COLE
For the completely selfish pleasure of composition, which for me surpasses the trumped-up pleasures of eating, drinking, and sex. Since I do not write to teach anybody anything, it's a completely selfish act, but it gives me a sense of equilibrium and a reason for existence. Nothing gives me as much pleasure, when I'm doing it well, as writing.